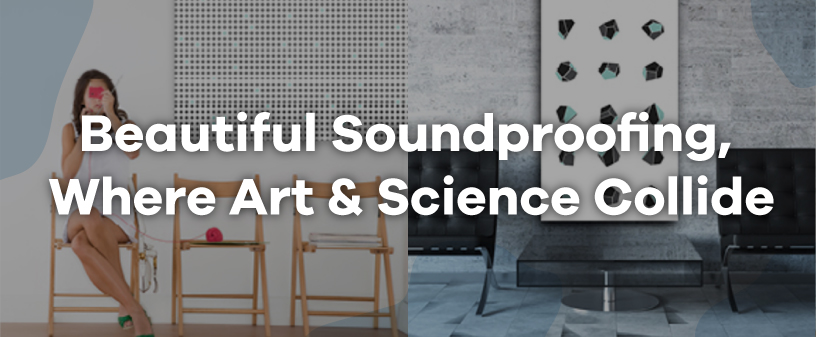 February 03, 2016
You have a commercial space that needs soundproofing. Perhaps it's your office. Maybe it's a restaurant or a new storefront where you're opening up a business.
No matter what the purpose of your space is, you know quality acoustics are important. An office or business that has great acoustics just feels like it's a cut above the rest. In contrast, if you can hear what's going on at the company next door while you're trying to have a meeting or serve customers, it can sink your reputation fast.
So how do you accomplish a good acoustics solution — without putting up a bunch of egg crates or drab ugly Styrofoam all around your office or customer-facing business. You need a way to decorate your office and soundproof it at the same time. Fortunately, you have the perfect way to do just that. Custom art panels or acoustic art, are the ideal solution for combining the functionality of sound attenuation with the aesthetics of room décor.
Custom Art Panels for Your Office or Business
Perhaps you're planning to put the company logo up for everyone to see, or you have some specific images in mind for your walls. With custom logo acoustic panels or custom photo acoustic panels, both available from Soundproof Cow, you can get the best of both worlds. It may be hard to believe, but just about any high resolution image you can produce, Soundproof Cow can make into an acoustic panel, using a state-of-the-art wide format printing technology to wrap your image around the panel.
How Custom Art Panels Work
At Soundproof Cow, soundproofing experts take the images you choose and print them on Acoustic fabric which is then upholstered onto an Acoustic Panel. This process gives you bright, realistic colors that are fade-resistant.
Additionally, since they're the same high-quality, sound-absorbing acoustic panels you always get underneath, you'll get the same sound-deadening and absorbing effects — just in a pretty package. Visitors to your office or business will have no idea the attractive pictures decorating your walls are also creating great acoustics.
Why You Should Choose Custom Art Panels
Of course, you don't need custom art panels for your business, but if you're going to be putting your team logo or pre-selected pictures on your walls anyway, why not? You want to give your office or place of work a sense of flair and style that's going to make clients and customers take notice, so why not do it in a way that also gives you the sound control element you're looking for?
Having great acoustics gives your location an added sense of class and style that visitors probably won't even be aware of. Combine that with some great designs, and everyone who spends any time meeting in your space or patronizing your wares will associate your company with the finer things. It's cheaper than decorating and soundproofing separately, and it's more effective as well.
Custom art panels are appropriate for almost any space:
Offices
Office conference rooms
Restaurants and bars
Theaters and music halls
Hotels
Auditoriums
Homes
Just about anywhere you need soundproofing and personalized décor is a great place for custom art acoustic panels.