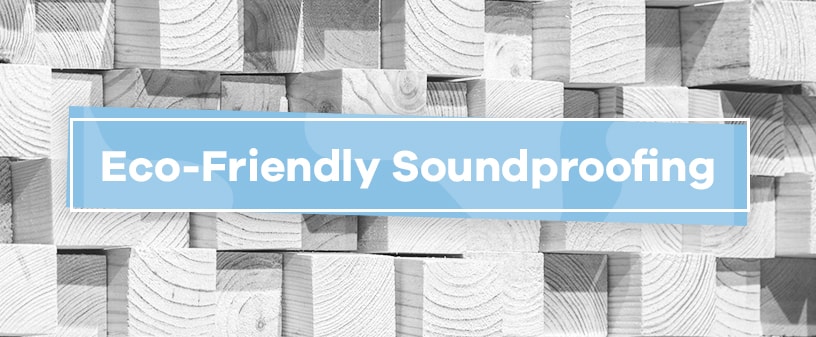 December 01, 2017
More and more, builders are constructing homes with attention to green building practices. Savvy buyers know both construction of new homes and living in a home can create a huge carbon footprint, and people are looking for green-built homes to reduce that footprint.
LEED Certification and a reputation for eco-friendly building practices is the goal. To achieve this goal, contractors look to practices like using low or no-VOC paints, salvaged wood and eco-conscious lighting. Another way contractors can boast of green building is by using eco-friendly soundproofing.
What Is Green Soundproofing?
In the past, people may have used materials that are toxic and/or non-biodegradable. These materials could leach toxins into your home or the environment and create long-lasting waste if not removed. Eco-friendly acoustic panels and other soundproofing solutions are made at least in part with non-toxic, recycled materials that are safer for the environment and don't contribute to the toxic waste problem.
Soundproof Cow for Eco-Friendly Soundproofing
Soundproof Cow is committed to joining the fight against environmental pollution and waste and to offering ecofriendly products. You can find Soundproof Cow products made from 80% recycled materials. These insulating, soundproofing products are so safe you can install them by hand without gloves. Of course, we wouldn't offer these products if they didn't meet Soundproof Cow's high standards when it comes to absorbing and blocking sound. You can use these products with confidence that you're doing your part for the environment while enjoying high-grade sound blocking power. Some of our most popular eco-friendly soundproofing solutions include:
Quiet Batt™ 30 Soundproofing Installation: Quiet Batt™ 30 Soundproofing Insulation, made from 80% recycled cotton, is non-toxic, itch-free and has a Class A flammability rating. Its high-density material blocks both airborne noise and impact noise, and you can easily install it in walls, ceilings, attics or wherever you need reliable sound control.
Echo Absorber™ Acoustic Cotton: Like the Quiet Batt insulation, Echo Absorber™ cotton panels are made with 80% recycled cotton. They're VOC, fiberglass and formaldehyde free. These flexible panels and baffles can go just about anywhere, from offices to gun ranges. Our most cost-effective soundproofing materials are mold and flame-resistant, lightweight and offer superior sound control.
If you're building a new property, whether it's a residential property, office or even a hotel, including quality soundproofing can greatly improve the value of the property. If you can boast that your soundproofing is eco-friendly, it can boost your property's appeal to an even greater level.
For more information on eco-friendly soundproofing materials and the complete line of Soundproof Cow soundproofing solutions, visit SoundproofCow.com now.
View this post on Instagram