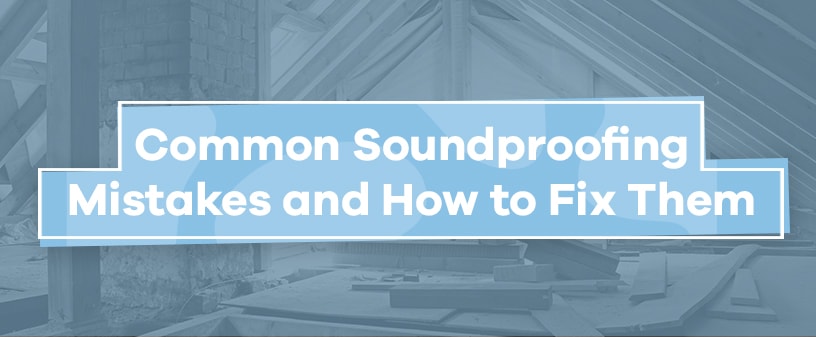 December 15, 2017
Noise pollution is a serious problem. If you're experiencing regular noise pollution in your home, whether it's from noisy neighbors, street traffic, the local bar or other unwanted sounds, you may have difficulty working, sleeping, concentrating and generally enjoying your surroundings. Unwanted noise can lead to higher stress and poor focus. Naturally, there are soundproofing solutions you can use to help resolve this problem.
If you do decide to take this route, you want to avoid making costly soundproofing mistakes that could hurt your wallet without solving the issue adequately. Here are some of the most common soundproofing mistakes and how to avoid them.
1. Not Buying the Right Soundproofing Materials
Purchasing the wrong materials is one of the biggest soundproofing mistakes you can make during the soundproofing process. Trying to soundproof a room with DIY materials you've heard are good for blocking sound is a waste of time and money. "Soundproofing" materials that are unlikely to be effective include:
Floor mats
Paint
Corrugated foam — can dampen but not block noise
Mattresses
Even if you buy proper soundproofing materials, you want to be sure to buy the right ones. Different kinds of sounds may require different kinds of soundproofing material. For example, airborne sounds like loud speech have a different character than vibrational sound caused by heavy impacts. Soundproof Cow can provide a free acoustical analysis to help you determine exactly what kind of soundproofing solutions you need.
2. Not Fully Soundproofing
Some people find the right soundproofing materials, but then fail to completely soundproof the room. They think that soundproofing the walls is sufficient, but the truth is, sound can bounce off the floors and can transmit through the ceiling, so failing to soundproof all the way around the room is often a waste of time.
If you need to soundproof an existing ceiling and you don't wish to remove any drywall, Soundproof Cow has existing ceiling soundproofing assemblies that can help. Many of Soundproof Cow's soundproofing solutions are suitable for and easy to install in ceilings or floors.
3. Ignoring your Soundproofing Problem
Trying to deal with the soundproofing problem at the source, such as talking cordially with noisy neighbors about keeping the sound down at certain times, is not a bad idea. But if it doesn't work, you can't ignore the problem — you've been tolerating intrusive sounds for too long. Unwanted noise can cause hearing loss, and the heightened stress from constant, interfering noise can lead to headaches, anxiety and other illnesses.
With so many affordable solutions from Soundproof Cow, opting for soundproofing is almost always worth it. Head over to Soundproof Cow and do soundproofing the right way today.