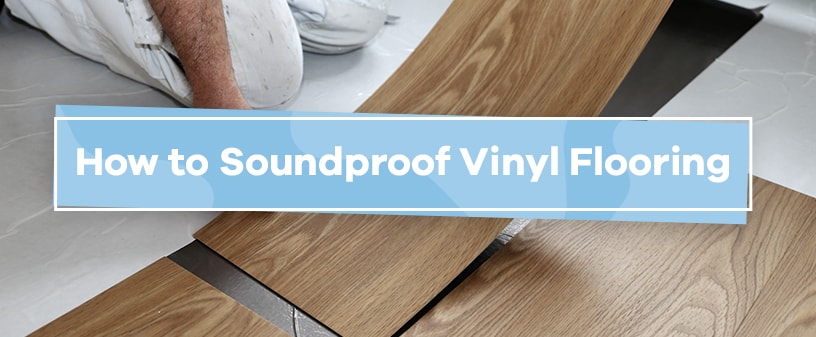 March 21, 2023
There are many reasons why you may want to know how to soundproof vinyl flooring. Perhaps you are being disturbed by sounds coming from the floor below, or you don't want to disturb others below when walking across the floors. Maybe you do not want to put down carpeting, but you don't like the sound of impacts against your floor, either.
Ways to Soundproof Vinyl Flooring
But is it really possible for you to soundproof a room with vinyl flooring? It certainly is, with the right preparation. Here's what you will want to do to maximize vinyl plank flooring noise reduction.
Remove the Existing Floor
If the vinyl is already down, your choice will be to pull it up to apply the vinyl flooring underlay or simply to put carpeting down over it.
To pull up existing floor, start by removing the vinyl with a scraper. Then, pry the flooring from the subfloor underneath. Scrape away excess fragments and adhesives from the subfloor.
Removing a carpet is easier. First, remove fixtures like doors, baseboards and molding. Then, using a utility knife, cut the carpet into strips and roll it away.
Lay Down the Floor Underlayment
Put down a soundproofing underlayment before you put the vinyl down. Apply the acoustic underlayment to the subfloor, then apply the vinyl flooring above it. Products like Impact Barrier QT roll into place with ease. Just measure the room and use a utility knife to cut the underlayment to size.
If you're installing a new carpet over old vinyl flooring, place the underlayment on top of the existing floor.
Install the New Flooring
After placing your flooring underlayment on top of the subfloor, it's time to install your new vinyl flooring. Vinyl plank flooring is easy to install. Lay one plank down, then insert the next plank's tongue under the first plank's edge. Using a mallet, pound each seam to solidify the hold.
If you placed the flooring underlayment over the existing tile, you can now install your new carpet on top.
Tips for Soundproofing Vinyl Flooring
When you're ready to soundproof your floor, preferably before you lay down your vinyl, make sure you have plenty of Impact Barrier QT Flooring Underlayment from Soundproof Cow on hand. This affordable, highly-effective recycled rubber sound barrier fits in seamlessly with almost any floor material and provides better soundproofing than many other popular soundproofing options. It is safe to handle, easy to install and can have you enjoying great floor noise control right away.
This product comes in three different thicknesses for different soundproofing needs (Low Duty, Medium Duty or Heavy Duty) and can even be made waterproof. It comes with performance ratings and can create a massive difference in the sound quality of your studio, conference room or anyplace else that requires quality soundproofing.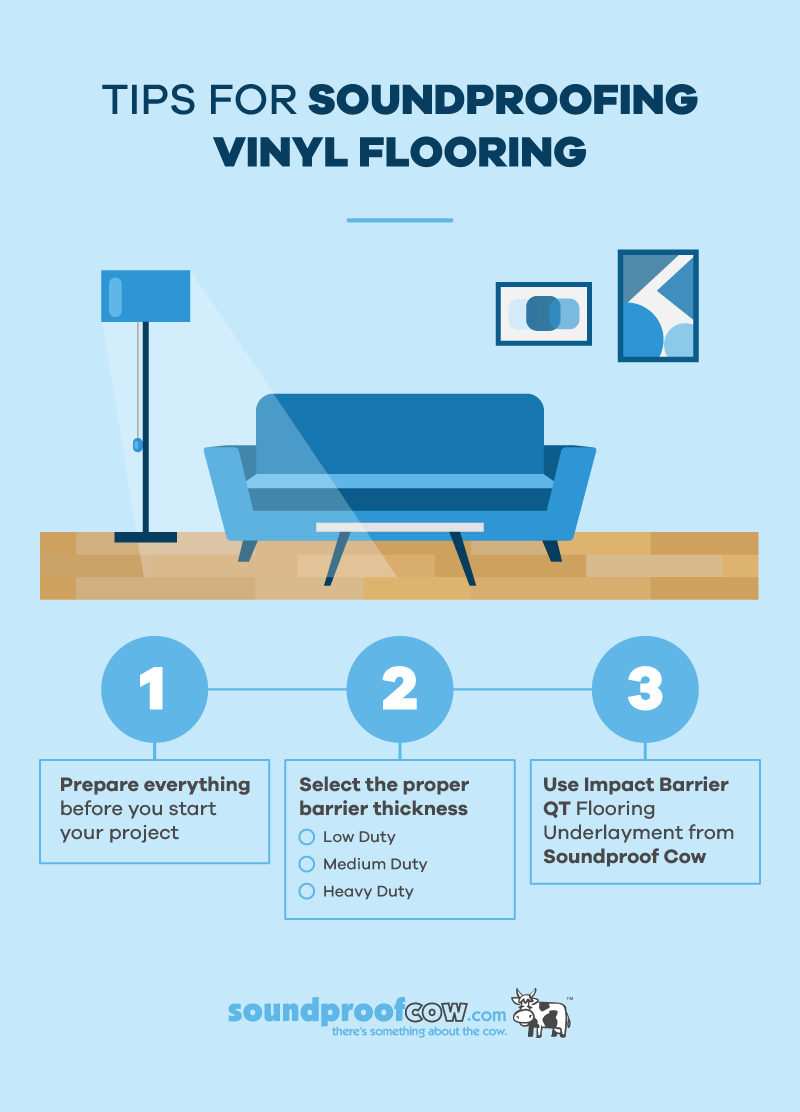 Benefits of Soundproofing Vinyl Flooring
Soundproofing your vinyl flooring will provide numerous benefits. Some will be apparent right away, while others will reveal themselves over time.
Acoustic Benefits You'll Notice Immediately
The obvious benefit that soundproofing your vinyl floor provides is noise reduction. Installing underlayment beneath your floors will treat noise in two distinct ways.
For one, you can enjoy many of the impact soundproofing benefits of a carpeted floor without having to actually lay down carpet. Flooring underlayment is soft and absorbent. It will cushion your every step and soften the impact if something falls. You'll notice less noise disturbance from footsteps and other movement on your vinyl flooring.
You will be able to effectively block airborne noise as well. Underlayment will increase the floor's mass and density. As a result, sound will lose energy as it attempts to pass through the floor. Less noise will travel to and from the room below.
Vinyl flooring also offers practical benefits in music studios and other rooms where sound quality is critical. Vinyl's reflective properties will help your space maintain a natural sound while acoustic treatments on your walls absorb unwanted frequencies.
Benefits You'll Notice Over Time
In addition to the initial acoustic benefits, your vinyl floor may last longer and look better with a quality underlayment underneath. The cushion that underlayment provides will help your floor resist damage from heavy contact, which can prevent cracks and dents.
All the while, you'll enjoy the aesthetic and practical benefits of choosing vinyl flooring over a carpet. Vinyl flooring looks amazing, and you may prefer it depending on your room's design. Vinyl is also easier to clean than carpet, which makes it ideal in kitchens and other spaces where messes may occur. The look and convenience that your soundproofed vinyl floors provide will pay dividends over time.
Contact Soundproof Cow for Vinyl Floor Soundproofing and Other Soundproofing Assistance
Soundproof Cow can easily help you soundproof your floor. Our underlayment for vinyl flooring — Impact Barrier QT — is a simple solution to your noise issues.
Of course, there's a lot more to great noise control than just floor soundproofing. There's the ceiling, the walls and possibly even pipes or door and window areas for you to consider, too.
That's why we have a complete range of soundproofing products for your home, studio or office, along with experts who can teach you exactly how to use them. If you have any questions about how to install any of our products, the environmental advantages of using these products, or which products will work best for your application, please contact us today or anytime.
Learn More About Soundproofing Floors