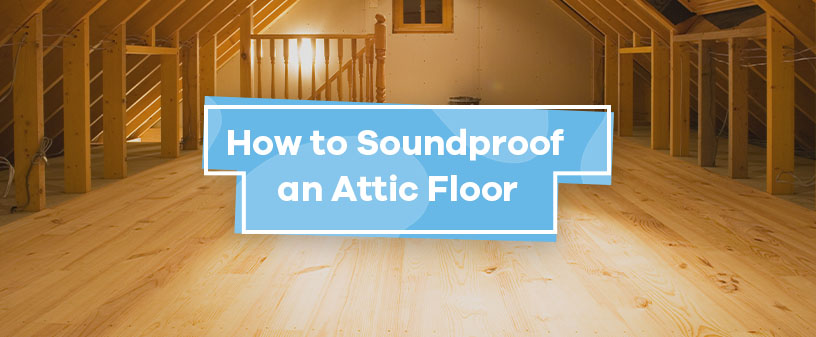 August 24, 2021
---
Table of Contents:
Floor Floaters Beneath Joists
Insulate Between Floor Joists
Use Soundproofing Tape
Secure Flooring Materials With Green Glue
Add an Underlayment to the Floor
---
Attics are rooms full of great potential. They make great storage spaces, but they can also be so much more than that. A home office, a music studio, a personal library or even a rentable apartment are just a few of the ways you can use your home's attic. If you plan on giving more life to the space above you, you may want to soundproof your attic floor.
A soundproofed attic floor will keep noises from traveling to or from the attic, making your home a much more peaceful place. You need the right floor sound insulation techniques to do this successfully. Here are six ways you can make your attic flooring quieter while blocking out unwanted sounds.
1. Use Floor Floaters Beneath the Joists
Floor floaters, also called joist isolators, consist of strong rubber and provide extra supports for the joists of flooring. They wrap around the joists to stop them from vibrating, which plays a huge role in reducing the transfer of impact sound. Impact sounds include things like footsteps, drumming and other noises that can travel through your attic floor.
Joist isolators are easy to install. You can buy them in standard sizes to fit over most joists used in United States construction projects. Place them under each joint roughly two feet apart for the best sound absorbing effects. The rubber will absorb vibrations sent into the floor while holding the joists in place for a tight, silent experience.
2. Insulate the Space Between Floor Joists
Remember that impact sound is the transfer of noises through vibrations. Sound can also transfer between rooms through open space. This is called spatial sound, which involves sound waves entering spaces and resonating. Think of the hollow body of a guitar helping the guitar strings sound louder than they actually are. The spaces between your attic floor joists will amplify the sounds coming from your attic.
Fill up the spaces between joists with an absorption material like Quiet Batt™ Sound Insulation. Instead of letting sound bounce around in these spaces, the insulation will absorb and dampen it so it stays in the attic where it belongs. Cut your insulation pieces to size and fit them in the spaces to enjoy the benefits of having a less resonant attic floor.
3. Use Soundproofing Tape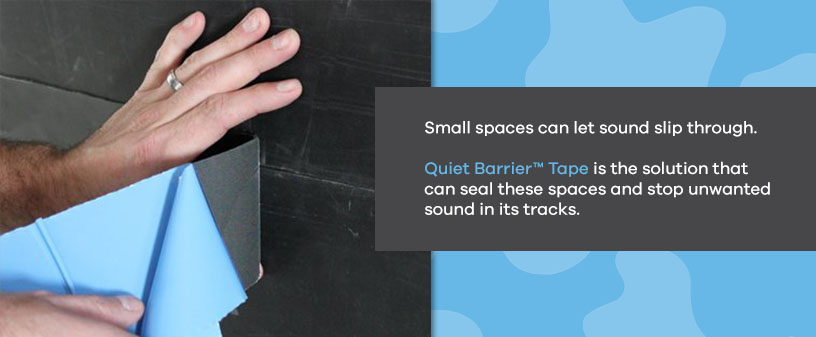 When performing a new construction project, consider adding soundproofing tape like Quiet Barrier™ Tape to the seams of your attic flooring panels or soundproofing materials. These small spaces can let sound slip through. Quiet Barrier™ Tape is the solution that can seal these spaces and stop unwanted sound in its tracks.
Each strip of Quiet Barrier™ Tape has a pressure sensitive adhesive backing to make peeling and placing each piece over the seams in your attic easier. And since it's only 1/16 inch in thickness, you can feel confident that your construction project will continue like normal after using it.
4. Secure Flooring Materials With Green Glue
In most construction projects, workers will use nails to secure flooring panels in place. This gets the job done, but nails can loosen over time. The wood can squeak and flex as people walk on it, which anyone below might hear. You can overcome this issue with the help of Green Glue Noise-Reducing Compound.
Apply Green Glue to the top of your attic floor joists before laying down the flooring panels. You can nail the panels like normal, but the Green Glue will provide a tight seal to keep panels from moving or flexing when people move around. Green Glue also provides some soundproofing benefits as it can help absorb some of the sound vibrations between the flooring panels and the joists cause.
5. Add an Underlayment to the Floor
Boost the sound-absorbing qualities of your attic floor by adding a soundproofing floor underlayment. They're the perfect solution for reducing sound transfer and vibrations from above or below. Use them under any tile, laminate, carpet, hardwood or stone flooring.
Impact Barrier QT Flooring Underlayment is an environmentally friendly soundproofing option, consisting of 92% recycled tire rubber. It's easy to install and can even help improve the sound quality of your attic if you're planning on turning it into a recording studio or home theater.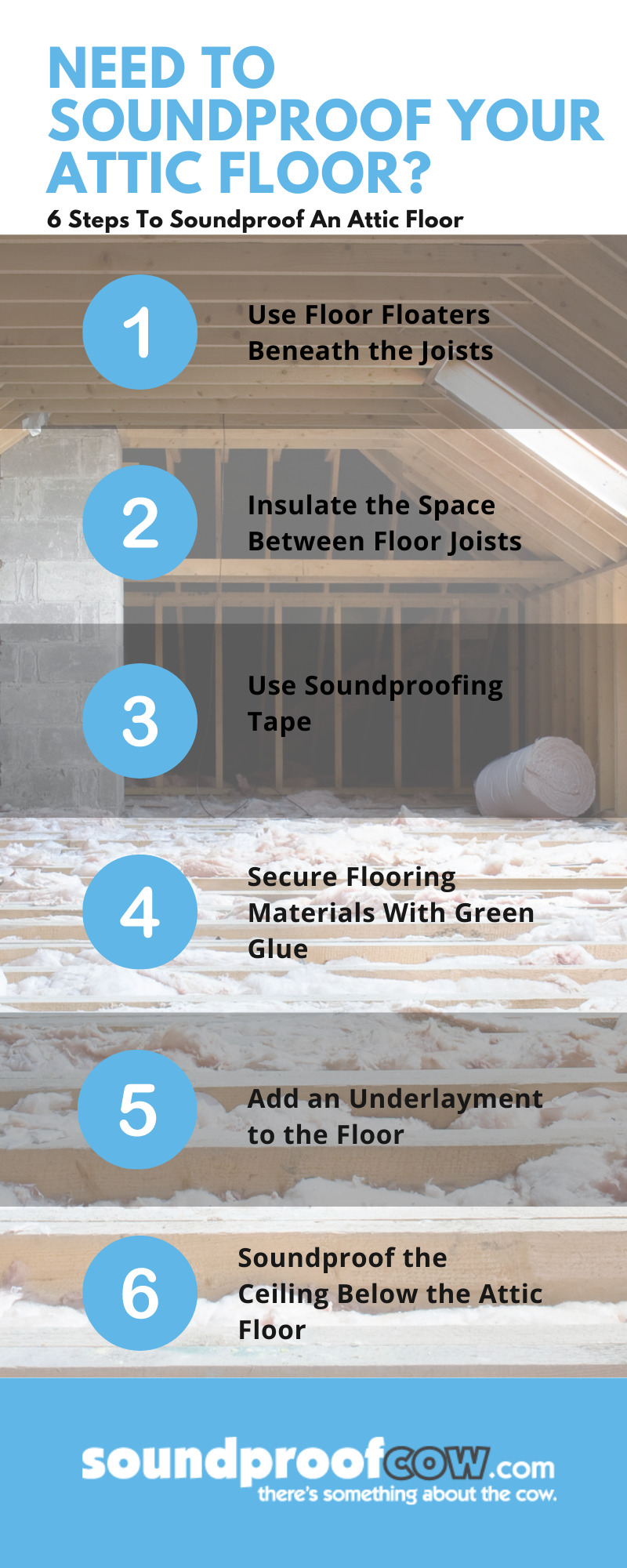 For a more specialized floor underlayment, try PROFLEX™ 90 underlayment. It consists of a rubberized membrane laminated to high strength. It's a great way to soundproof your attic floor if you plan on installing tiles, hardwood or stone. PROFLEX™ 90 is a composite designed for use with thin sets, adhesives and mortars, so you can lay down your masonry with confidence.
6. Soundproof the Ceiling Below the Attic Floor
Another way you can reduce the sound coming from your attic is by soundproofing the ceiling below the attic instead. This solution is ideal if you want to skip renovating your attic or lack access or permission to perform other types of soundproofing adjustments. Here are two ways you can soundproof the ceiling below the attic floor:
isoTRAX™ Soundproofing System: This comprehensive kit for new construction projects includes five sound isolation rails and 18 viscoelastic sound deadening pads. It also includes 18 isolation screws to hold everything in place while allowing less sound transfer. The isoTRAX® Soundproofing System provides some space between the drywall and the joists of your ceiling to reduce a sound's ability to travel through.
Quiet Batt® Sound Insulation: Quiet Batt™ Sound Insulation is more than a great solution for filling the spaces between your attic floor joists. You can take the same concept and apply it to the ceiling joists beneath the floor in the attic. Doing this will fill up the spaces between joists to stop sounds from traveling and resonating. It could also help cut the costs of your energy bills by keeping your heated or cooled air from leaking into other areas of your home.
Shop Soundproof Cow for Attic Soundproofing Materials Today
We specialize in soundproofing products that can help you reach your goals in your home, office or apartment complex. We understand that unwanted noises from neighbors and family members alike can grow into quite a disturbance. That's why we designed all our soundproofing materials to provide the solution you're looking for. Whether you want to stop sound from traveling down from your attic or you want to transform your attic into the perfect, sound-isolated space, we have the products for you.
Browse our soundproofing materials or contact us online for help deciding what will work best for your project!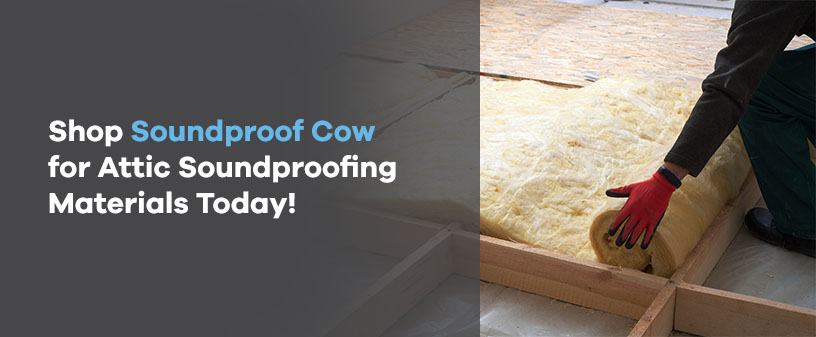 Learn More About Soundproofing Floors