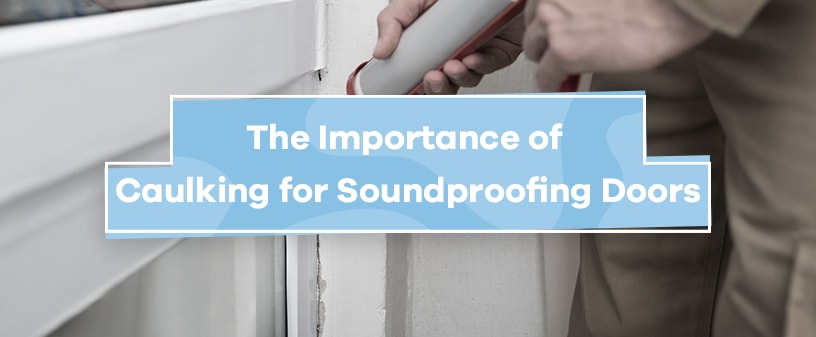 April 19, 2019
When you're soundproofing a room, you need to consider all of the aspects of a room that can affect sound transmission. If you've applied soundproofing insulation to your walls, put down underlayment to your floors and even set up some bass absorbers, and you're still experiencing sound issues, the problem just might be your doors and windows. Door caulking may be the solution.
What Is Caulking?
Caulking a sealant you can apply to various gaps in your windows and doors. As the caulk dries, it forms a hard seal that prevents anything from getting through.
Why Do You Need Caulking When Soundproofing a Door?
If you feel that unwanted sounds are getting through your door, you can apply a soundproof covering to that door, but you may find that some sounds are still getting through. If this is the case, acoustical caulk may be the answer.
Acoustical caulk, or soundproof caulk, is a special type of caulk designed to aid in door soundproofing. One of the biggest challenges when it comes to soundproofing is preventing the transmission of airborne sound, such as people talking, stereos, televisions and pet noises.
As the name would indicate, these sounds travel through the air, so even if your home is fully soundproofed, any part that is exposed to air is open to sound intrusion. Caulking can help you block those areas where air, and hence sound, is entering.
Benefits of Using Caulking for Soundproofing Doors
Caulking can be used to soundproof the molding on your doors. The gap between the door frame and the wall is typically covered by molding, but this is not adequate to block the transmission of sound. By adding soundproofing rubber beneath the molding and caulking around it, you can block that significant area where air and sound would otherwise penetrate.
Acoustical caulking is not just for doors. You can use it to seal any gaps and cracks in your walls or anywhere air gets in. Weather-stripping around your doors and windows is also a great way to not only improve your energy efficiency, but also to block unwanted sounds from outside as well.
Contact Soundproof Cow for Door Soundproofing and Other Soundproofing Tips
If you're interested in finding caulk for soundproofing, Soundproof Cow recommends OSI® PRO-SERIES SC-175 ACOUSTICAL SOUND SEALANT. This water-based sealant is excellent in helping reduce the transmission of sound for doors, exposed walls and more. We also offer door seals, door sweeps and other products designed to prevent your doors or cracks in your walls from creating sound problems in your home.
To learn more about our range of soundproofing products or to find more tips and facts on soundproofing, contact us today.
Learn More About Soundproofing a Door