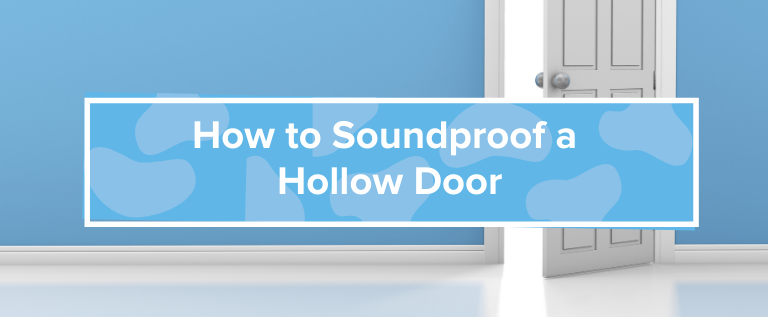 April 15, 2021
Blocking out noise within your home creates a quieter and more comfortable space. But where are the sound waves coming from? Likely, sound is traveling through the air-filled space in your hollow-core door, letting in noises from the outside.
Here, you'll learn more about the details of sound transmission, gaining a deeper understanding of why you hear so much sound through your hollow-core door. With this, you'll also learn how to soundproof a hollow interior door to create a quiet, peaceful space.
---
Table of Contents:
How Sound Travels Through a Door
– What Is Inside a Hollow-Core Door?
– How Can You Tell Your Door Is Hollow?
– Are Solid Doors More Soundproof?
– Can You Fill a Hollow Door With Foam?
Methods to Soundproof a Hollow-Core Door
Meet the Herd — Who Is Soundproof Cow?
Contact Soundproof Cow for Soundproofing Tools
---

How Sound Travels Through a Door
The air around you holds trillions of spaced molecules. Sound is an energy-filled vibration that travels through these molecules, gradually losing energy when passing through each one. Sounds travel through solids, too, which consist of much more densely packed molecules.
Sounds reach your door in waves. When sound waves hit the surface, some of the energy-filled vibrations travel into it, bouncing through molecules and eventually reaching the other side of the door — unless there's something to absorb or deflect the excess sounds. Some sound waves bounce off of surfaces, too, known as reverberation.
Hollow-core doors have three layers — two thin veneer or panel exteriors and an air-filled honeycomb interior. Because there's little solid space to travel through, sound easily transfers through those layers. But you don't have to invest hundreds of dollars in a solid wood or solid-core door. Rather, consider investing in soundproofing methods.
When soundproofing your hollow door, you want to control two types of sounds:
Airborne noises pass through air, like people talking or the sound of a TV in an adjacent room.
Impact noises pass through solids, like someone walking down the hallway or knocking on the door.
Keep in mind you can mostly soundproof a hollow door, but you won't block out every noise. There are methods you can use to absorb reverberated sounds and excess airborne or impact noises.

Types of Doors to Consider
Some doors are more prone to excess sounds than others. In your home, you likely have one of three options:
Solid wood is an all-wood door commonly used for interior and exterior purposes.
Solid-core is a wooden-core door, sometimes with an external wooden veneer used for interiors.
Hollow-core is a primarily veneer door with an air-filled core used for interiors.
Remember, solids have more molecules for sounds to pass through, which means more energy exerted, resulting in a shorter sound lifespan. So doors with more solids are better at soundproofing than those with more air. Still, you can add soundproofing materials to a hollow door to help minimize sound.
What Is Inside a Hollow-Core Door?
Say you split a hollow-core door vertically in half. Inside, you'll see three layers — two veneer or exterior paneling layers and an interior honeycomb-patterned cardboard layer. Connecting these three layers is a wooden frame.
The honeycomb-patterned cardboard layers make hollow-core doors less expensive and lighter to apply. But it's air-filled, meaning it's more prone to noise transfer than other solid-core or wooden doors.
How Can You Tell Your Door Is Hollow?
One way you can tell your door is hollow is by knocking on it. If you compare the sounds from knocking on a solid-core and hollow-core door, you'll notice that hollow-core doors sound noticeably hollow — as you might have guessed. But some hollow-core doors won't always sound hollow. For these scenarios, look for other telltale signs, like if your door is veneer or lightweight.
Are Solid Doors More Soundproof?
Compared to hollow-core doors, solid doors are more soundproof. The honeycomb-patterned cardboard interior fills a hollow-core door with air, letting sound travel through more easily. Additionally, the veneer or paneling exterior layers are comparatively thinner than solid wood doors, making it easier for sound waves to pass through.
Are Hollow-Core Doors Good?
Just because solid doors are more soundproof than hollow-core doors doesn't make one option better than the other. Hollow-core doors still have their unique benefits — they're less expensive and easier to carry, therefore install, than solid doors. Luckily, there are ways you can improve your hollow-core doors to have the best of both worlds.
Can You Fill a Hollow Door With Foam?
You can fill a hollow door with foam, but it involves an experienced technique and time. When you're soundproofing your hollow interior door, your best option is investing in one or more of your other soundproofing options.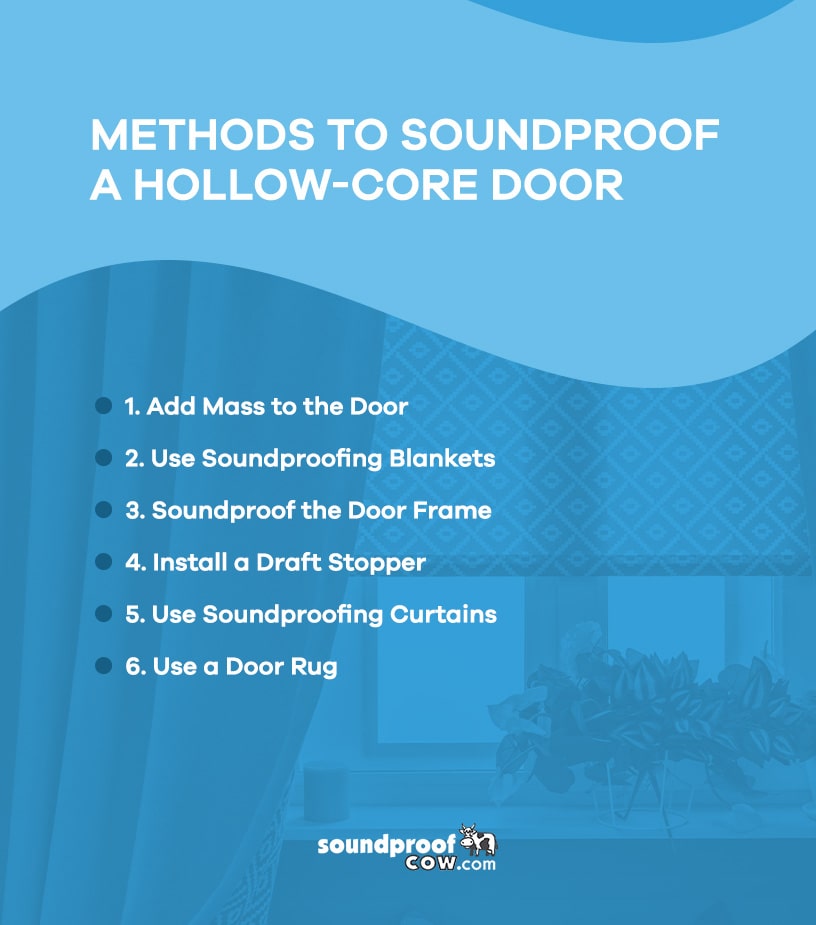 Methods to Soundproof a Hollow-Core Door
If you have hollow doors in your home, soundproofing them can help create a more quiet, comfortable space. The best ways to soundproof a hollow-core door include:
1. Add Mass to the Door
Your first soundproofing option is to add mass to your door. Adding mass increases the amount of molecules sound waves need to travel through, resulting in higher soundwave energy exertion and lower noise transfer. When adding mass to your door, you have a few options.
Acoustic Foam Panels
Acoustic foam panels are sheets of foam you can use for virtually any soundproofing project. Technically, acoustic foam panels are sound-absorbing solutions rather than soundproofing. They minimize reverberations by collecting excess sound waves that bounce off hard surfaces, like wood. And these panels prevent inside noise from escaping the room.
You can either install these panels on the door's surface or, if you're handy and prefer more involved DIY projects, you could install the foam material inside the door for sound absorption. For that installation, you'd remove the hollow door from its hinges, take the door apart and install the foam material inside.
Mass Loaded Vinyl (MLV) Barriers
MLV barriers — made of salts, sands and tiny metal particles — are environmentally friendly alternatives to antiquated soundproofing materials. Typically, MLV barriers rest in drywall and plywood assembles. But, the thin Quiet Barrier™ MD Soundproofing Material works well at adding mass to soundproof your hollow-core door.
TheQuiet Barrier™ MD Soundproofing Material has three layers — a core barrier that absorbs impact noises and two external foam layers that trap airborne noises and minimize reverberations.
Quiet Door™ Acoustic Panel
The Quiet Door™ Acoustic Panel is an effective, easy-to-install solution that applies as a door covering. The two-part construction features a sound-deadening polymer and a fabric-wrapped acoustic panel for an attractive finish. The door covering has a low profile, and it also accepts push pins to display items for a customizable look.
How Do You Attach Something to a Hollow-Core Door?
Generally, you can add mass to your door using a peel-and-place application or a soundproofing adhesive.
Some soundproofing materials, like Soundproof Cow's reinforced aluminum-facing acoustic foam or the Quiet Door™ Acoustic Panel, have a peel-and-place application. To apply these materials, all you need to do is remove the adhesive covering and place it directly onto your door. The adhesive will lock into place, making this project simple.
You'll need a soundproofing adhesive for materials without a peel-and-place application. Use a reliable adhesive, like the PL® Premium Polyurethane Construction Adhesive, to ensure long-term applications. Use the adhesive like a glue — apply it to your door or soundproofing material, then press the two together.
2. Use Soundproofing Blankets
Soundproofing blankets are ideal for surfaces you want to soundproof but can't necessarily be decorated with sound-absorbing materials like art acoustic panels. Soundproofing blankets drape on one side of your door either temporarily or permanently, depending on your needs.
For example, if you're soundproofing a door to a theater, you may want a permanent soundproofing blanket solution. Or, if you're soundproofing an office door, consider investing in a temporary solution you can apply during working hours. For soundproofing blankets, you have a couple of options.
Quiet Barrier™ Fiberglass Composite
Soundproof Cow'sQuiet Barrier™ Fiberglass Composite is a soundproofing solution that gives you lasting results. It has a 1/8-inch impact noise barrier that's reinforced with a Mylar facing, as well as a 1-inch quilted fiberglass material layer that absorbs airborne noises.
Quiet Barrier™ Fiberglass Composite is a long-term solution. Apply it to your door using a reliable soundproofing adhesive, like thePL® Premium Polyurethane Construction Adhesive. When securing to your door, apply the soundproofing adhesive on the Mylar-facing side.
Quiet Barrier™ Acoustic Quilts
TheQuiet Barrier™ Acoustic Quilt is a sound-deadening material that dampens sound waves. It resembles a quilted blanket but is made of nonporous vinyl that works well at absorbing excess sound.
This soundproofing blanket is a temporary barrier, so you can put it up and take it down whenever you want. You can also invest in an acoustic quilt for multi-purpose use. Use it to soundproof your door, tent, music studio, car and more.
The Quiet Barrier™ Acoustic Quilt has hanging rings, which you can support with eye hooks, chains or nails and screws, depending on your door's capabilities. Soundproof Cow offers the quilt in many sizes, including 2-by-4 feet, 4-by-4 feet and 8-by-4 feet. Choose a size that can comfortably cover your door's surface area.
3. Soundproof the Door Frame
Take a detailed look at your door frame. Around the perimeter, you'll notice a small gap. Sound waves easily travel through this air-filled gap causing excess noise transfer, but there are ways to address this.
Quiet Door™ Perimeter Seal
TheQuiet Door™ Perimeter Seal is an aluminum and silicone-based soundproofing tool that fits around the space surrounding your door. It has an aluminum base, which fixes into your doorframe, and a silicone filling to form a tight seal to your door.
Installation is fairly simple, requiring a drill, Phillips screwdriver, tape measure and hacksaw for trimming. Because of its adjustable qualities, the Quiet Door™ Perimeter Seal fits almost any door, including your wooden hollow core door.
4. Install a Draft Stopper
Take a look at the bottom of a door. You'll notice an even bigger gap, easier for sound waves to pass through than the air-filled spaces around the perimeter gap. Choose a soundproofing solution as a duo to the Quiet Door™ Perimeter Seal.
Quiet Door™ Door Sweep
As the Quiet Door™ Perimeter Seal fits in the space around your door, theQuiet Door™ Door Sweep fits in the space between the bottom of your door and the threshold. It's made of an aluminum base with a silicone seal. This soundproofing tool doubles as a draft stopper, too, creating a more consistent internal temperature and lower monthly utility bills.
5. Use Soundproofing Curtains
Soundproofing curtains are great tools to dampen excess noise. They're made from thick, dense materials and have a porous surface. When buying soundproofing curtains, read the product description. Ensure the curtains are more than just "thick," as some companies use this trait alone to falsely list their product as soundproof.
Install the soundproofing curtains around your door as you would a window. Find a supportive curtain rod and hang it over your door. Then, drape the curtain on either side of your door, which you can close and open as needed.
6. Use a Door Rug
Sound waves reflect off of hard surfaces, including your wooden door and hard-surfaced flooring. Sound waves can bounce off of your hard-surfaced flooring and pass through the cracks surrounding your door, transmitting sound. Prevent this sound transmission by adding rugs to either side of your door.
Carpets are great soundproofing tools because of their porous fibers. When sound waves bounce onto carpets, the carpets' fibers trap and absorb the sound waves' energy, preventing them from traveling any farther. Carpets are particularly helpful at capturing airborne noises, but the carpet's rubberized base is effective at capturing impact noises, too.
You don't have to purchase an elaborate rug for either side of your door. A rug that fits the size of your doorframe, like a 2-by-6 foot option, will work well.
Meet the Herd — Who Is Soundproof Cow?
When you're looking for soundproofing tools, trust the herd of professionals at Soundproof Cow. We understand the soundproofing needs of different spaces. Our goal is to make soundproofing easy because you deserve a noise-controlled space that promotes efficiency and comfort.
Soundproof Cow offers a wide range of DIY soundproofing tools to commercial and residential customers. There are tons of projects to consider — your walls, ceilings, interior and exterior doors, windows and other areas. We're here to help you through any of your soundproofing projects.

Contact Soundproof Cow for Soundproofing Tools
Your hollow-core door may be playing a huge role in your home's noise pollution. Sound waves easily travel through air-filled spaces, like across rooms or through your hollow door's air-filled core. When you want to make rooms in your home quieter, many professional soundproofing tools can help you get the job done.
Contact Soundproof Cow to learn more about our soundproofing options. Reach out to us online, or give us a call at 1-866-949-9269.