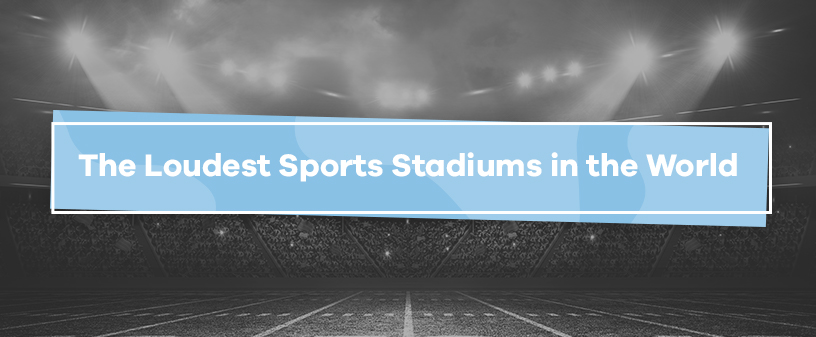 May 19, 2017
If you've been to a sports stadium, you know they can get loud. Part of the fun of going to a sporting event is seeing how loud you can get in support of your team. Many stadiums are famous for their loud fans, such as Seattle's famous "12th Man." But what are the world's loudest sports stadiums, and how loud have the loudest sports venues gotten?
If you've been curious about the world's loudest sports venues, here's a look at the five loudest sports stadiums, and just how loud they've gotten.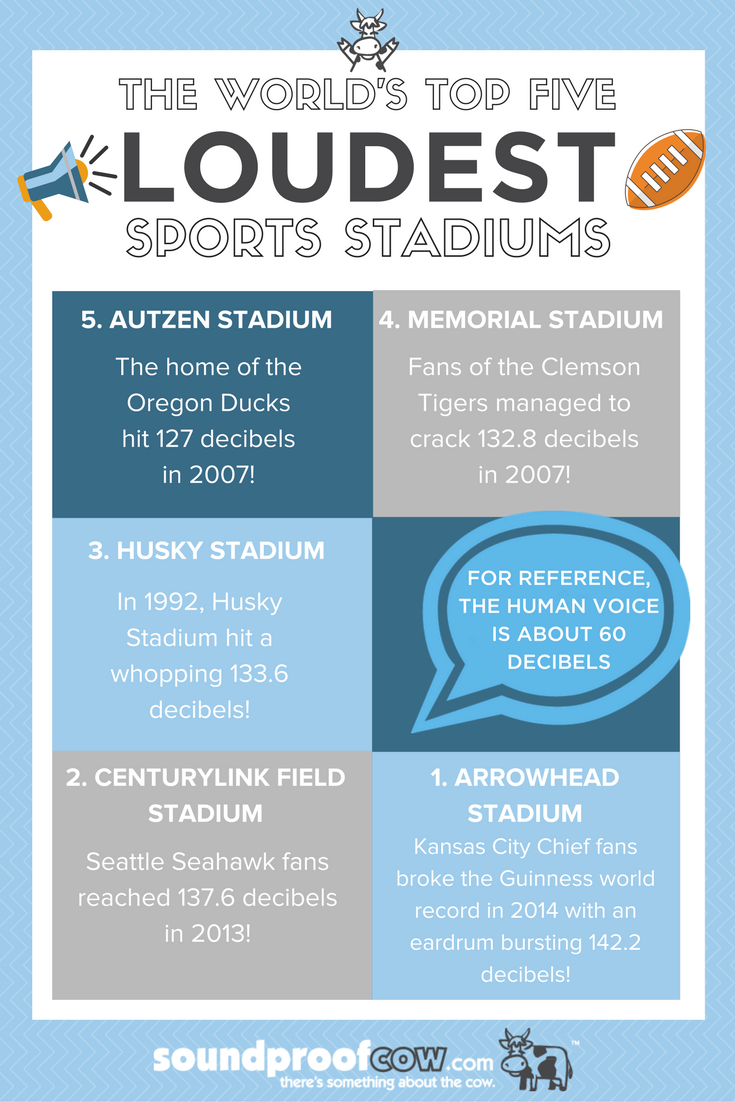 5. Autzen Stadium, Oregon
If there's any sport that corners the market on loud fans, it's college football. Football tends to have the biggest stadiums with the most people, and college students tend to be the most energetic, passionate fans of their teams. The combination is often explosive when it comes to noise.
This was certainly true of Autzen Stadium in Oregon — home of the Oregon Ducks — whose fans make a little go a long way. With a relatively modest seating capacity of 54,000, this little stadium that could managed to hit the 127-decibel mark in 2007, which is louder than your typical rock concert.
4. Memorial Stadium, South Carolina
The home of the Clemson Tigers is called Death Valley for good reason. The fan presence is death to Clemson's opponents. That fan base managed to crack 132.8 decibels back in 2007. They took a shot at the Guinness Book of World Records as the all-time loudest sports venue, but fell a bit short.
#Trivia Which state has produced more pro #football Hall of Famers than any other state?

— Soundproof Cow (@Soundproof_Cow) May 29, 2018
3. Husky Stadium, Washington
Not to be outdone by their Pac-12 rivals in Oregon, the Washington Huskies posted their own impressive sound number in 1992, hitting a whopping 133.6 decibels. After nearly 100 years, this stadium was torn down and renovated in 2011. We're still waiting to see if the new stadium can post new levels of ear-splitting sound.
2. CenturyLink Field Stadium, Washington
It's long been established that Seattle Seahawk fans are the most passionate and loudest in the world, and the Guinness Book of World Records supports that by showing that the 'Hawks have lead the field of loudest sports stadiums twice — most recently with a brain-melting, 137.6-decibel performance in 2013.
1. Arrowhead Stadium, Missouri
The Seahawks were finally dethroned in 2014 by their former AFC West rivals, the Kansas City Chiefs. The Chiefs were prepared to break the record, as they paid thousands to fly Guinness to the site of their anticipated victory. And win they did, by clocking an eardrum-bursting 142.2 decibels.
The record was shattered during a game against the New England Patriots on September 29th, 2014, with eight seconds left on the clock in the first quarter. This is also the second time the Chiefs have claimed the record.
The Future of the World's Loudest Sports Stadium
The question of whether Seattle or Kansas City features the loudest sports stadium is far from put to rest. This is a back-and-forth battle that may continue for some time. The Chiefs took the record from the Seahawks in 2013, with a 137.5-decibel score, and then the Seahawks grabbed it back a couple of months later with their 137.6 mark, only to see the Chiefs win it back again with their 142.2 number.
It's likely that it's only a matter of time before Seahawk fans conspire to get their precious record back, and they just may pull it off.
Find More of the Loudest to Quietest Places Around the World
Best Sounding Music Halls in the World