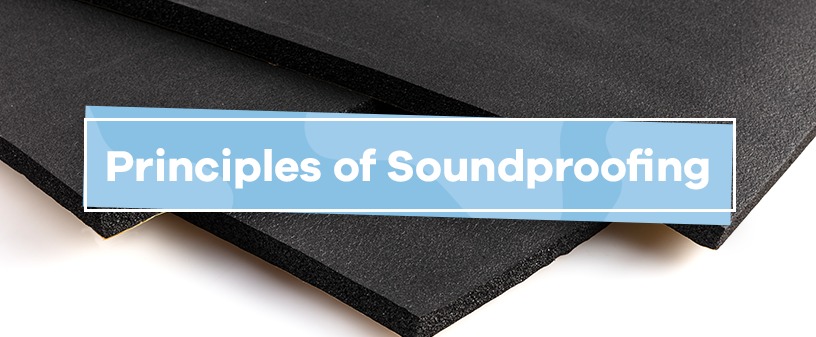 March 06, 2020
---
Quick Links to Soundproofing Principles:
Mass
Dampening
Decoupling
Absorption
---
When you think of soundproofing, you likely tend to imagine elaborate, fully-furnished basements or garages loaded with electric guitars and a drum set or expensive, high-tech recording studios. But soundproofing can be helpful in many more common scenarios and in your everyday life.
Maybe you live in a building with noisy neighbors. Maybe you can't concentrate on work in your home office when your son is blasting music in his room. Or maybe you want to turn the volume up on your own music without disturbing the other people in your home.
Whatever the case may be, reducing noise pollution can have positive effects on your comfort, health and happiness.
Soundproofing Principles
What makes soundproofing materials effective? The following are four sound insulation principles that guide us in creating our products at Soundproof Cow.
1. Mass
Mass is a fairly straightforward soundproofing principle — the greater an object's mass, the harder it is for sound to shake the object or push through. What will be harder for you to push: an empty shopping cart or a cart full of rocks? A heavier object contributes to sound isolation, but adding mass isn't enough on its own to soundproof a room. To really minimize noise pollution, we also consider other sound isolation principles.
2. Dampening
Have you ever made a wine glass ring? If so, you probably know you can silence the glass by holding it. By stopping the vibrations, you can eliminate the sound. That's essentially what the dampening principle is — reducing or eliminating vibrations to dampen noise. By using different layers of materials that have different densities, you can dampen noise to help soundproof a room.
3. Decoupling
Decoupling is another familiar concept for many who are learning how to soundproof a room. Decoupling refers to mechanically separating two sides of a wall. By separating the two sides of the wall, sound will not be able to pass through the wall as easily because it needs to also pass through the air cavity.
Decoupling isn't effective at all frequencies, however, which makes combining this principle with the other principles essential for creating a soundproof room.
4. Absorption
Another key sound isolation principle is absorption. By installing insulation in a ceiling or wall, you can reduce or eliminate sound. Combining absorption with dampening or decoupling can be quite effective in soundproofing a room, though insulation can be less effective at lower frequencies.
Get a Free Acoustic Analysis From Soundproof Cow
At Soundproof Cow, we strive to offer superior products and provide exceptional service to our customers.
When you explore the products we offer, you can shop with confidence that you'll receive the highest quality products. We know every customer's needs are unique, so our team works hard to ensure we find the soundproofing solutions that are right for you.
Not only do we want to provide the highest quality materials with the best customer service, but we love talking to our customers and potential customers about soundproofing information and education. Feel free to contact us with all of your soundproofing questions or complete our Free Acoustic Analysis form today to begin your soundproofing project.