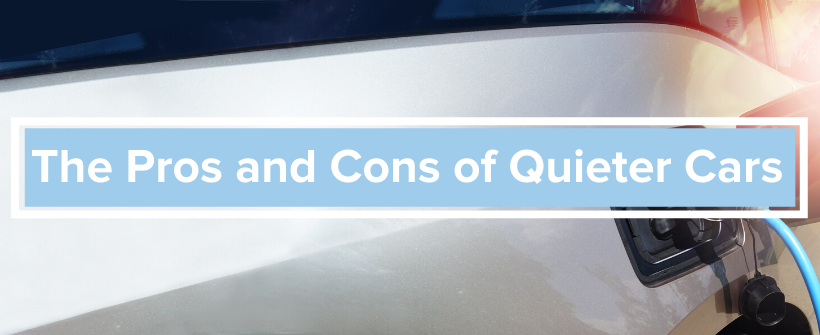 October 17, 2019
Traffic noise, especially car noise, can be some of the worst kind of noise pollution. The loudest cars are usually the oldest ones. Internal combustion engines make a lot of noise, and not only are older cars less likely to have measures in place to dampen noise, but they're also more likely to have loose or worn-out parts under the hood rattling around and creating even more noise pollution.
It shouldn't surprise you that some of the quietest cars are often some of the most expensive, although this is not always the case. Cars like the Audi A8 and Cadillac CT6 are loaded with sound-deadening material to allow the driver and passengers to fully appreciate the high-fidelity surround sound stereo systems that are often inside. Some cars, like the Lincoln Continental or Lexus LS, actually generate active white noise to counter unwanted sounds.
This is all great for the people inside the car, but even high-end, "quiet-running" cars can make a significant amount of noise to people outside the vehicle, especially when you punch the gas. The list of cars that don't make very much exterior noise includes electric vehicles. And this can actually be a problem.
What's Wrong With Quieter Cars?
If you've ever sat in traffic with the window open or been unfortunate enough to live near a busy intersection, the idea of a completely quiet traffic flow probably sounds like music to your ears. And in a lot of ways, the idea of quiet cars is a good one. They reduce noise pollution that can generate stress and actually negatively impact people's health.
The problem is that most electric cars run almost completely silently at lower speeds, and this can create a risk to nearby pedestrians, especially children or those with visual impairments. Although it would be great if everyone obeyed traffic lights and signs, many pedestrians have become used to avoiding a car accident by keeping their ears open to possible oncoming traffic, a strategy that may not help if an electric car is heading for you.
The Solution to Quieter Cars
The U.S. government has acknowledged this problem and created a solution. A law slated to go into effect in 2019 mandates that all hybrids, smart cars and electric vehicles must be designed to emit a sound when traveling under 19 miles an hour. This law has been delayed for a year due to the challenges to automakers in getting their hybrids and electric vehicles up to the new code, but the rule will be mandatory by September 2020.
Not all automakers are thrilled with the new rule, and due to pushback, the government pulled back on restrictions between different makes, models and trim levels of vehicles. Still, it is hoped that this new law will save lives without terribly inconveniencing hybrid and EV owners.
All that being said, there's no reason you can't enjoy a quieter car. For more information, car soundproofing products and tips on how to soundproof your car or your car engine, visit Soundproof Cow today.
Tags