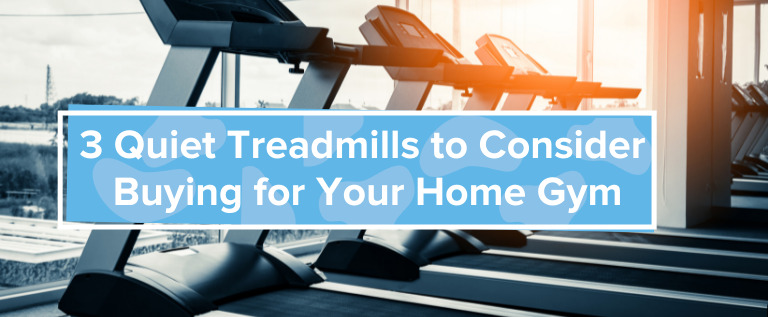 October 28, 2021
Running on treadmills is excellent for the body and mind. However, loud mechanics can deter you from working out, so it's vital you select the best quiet treadmill for home applications.
Are Home Treadmills Noisy?
You can expect any treadmill to make some noise. Most people set up their workout equipment in basements or spare bedrooms to be away from others. However, impact noise is inevitable.
Are New Treadmills Quiet?
Newer home treadmills are designed with the user (and their roommates) in mind. Finding the quietest treadmill for at-home workouts involves researching the quality of the running surface, main belt, treadmill base and motor. Most home treadmills from reputable manufacturers have shock absorption features built into them.
Here are some of the best quiet treadmills for home gyms:
1. NordicTrack X22i Incline Treadmill
NordicTrack is a leader in the fitness industry, so it is understandable that one of their models makes our quietest treadmill list. Few treadmills on the market can compete with NordicTrack's new Quiet Drive Incline Technology. Set the treadmill to a maximum 40% grade incline to truly feel the burn.
The X22i Incline Treadmill features a 4.0 horsepower motor that operates silently, along with a shock-absorbing deck that significantly reduces impact noise.
2. Sole Fitness F80 Treadmill
Need a quiet treadmill that folds up to save space? The Sole Fitness F80 Treadmill showcases Cushion Flex surface technology that is easy on your joints and ears. Keep your treadmill out of the way when it's not in use, and rely on a 3.5 horsepower motor to run at speeds as high as 12 miles per hour. This machine is ideal for those who want to run flat or at a 15% maximum incline.
3. Horizon T101 Treadmill
One of the best quiet treadmills for home is the Horizon T101 Treadmill. This machine fits in tight spaces and serves as an entry-level option for those just getting started with running. Set user-friendly controls for a top incline of 10%.
The Horizon T101 includes deck cushioning to save your ankles from impacts. The multi-zone padding diminishes noise, making it reasonable to jog in the early morning or late evening. A 2.5 horsepower motor and integrated Bluetooth speakers set you up for an enjoyable experience.
Optimize Your Home Gym With Acoustic Solutions
You can also acoustically treat your workout room with budget-friendly products from Soundproof Cow. Once you find the right treadmill, turn to our site for sound-absorbing solutions that stop impacts from traveling through floors, walls and ceilings, so you can keep "moo-ving" without worry:
Impact Barrier QT Underlayment: With Impact Barrier QT Flooring Underlayment, you can block structural and ambient noise. Position the recycled rubber materials below your flooring to stop impact vibrations from traveling downward.
Art Acoustic Panels: Place your own images on custom Art Acoustic Panels and hang them up to block sounds from leaving the room. You can order these panels in different thicknesses.
Buy Soundproof Cow Products for Your Home Gym Today
Soundproof Cow wants to assist with your acoustic treatment project. We sell a variety of sound-absorption solutions that work for home gyms. Have questions? You can contact us online for more information.