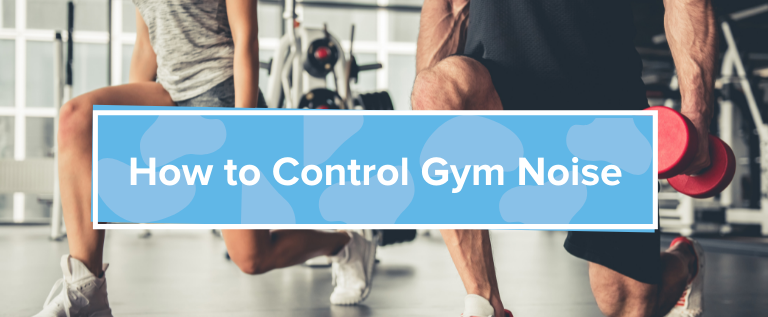 January 06, 2017
January is a great time to own a gym. People spill in to try to uphold their New Year's resolutions, and some new members may even stick around for February and beyond. The new crowds alongside your usual members might necessitate a desire to reduce echoes in your facility.
Without good fitness center sound control, loud music and clanking weights can interfere with your clients' workout. If your gym's noise levels make it tough for members to hear their own music through their earbuds, they can't enjoy their workout experience fully. A louder-than-desired exercise environment puts you in danger of losing some of those clients who were planning to come back month after month.
Below are some of the common culprits that make gyms noisier than they need to be:
Competing music: Do you have a couple of radio stations going on in adjacent rooms? Those songs might sound great, but several stations in proximity to each other, playing different songs, make it hard to practice noise control.
Group classes: When people work out together, they tend to make noise. Your cardio instructors may have to speak loudly to be heard.
Clanging weights and equipment: Many pieces of gym equipment are made of metal. Is it any wonder that everything from free weights to Nautilus-style machines produces constant noise?
Loud machinery: Treadmills, ellipticals and stationary bikes all make a sound when they're turned on. If you have a lot of equipment, you're bound to need a gym noise reduction system.
Eager members: You couldn't be in business without your members. However, they contribute to the noise in the gym. From grunts of exertion to conversations, they're contributors to the sound levels in your spaces.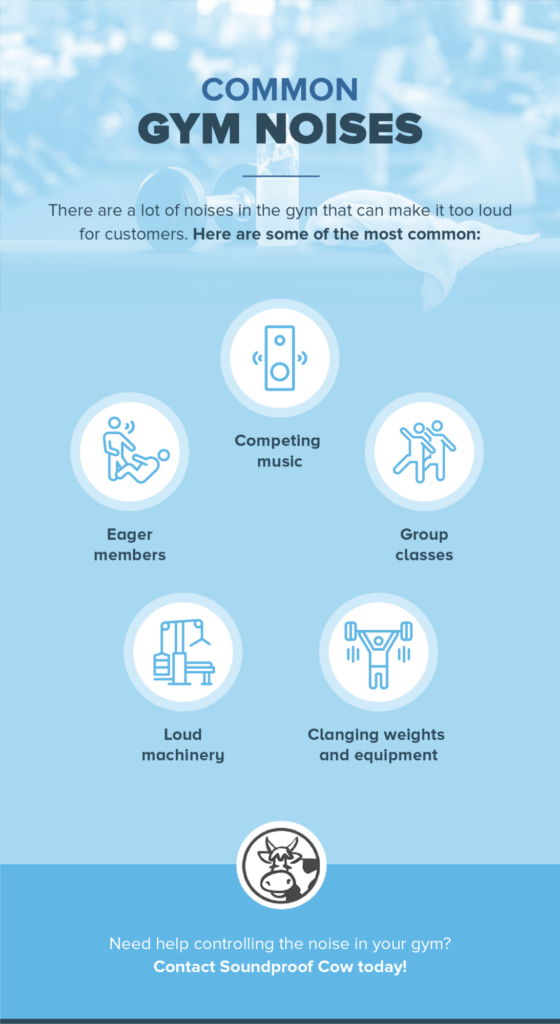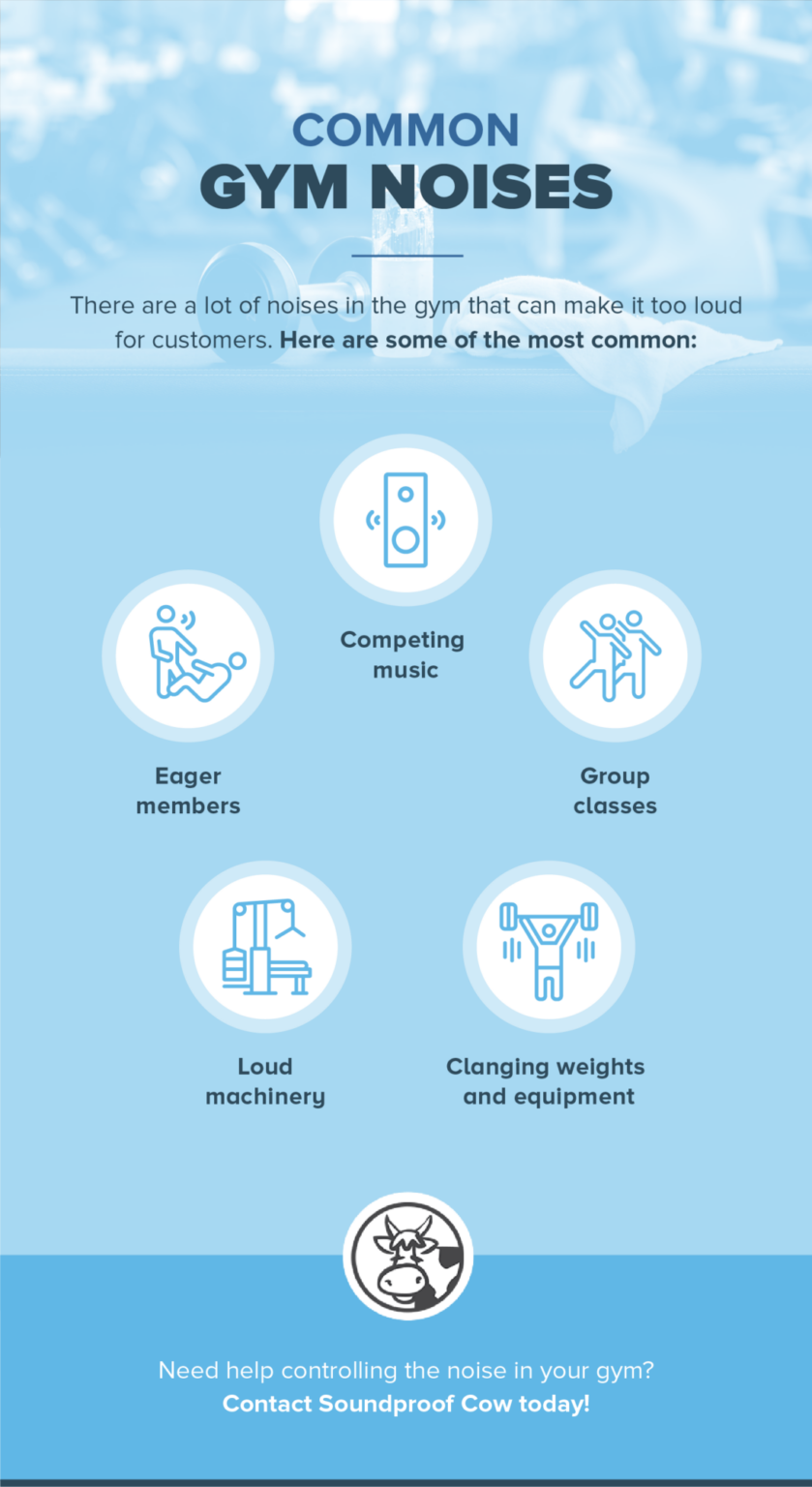 So, what steps can you take to improve the sound in your gym? Here are three easy tricks to start with to know how to control gym noise:
Reduce Echoes in the Gym Tip #1: Seal up the Leaks
Any place air can get in can also allow unpleasant sound to enter and to reverberate. Start by sealing up all air leaks in the walls, ceilings and floors, especially around doors, vents and light fixtures. This can help you improve your insulation as well, which may help reduce your monthly utility bills and keep membership rates more competitive.
Don't forget to look for leaks in the ceiling, too. Often, sound will reverberate off exposed metal or other types of ceiling. You may want to experiment with hanging some acoustic panels and ceiling tiles. For instance, you could consider purchasing artistically designed acoustic panels to hang on the walls of your yoga studio or a smaller room. These soundproofing panels keep noise under control. At the same time, they look aesthetically pleasing, so they add to the overall ambiance and decor of the room.
In terms of ceiling tiles, you may want to opt to either replace your current ceiling tiles or place special soundproof insulation above them. The soundproof insulation will help the "leaking" noise from escaping to other areas of the building, as well as bouncing back into the main room. Additionally, the insulation will help keep the room's temperature at your preferred levels.
Reduce Echoes in the Gym Tip #2: Keep the Machines Oiled
Nothing can stop the sound of metal plate against metal plate or the grunting noises some of your customers might make while lifting weights, but keeping your machines well-oiled can reduce a good deal of the sound they produce. You also might want to swap in more resistance machines, aerobic machines and even free weights to keep those clanking plate sounds down.
Are you still experiencing a lot of problems with noise, even after oiling up and maintaining your gym equipment? Perhaps the gym floor padding that you're using could be worn out, or you might need an alternative product. Not all floors and floor pads absorb sound, even if they provide a cushioned spot for machines.
Take a walk around your gym to see if some of the equipment is located next to exposed metal poles or supports. The metal might be reflecting a little bit of sound — and if you have many poles or supports in your gym, the sound can add up. How can you reduce that type of gym noise? One method would be to wrap exposed poles and supports with a sound absorption product.
Reduce Echoes in the Gym Tip #3: Sound Attenuation Materials
Probably the best way to keep unwanted noise down in your gym is through liberal use of good sound attenuation materials. One of the challenges of managing sound in the gym is all the hard surfaces and open spaces. They cause sound waves to bounce back and forth, creating terrible acoustics and making hearing specific voices, such as the voice of a trainer or spotter, extremely difficult. Noise pollution can also deter some customers from returning.
Gym soundproofing solutions like the ones you'll find at Soundproof Cow can alleviate many of these problems. For example, the isoTRAX™ Soundproofing System consists of five sound isolation rails that go inside your gym wall or ceiling to reduce vibrational noise and cut down on the sound transmission.
For a less invasive solution, you might try Quiet Batt™ soundproof insulation, which is precut and easy to install. Quiet Batt™ is a cotton-based material allowing for easy handling as well. This product can improve your gym twofold — improving your sound and temperature control.
Gyms May Not Be Quiet, but They CAN Be Comfortable!
Naturally, you don't want your gym to be completely silent. A completely quiet gym is an empty gym — but an excessively loud gym can also quickly become an empty gym.
As a gym owner, you want that perfect balance — enough sound to know you have an active gym, but strong enough acoustics so your clients can hear their trainers, talk with each other and get through a workout without getting a headache. By making efforts to reduce sound, such as sealing leaks, oiling machines and outfitting your gym with a complete and high-quality soundproofing system, you can achieve just the balance you need.
Exercise some gym noise reduction protocols in your exercise facility today. Contact Soundproof Cow for a free acoustic analysis to help you create a space that keeps you and your customers moo-ving!