September 21, 2022
Benefits of Waterproof Panels for Soundproofing
Waterproof acoustic panels handle two jobs at once by containing all the interior sound while blocking any outside noise. This makes them perfect for rooms or buildings that could benefit from soundproofing and sound absorption. Unlike standard soundproofing materials — which deteriorate, crack or absorb excess moisture — these panels are designed with moisture resistance in mind.
Our waterproof panels are:
Resilient: You already know these panels can stand up against moisture — but how about panels that are also resilient against chemicals, bacteria, fungi and mold growth? The pore-free design makes them a durable investment. They're even flame-resistant and can pass most building code requirements for flammable exposed materials.
Lightweight: By resisting moisture — instead of absorbing it like a sponge — waterproof panels maintain their structural integrity and lightweight design.
Washable: These panels' pore-free design means they'll withstand the occasional hose down, so you can install them in areas that get dirty or rooms with strict hygiene requirements.
Versatile: You can install our waterproof acoustic panels on any residential or commercial wall, ceiling or as a hanging baffle, and they're light enough to keep installation a quick and easy job. You can even use them to create enclosure boxes for special DIY soundproofing projects. This versatility makes them popular across so many different industries, including marine environments and food service facilities. They're even fiber-free, so you can use them in a medical facility or clean rooms without fear of debris contamination.
Each acoustic panel is also available in your choice of white or gray to fit your space and style.
Common Applications for Waterproof Sound Absorbing Materials
These resilient panels are effective for a wide variety of uses and applications. They'll get the job done on their own, or you can mix and match them with other soundproofing and sound-absorbing materials to fully optimize your space.
Sound absorbing, water-resistant acoustic panels can be used for:
Dog Kennels
Animal shelter soundproofing is a big issue. A large number of animals in a small space can make a tremendous amount of noise, and soundproofing is key to keeping that noise level down. When it comes to feeding and watering time though, things can get wet and messy, which is why this is a great place to have water-resistant soundproofing.
Indoor Swimming Pools
An indoor pool is another place where things can get loud, especially if it's loaded with kids — and it's clear to see why it's critical to indoor pool soundproofing that any echo-reducing panels be water resistant. These panels are designed to resist chemicals, making them safe for use in rooms with chlorinated or treated pools. That's what makes Quiet Board™ Water Resistant Panels ideal for indoor pool soundproofing.
Skating Rinks
Skating rinks aren't necessarily wet, but the condensation rising from the ice could potentially damage some soundproofing panels. Not Quiet Board™ Water Resistant Panels, though. Install some of these echo-reducing panels in your skating rink and enjoy vastly improved acoustics without fear of water damage.
Gun Ranges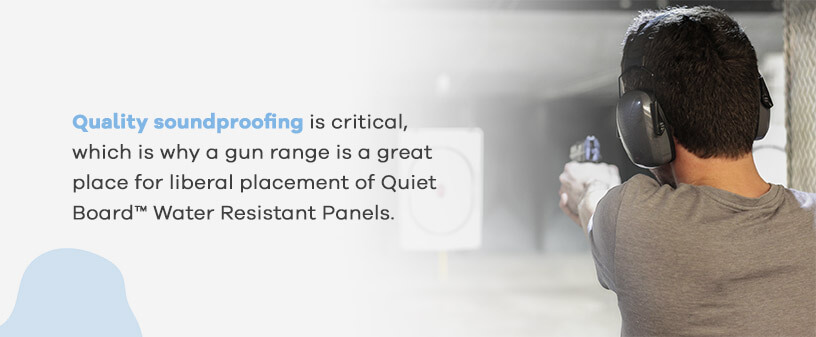 There are few places that get as loud as a gun range, even if you're not in close proximity to the shooting. Quality soundproofing is critical, which is why a gun range is a great place for the placement of Quiet Board™ Water Resistant Panels.
Car Washes
If there's a business that's equal parts wet and loud, it's a car wash, which is why Quiet Board™ Water Resistant Panels and car washes are a perfect match when it comes to soundproofing.
Food Preparation Areas
Food preparation areas, including food trucks and commercial kitchens, can get pretty hectic, with expediters screaming orders, cooks screaming instructions and hungry people nearby just screaming. Good soundproofing cuts down on noise pollution and helps the people who need to hear each other communicate — and with Quiet Board™ Water Resistant Panels, you don't have to worry about any stray flying foodstuffs damaging the soundproofing.
Laboratories
Different laboratories function in different ways, but most require that the scientists within be able to communicate clearly, which means extraneous sound needs to be kept down. Just what these acoustic panels specialize in. These panels have a fiber-free design and are resistant to chemicals to keep your lab work contamination-free and your soundproofing investment durable.
Ceiling Tiles
The ceiling is often neglected when it comes to soundproofing, but a significant amount of sound can come through it, which is why it's important to have acoustic panels up there as well. If your ceiling is directly under the roof or under the floor of someone who's no stranger to water leaks and spills, having these panels be water resistant can provide a good deal of peace of mind.
Arenas and Stadiums
Arenas and stadiums probably get as loud as a place can get with all those screaming fans, so it's a great spot for high-quality soundproofing. With Quiet Board™ Water Resistant Panels in place, stadium managers can enjoy improved acoustics without worrying about damage from flying beer or soda launched by overexcited fans. They are even washable, so you can return your arena or stadium to its pre-crowd glory between events.
Gymnasiums
Gyms can get loud, especially when they're full of people looking to get in their workout. Good soundproofing in gyms allows trainers and spotters to communicate safely and effectively with the people they're working with.
Rooftop Enclosures
Lining a rooftop enclosure with acoustic panels is a great way to control unwanted sound. Since rooftop enclosures are more susceptible to the elements than most spaces, often water-resistant panels such as the Quiet Board™  acoustic panels are an absolute must.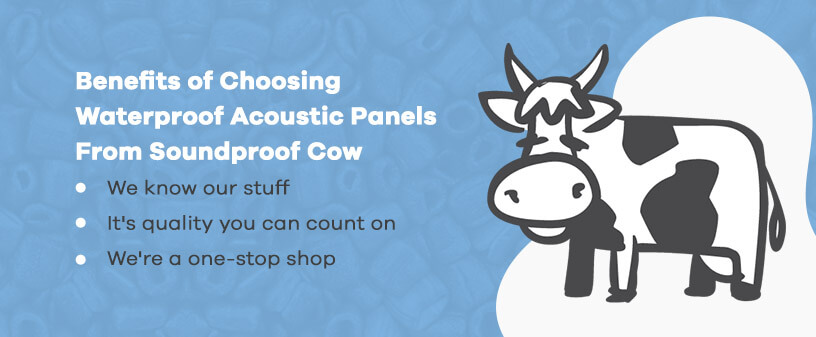 Benefits of Choosing Waterproof Acoustic Panels From Soundproof Cow
With so much versatility and durability, waterproof soundproofing panels from Soundproof Cow are the missing puzzle piece your commercial or residential project needs. Here are just a few reasons to trust us with your soundproofing needs:
We know our stuff: If you've got a tricky soundproofing project, we've got the products and experience to help you solve it. Request a free acoustic analysis of your space for specific recommendations, or fill out our online soundproofing questionnaire to find solutions fast. Need more guidance? No problem. Give us a call at 866-949-9269, and let's talk sound.
It's quality you can count on: You deserve quality products — and that means no shortcuts. We only offer the highest quality, USA-made products available, and we do it at the best possible price. When you see the "No Bull" stamp of approval, you're looking at a top-notch product at a deeply discounted price.
We're a one-stop shop: Soundproofing a room or building is rarely a one-and-done project. If you're tackling a commercial renovation or DIY home project, we've got everything you need to customize your space with quality soundproofing and sound-absorbing materials.
Shop water-resistant panels today, or browse the store for more soundproofing solutions.