Soundproofing Your Football Season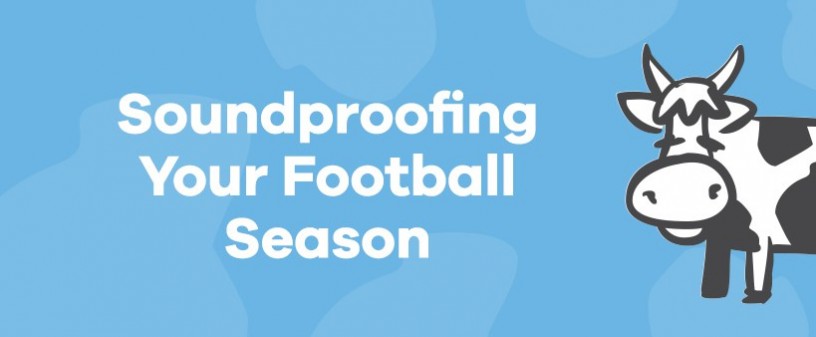 Welcome to Monday Night Football Season. And Sunday Night Football. And Thursday Night Football. Welcome to the sport that despite its mass of spectators reaching a fever pitch in sound, when it comes to the pivotal moment of your guy getting the touchdown, you can hear your heartbeat and yours only.
And once again…
When your ears are overtaken by screaming fans, sometimes being on the couch is no different than being in the stadiums. Except the view may not be as convincing.
It's seasons like these you may look around your condominium, look at the shared walls with your neighbors and think you should just become a football fan. At least then the noise would at least make sense and not bother you.
But since you're not a team sports kind of person, don't have the authorization to take sledgehammer to soundproof-less wall and can't ask your neighbor to give up the pleasure of his or her hobbies, what are your options?
We here at Soundproof Cow understand the dilemma of living in a space that doesn't allow renovating or excavating the wall.
Why settle for football season when you're not a sports fan?
So we want to introduce you the concept of something that enables to deaden sound without having to kill your space. Something that will block sound without having to block off rooms while you are renovating.
Now, you can bring any field of vision to life – whether it really is a football field or a bed of roses, whatever image you have we can put it onto fabric-wrapped acoustic panel rich, true-to-life colors using a patented DyeFusion™ technology.
With guaranteed 25-year fade resistance, you can finally minimize sound, maximize customization and soundproof your space.
With an easy to follow system, our herd is here to help you turn your design into a soundproof art.
Step 2: Tell us your soundproofing issues
Step 3: Send us your designs so we can fit them to the proper panels
Step 4: Get ready to install!
So make room for your custom art and mark your calendar because this October 5th –November 7th, 2015 Soundproof Cow is throwing a Style and Save Sale. We're taking 15% off Art Acoustic Panels, and we're introducing an exclusive, limited edition series.
We can't wait to hear from you soon. Until then, may the best team win!
Tell them you heard it from the herd.