Three Unexpected Places You Need to Soundproof Your Home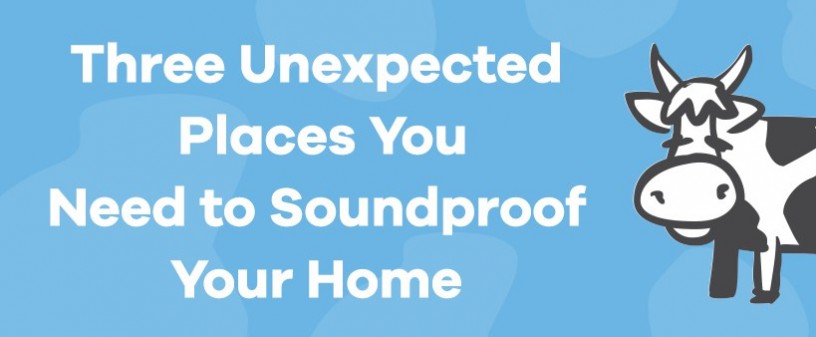 We've all heard of baby proofing; preparing the home with materials that block wandering minds and hands from exploring unidentified places and objects.
Here at the Cow, the herd helps you prepare for wandering sound by proofing your place with soundproofing materials.
Just like you can baby proof your bathroom, you can also soundproof your bathroom and many other places in your home.
DOORS
By simply soundproofing the perimeters of your door you can reduce the sound that transfers from one room to the next. Soundproof Cow's Quiet Door Adjustable Perimeter Seals are versatile, durable solutions to decreasing both noise and airflow. Offering a step-by-step guide, the ability to install this in little time with just a few tools is the perfect affordable DIY weekend project!
https://www.soundproofcow.com/Quiet-Door-Adjustable-Perimeter-Seal.html
DOG KENNELS
Dogs keeping you up all night? Your watchdog barking at your non-threatening neighbor? If your dog kennel is built with concrete, such foundations tend to carry echoes and amplify noise. Soundproof Cow has curated a list specifically designed to help resolve your problem.
https://www.soundproofcow.com/Soundproofing-Barriers/
https://www.soundproofcow.com/Soundproofing-Insulation/
https://www.soundproofcow.com/Sound-Isolation-Systems/ 
https://www.soundproofcow.com/Foam-Composites/ 
GARAGES
Starting a garage band? Have a gym out there? Man cave? Workshop? Whatever you do out there, there can carry a lot of noise to your home, your solace. Whether you want to style it with Fabric Wrapped Acoustic Panels or get between the studs with insulation, Soundproof Cow is here to help your productivity and eliminate distractions.
https://www.soundproofcow.com/Garage-Soundproofing/
Kids can be loud. Chaos pops up everywhere. The Cow can help you counteract that. No matter the sound in your life, we can help you control the volume in your life!