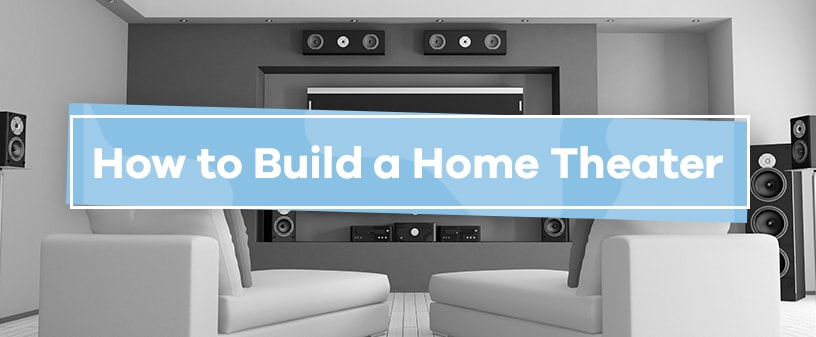 May 03, 2018
Home theaters are becoming more and more popular these days. With the advent of streaming services and movie quality television, there's more great content you can enjoy in your own home, so why not make it a theater-quality experience? If your answer is that you don't know the first thing about designing a home theater room, fear not. Here's a step-by-step guide to building a great DIY home theater room for you and your family to enjoy.
1. Pick a Location
To have a home theater, you must have room for a home theater. Ideally, you want a room that's at least 20 feet long and 12 feet wide. You also want a room that's as isolated from the rest of the house as possible — a basement or rec room is ideal. The closer your home theater is to the rest of the house, the better you'll want your soundproofing to be.
2. Build a Shell
Build your shell just as you would build a shell for any home addition. However, with a home theater, adequate soundproofing and insulation is vital, and the most important consideration. You can find all the insulated soundproof material you need at SoundproofCow.com.
3. Surround Sound
One of the key elements to a home theater is surround sound. A traditional home theater surround sound system is seven channel speakers and a subwoofer. Place the speakers as follows:
Center Speaker: Directly above/below the screen
Left and Right Speakers: Ear height on the left and right sides of the screen
Two Side Surround Speakers: On side walls behind the main seating row
Rear Surround Speakers: On the back wall, equidistant from one another
4. Install Lighting
The best lighting for a home theater consists of light sconces along the walls and recessed lighting in the ceiling.
5. Wire In a Video Projector
This is simpler than it sounds. You simply need to install an HDMI cable that sends HD video to the projector and a CAT5 wire to allow you to access the projector with an RF remote.
6. Install Drywall
Put in drywall to hide the shell and all the wiring. Make sure there are holes in the wall so you can access the wires.
7. Set Up Video and Sound
Now you can hang the screen, connect the projector and connect all the speakers.
8. Seating
For a true home theater experience, you need movie theater seats. You should be able to fit at least two rows of these seats comfortably in your theater room.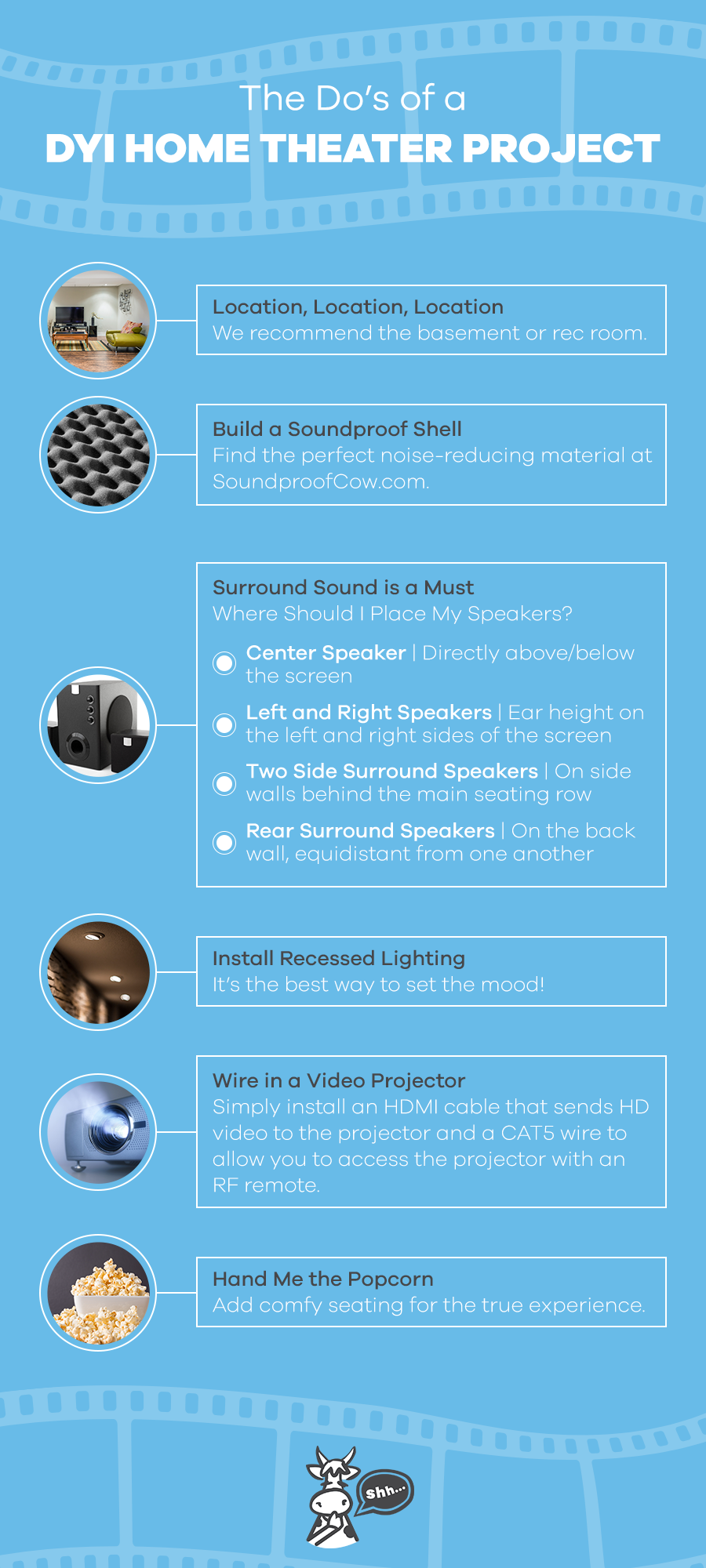 Get Started with Soundproof Cow Now
Once you're ready to get started, the first thing you'll need is your soundproofing materials. You can find everything you need at prices that will fit your DIY home theater budget right now at SoundproofCow.com.
Tags