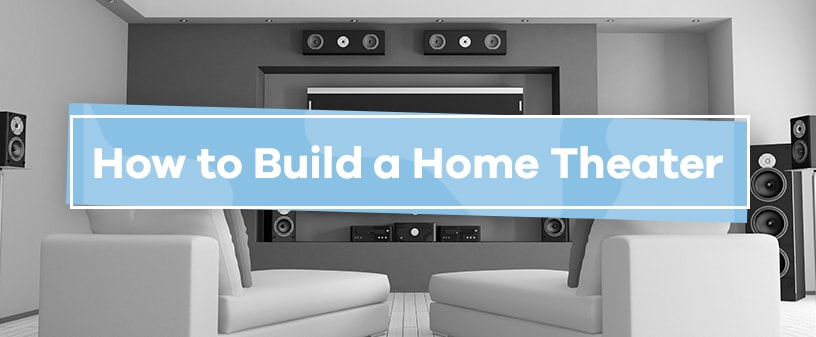 January 25, 2023
Home theaters are rising in popularity these days. With the advent of streaming services and movie-quality television, there's more great content you can enjoy from the comfort of your home, so why not make it a theater-quality experience? If your answer is that you don't know the first thing about designing a home theater room, fear not. Here's a step-by-step guide to building a great DIY home theater room for you and your family to enjoy.
1. Pick a Location
If you want to know how to build a theater room, start by choosing the right room. Ideally, you want a room that's at least 20 feet long and 12 feet wide. You also want a room that's as isolated from the rest of the house as possible — a basement or rec room is ideal. The main reason for this is the transfer of sound.
Sound will travel in both directions. This means that others in your house may hear what you're watching, or you could hear what's going on in other rooms of your house when you're trying to focus on your movie. The closer your home theater is to the rest of the house, the better you'll want your soundproofing to be.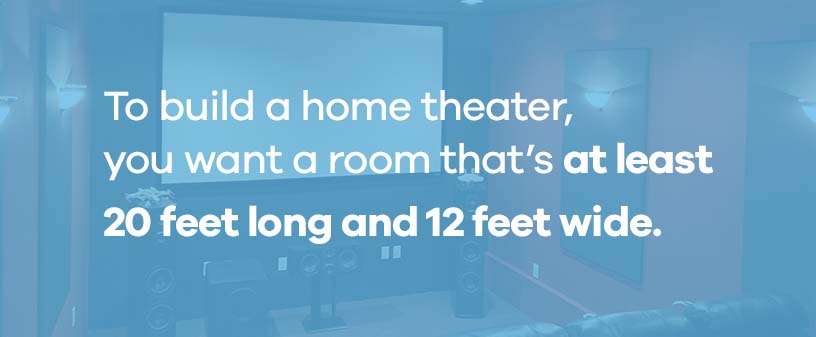 2. Build a Shell
Build your shell just as you would build a shell for any home addition. You'll frame out the room in the shape you want, including all walls and ceilings. You can even raise a portion of the floor in case you want tiered seating options. However, with a home theater, adequate soundproofing and insulation are vital, and the most important consideration. Make sure you use high-quality products to get the best soundproofing experience for your home theater.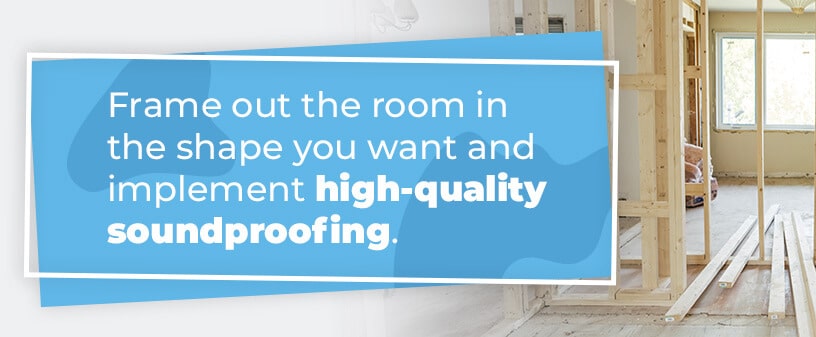 3. Surround Sound
One of the key elements to a home theater is surround sound. A traditional home theater surround sound system includes seven-channel speakers and a subwoofer. This provides excellent sound quality that allows movie watchers to hear everything. You'll enjoy the thundering lows, rich mids and soaring highs of every movie you watch. To get the most out of your speakers, place them as follows:
Center speaker: Place your center speaker directly above or below the movie screen
Left and right speakers: Place these speakers at ear height to the left and right sides of the screen
Two side surround speakers: Place surround speakers on sidewalls behind the main row of seating
Rear surround speakers: Place rear speakers equidistant on the back wall of your home theater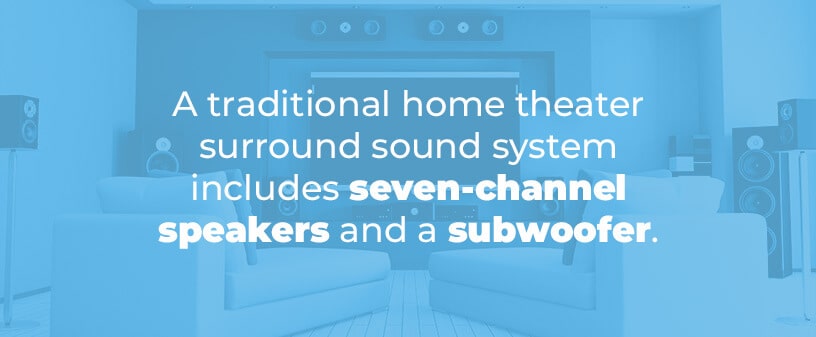 4. Install Lighting
The best lighting for a home theater consists of light sconces along the walls and recessed lighting in the ceiling. There are also other great options for a DIY basement home theater, including exposed lighting options and track lighting. Whatever kind of lighting you choose, make sure you make room for what you want during the framing stage.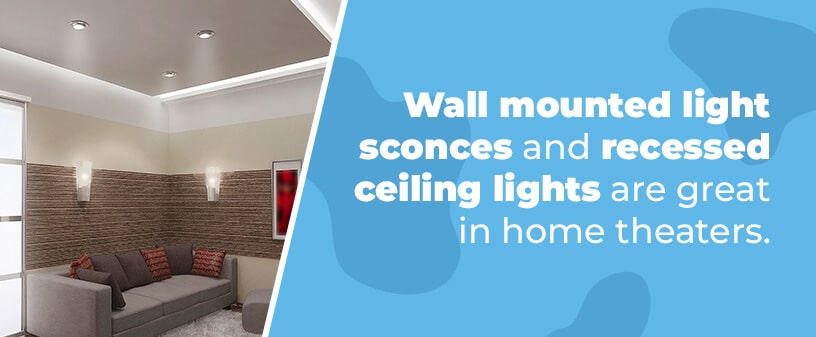 5. Wire In a Video Projector
This is simpler than it sounds. You simply need to install an HDMI cable that sends HD video to the projector and a CAT5 wire to allow you to access the projector with a radio frequency (RF) remote. Keep in mind that you'll need a computer or other form of media player to send the video to the projector. You'll also need ample electrical outlets for all your devices. When choosing devices, make sure you're going with options that have great visual quality for the best experience.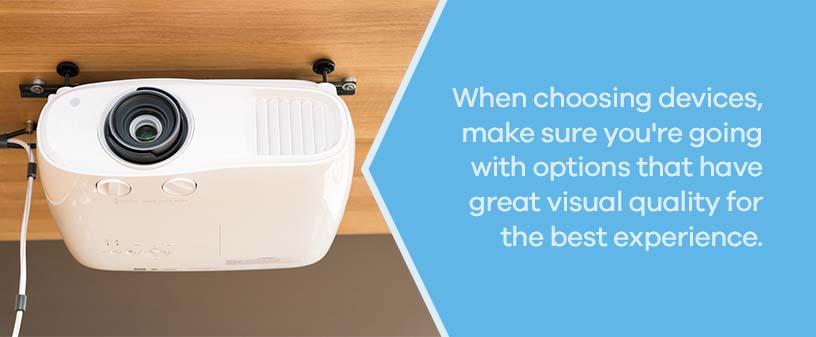 6. Install Drywall
Once you've finished framing and know where all your wiring and electrical outlets will go, you're ready to add the drywall. Drywall will hide the shell and all the wiring. Make sure there are holes in the drywall so you can access the wires. You'll want to be precise with your measurements of the hole in your drywall to ensure that everything fits correctly.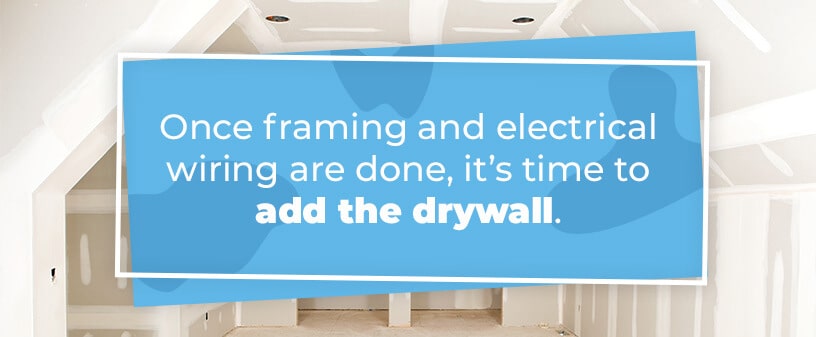 7. Set Up Video and Sound
Now you can hang the screen, connect the projector and connect all the speakers. If you made your cuts right, all your wires and outlets should be easily accessible through the drywall. Once you set up everything from your entertainment system, you'll want to test it. Make sure the projector is calibrated to the right settings and delivers a high-quality picture. For your speakers, make sure they're all working and that the sound settings give you the in-home theater experience you desire.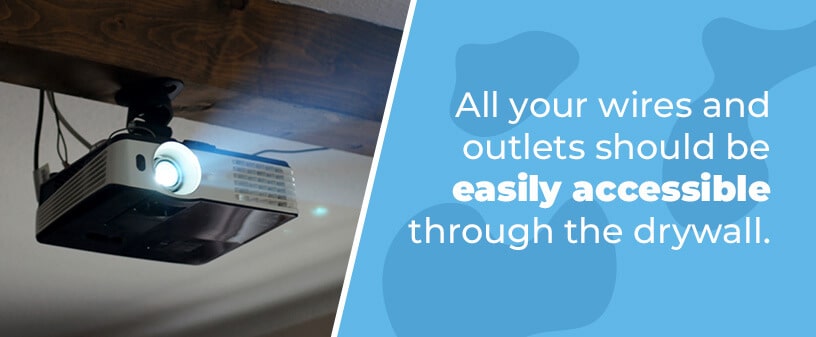 8. Seating
For a true home theater experience, you need movie theater seats. When choosing your seating, make sure it's comfortable — you'll be spending a lot of time there enjoying your favorite movies and TV shows. You can also check into added features, like reclining ability, cupholders, and more. Also, be sure to account for size. You should be able to fit at least two rows of these seats comfortably in your theater room.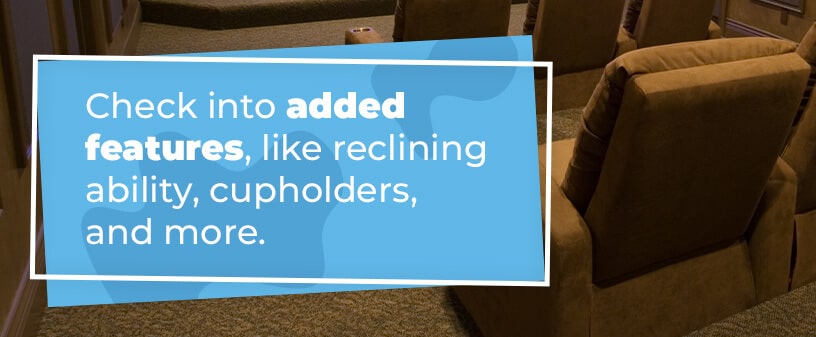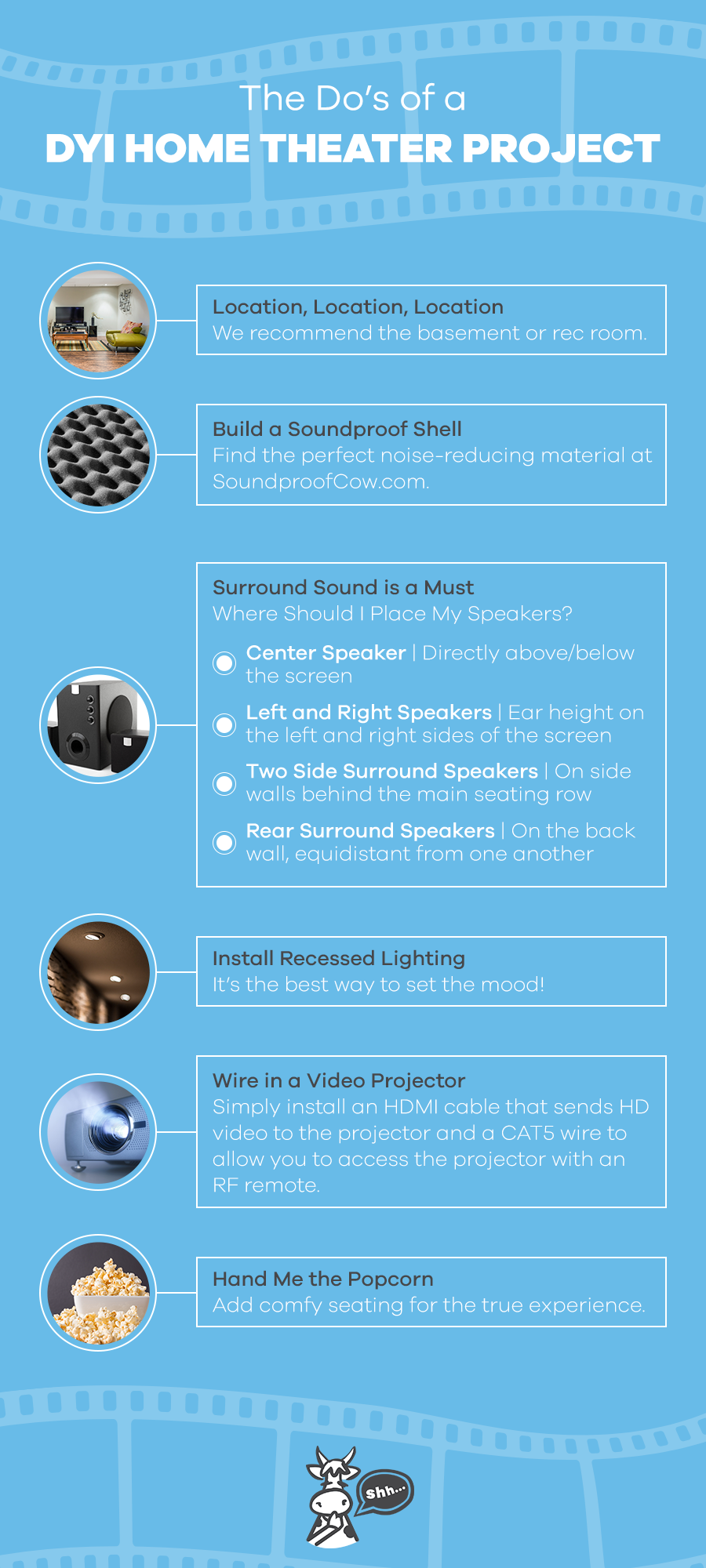 Products to Help You Soundproof Your DIY Home Theater Room
To get the most out of your home theater, you need to soundproof it. Soundproofing your home theater keeps the sounds you want in and unwanted sounds out. Here are some of the best products you can use to achieve proper soundproofing in your home theater: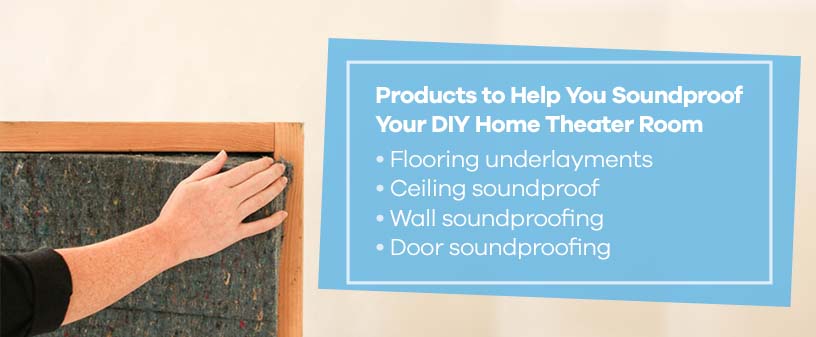 Building a Home Theater FAQs
How much does it cost to build a home theater?
According to Fixr, the national average is $20,000-$70,000. The room you choose, how much equipment you use, and what equipment you purchase all factor into the cost of building a home theater.
How many square feet do I need for a home theater?
20 x 15 is generally considered the best size for a home theater.
What equipment do I need for a home theater?
You will need a video projector, surround sound system, a home theater receiver, a DVD player or an internet streaming device, seating, a remote control system, and HDMI cables. You will also want to consider surge protection.
What is the best screen size for a home theater?
The size screen you choose will depend on what row you prefer to sit in, how far you like to be from the screen, and your preferred aspect ratio. A common screen size for a home theater is 85".
Can I use a TV instead of a screen projector?
You can technically use a TV instead of a screen projector for your home theater. However, a larger screen gives a more immersive experience, and TVs can get very expensive for the size screen you would need for your home theater, especially if you won't be sitting close to the screen. That is why most people choose a screen projector for their home theater.
Is a home theater worth it?
If your family loves the movie-going experience and would use your home theater frequently, than it is absolutely worth it. Ask yourself if the time and money investment is worth the entertainment your family will get from your home theater. Is a home theater something you would use frequently? If it is, then it is worth the investment.
Start Building a Home Theater with Soundproof Cow Materials
Once you're ready to get started, the first thing you'll need is your soundproofing materials. You can find everything you need at prices that will fit your DIY home theater budget right now with some help from Soundproof Cow. Contact us online today!
Find More DIY Soundproofing Ideas
Soundproofing With Everyday Materials
Tags