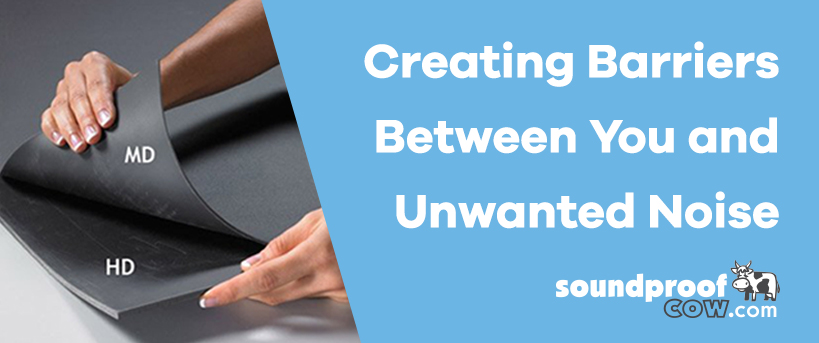 April 12, 2016
The trunk of a car.
The lining of a boat's hull.
The walls between two apartments.
The underlayment of a cabin's carpet.
Restaurants.
Home theaters.
Office complexes.
Broadcast studios.
As we move throughout the day, as we create movement, we create conversations, play music, watch TV, stomp feet, slam doors, juice our vegetable, we live life… we make noise and do so at a very high decibel.
That noise isn't just contained in our homes, but in our vehicles, our places of work and entertainment and vacation destinations as well.
Noise follows us as we are the leaders of making noise. And Soundproof Cow is your number one at solving that noise.
Our recommendation for creating barriers between you and unwanted noise is Quiet Barrier™. Available in sheet or roll form, it is a high-density non-porous material that exhibits a non-resonant quality due to its flexible nature and is one of our most popular soundproofing products. The Quiet Barrier® family products control noise by blocking the transmission of sound energy and damping vibrations caused by sound energy.
Shop Quiet Barrier™ Soundproofing Materials
At Soundproof Cow, we carry six different products in our Quiet Barrier™ line which offers you the following benefits:
It takes than less than ten tools to install
Quiet Barrier™ soundproofing products are available with a peel and stick sensitive adhesive (PSA).
Pound for pound, Quiet Barrier™ products has better noise reduction characteristics that steel and other building materials.
Due to its sheet, roll, length and width variety, the mass of Quiet Barrier™ blocks sound while its flexible nature dampens sound energy, giving improved acoustic performance over competitive rigid products.
It's made in the US and of 15% recycled materials
With over 1.5 million square feet of Quiet Barrier™ soundproofing products installed nationwide, these are just a few of the attributes and advantages you can expect.
Ready to start your next project, get ready to call the Cow at 1-866-949-9269 or check our website soundproofcow.com