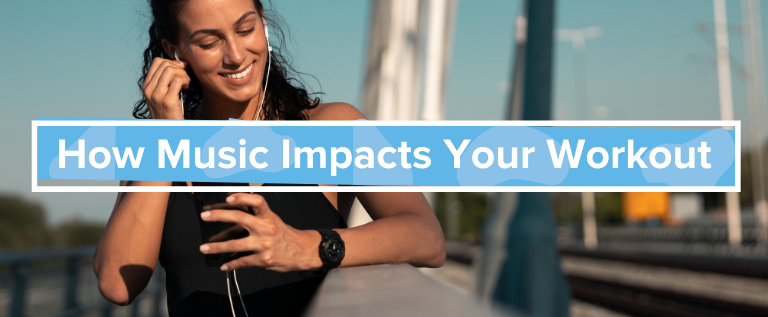 August 31, 2020
Regardless of whether you're doing pilates or running a 5K, music can make an otherwise monotonous or intense workout more enjoyable.
You may not even imagine hitting your home gym or local fitness center without your exercise music playlist. After all, music can change your body and mind while you are working out. Have you ever wondered about how music achieves this, though? Check out some of the many benefits music offers while you are working out and recovering.
How Music Benefits You While Working Out
Music and movement are closely linked — having the right playlist can motivate you and help you exercise longer. While rocking out to your favorite playlist, you may feel distracted from what you are doing and excited about checking cardio off your to-do list.
This renewed motivation can help you start and continue working out even when you'd otherwise feel like quitting. You may even feel your mood lift as your physical performance peaks.
Pairing Music to Your Workout
Different genres and styles of music can have various effects on your mindset and motivation when working out. Two specific aspects of music — the tempo and rhythm — determine how well your music pairs with your workout.
Genres that tend to have a fast beat, such as rap or rock, can increase your heart rate and get you motivated to hit the treadmill or elliptical. For certain workout activities, such as cycling, matching your heart's beats per minute (BPM) to the beats of your music could help you get and stay in a groove.
When you are cooling down or doing calmer workouts such as yoga or pilates, listening to slower tempo songs or meditative music can help reduce stress and lower your heart rate, allowing your body to cool down and recover.
Because everyone has certain music preferences, go with whatever works best for you. The key is finding a playlist that you can effectively pair to your workout, so you stay motivated.
Soundproof Your Gym to Make Your Workouts More Enjoyable
Sound solutions for gyms are all about striking a balance between minimizing unwanted sounds and allowing your acoustics to fill the space. Workout equipment such as weights and treadmills can be noisy and echo throughout small workout spaces. To minimize these sounds, focus on soundproofing your gym's walls, ceiling, flooring underlayment and door.
Because surfaces vary, make sure you select the right materials for each part of your gym. At Soundproof Cow, we have everything from acoustic panels to hanging baffles. For a decorative touch, you can even add art panels. Regardless of your needs, we'll help simplify the world of acoustics and soundproofing and deliver a solutions-based approach so you can focus on working out to your favorite songs.
Partner With Soundproof Cow on Your Next Gym Project
For over 15 years, Soundproof Cow has been delivering custom acoustic solutions. Whether you're working on an at-home gym or commercial gym project, we have the experience and materials needed to improve your listening experience. Our wide range of solutions includes high-quality, effective and easy-to-install options.
If you are ready to create a soundproof workout space, fill out our contact form today.
Learn More About Music & Soundproofing
How Late Can Your Play Loud Music
Relationship Between Music & Memory