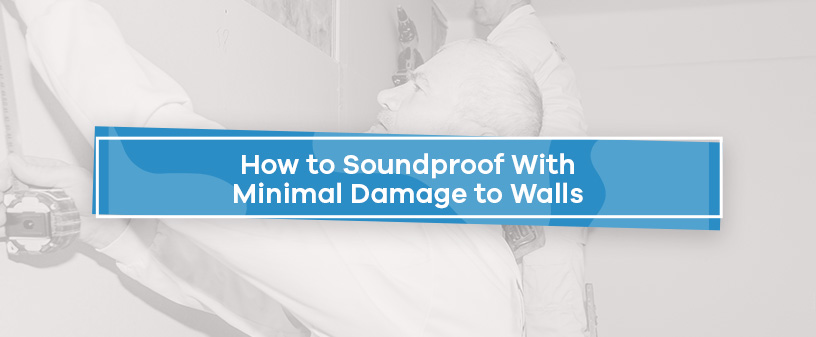 July 12, 2022
You deserve peace and quiet in your home, even if there's only one room in your house where you can escape the noise of life for a few moments. Sounds can add up, whether they come from inside or outside of your home. Without proper soundproofing, you could find yourself having trouble sleeping or concentrating on your tasks because of unwanted noises.
While you may wish you could take the most extreme soundproofing measures for a silent living space, sometimes you have to find ways to soundproof a room without tearing down walls. Here are 10 ways you can achieve better sound isolation in your home without having to call the renovation crew.
1. Hang Soundproof Blankets
One easy way to soundproof a room causing minimal damage is to hang soundproof blankets on the walls. This option will cover anything you have on your walls. It may leave something to be desired in terms of aesthetics but will yield good results.
Along the same lines as using soundproof blankets is the option to put up a temporary partition. Like firm blankets, you can hang these barriers anywhere you need to achieve extra soundproofing. This is an excellent option for flex rooms where several activities could be happening simultaneously.
2. Seal the Cracks
Sometimes the most annoying sounds come from the smallest openings. If you have cracks in your walls, then soundwaves from outside or even other rooms in your house have a direct path into the room you want to soundproof. Your best bet is to seal those holes to stop those sounds in their tracks.
Fortunately, sealing your wall can be a quick and easy project with the help of a sealant, like the OSI® Pro-Series SC-175 Acoustical Sound Sealant from Soundproof Cow. This product is flexible and can adhere to concrete, metal and many more surfaces. After it has cured, you can paint over the wall to make the cracks undetectable. As a bonus, sealing the imperfections in your walls will also reduce moisture buildup and increase energy efficiency.
3. Be Smart With Your Furniture
If you would like an easy and artsy fix for those pesky soundwaves, consider the furniture set up in your room. Rearranging or adding decor is a great way to block sound while retaining the style and integrity of your walls.
Start with your largest and heaviest pieces of furniture. If you move the dresser, bookcase or bed to the edges of your room, they can absorb exterior sounds and keep them out of your space. Soft items, like pillows, sofas and love seats, will also reduce soundwaves while adding a personalized flair.

4. Add Acoustic Panels
Acoustic panels are another way to personalize your room while blocking unnecessary sound and preserving your walls. In fact, Soundproof Cow offers three unique acoustic panel options that can spice up your space while meeting your practical needs. Consider these descriptions and consult with an acoustical panel specialist from Soundproof Cow to determine which style is the best fit for you:
Art Acoustic Panels: Soundproof Cow's Art Acoustic Panels hang on your walls to absorb sound and look great doing it. Make your space truly your own with your own artistic flair.
Fabric Wrapped Acoustic Panels: Fabric Wrapped Acoustic Panels from Soundproof Cow blend the acoustic benefits of fabric with the modern aesthetic of sharp angles and colors.
Perforated Acoustic Wood Panels: Soundproof Cow's Perforated Acoustic Wood Panels look great on your walls while helping tame unruly noises in your space.
5. Soften the Room With Carpeting and Curtains
If your room has many exposed, hard surfaces, then you'll have an increased chance of experiencing unwanted noises like reverberations and echoes. You should cover hard floors with area rugs to reduce bouncing sounds while also making the room feel a bit softer and warmer. You can even consider covering the entire floor with carpeting for a more permanent soundproofing solution that feels softer underfoot.
Windows are another culprit for letting sounds enter a room from outside. Be sure to use double-pane windows to help block out sound. Hang thick curtains for even better soundproofing for sounds inside and outside of your room.
6. Use Acoustic Foam
When trying to tame the sounds in a room for a better acoustic experience, you can put up acoustic foam without damaging walls. Soundproof Cow's Acoustic Foam is a great solution for reducing ringing sounds, echo and reverb. It's perfect if you want to increase the sound quality of your recordings, from music recording to podcast streaming.
7. Add a Second Layer of Drywall to Walls
One way to try soundproofing walls without removing drywall is to add a second layer of drywall. Note this solution will add thickness to your walls, slightly reducing the living space of your room. Only choose this option if you have room to spare, and you'll be able to enjoy the extra soundproofing that thicker walls provide.
To get the best results from this soundproofing method, add an extra soundproofing layer between the two sheets of drywall. Mass Loaded Vinyl Barriers (MLV) from Soundproof Cow could be the exact solution you need to accomplish this. MLV is an environmentally friendly option that absorbs vibrations and blocks sounds, making your room exceptionally soundproof.

Choose Soundproof Cow Products for All Your Soundproofing Needs
When you want to get the best soundproofing in your room with minimal damage to the walls, Soundproof Cow has the products you can use. Our soundproofing materials will help you at every step of your project, whether you're simply hanging acoustic foam, renovating a space or building a structure from the ground up. And if education is what you need, then check out our blog and other helpful resources that will launch you into your project with confidence.
Shop our products online today if you're ready to get started. You can also contact us online for more information, and one of our helpful team members will be sure to get in touch with you.
Learn More About Wall Soundproofing