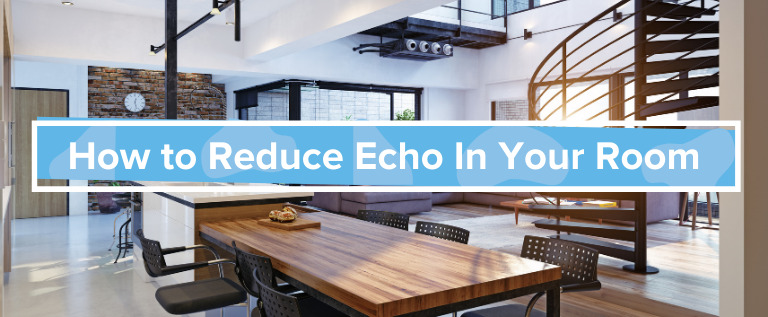 October 26, 2020
You might be playing music, chatting with someone or turning up the TV when you hear the noise reverberating back at you. Or maybe you accidentally drop something and the clatter seems to amplify itself. When every little sound you make bounces through your room, you might start feeling like you have to tiptoe around to keep things quiet.
If it seems like everyday noises sound extra loud and echo back at you, try exploring ways to adjust the acoustics in your room so that you can get clearer sound quality.
What Are the Causes of the Echo in a Room?
Echoing happens when sound waves hit surfaces in your room. When you produce a sound — or something you're using does — the waves bounce off hard surfaces like ceilings, walls and floors and create the reverberations you hear.
As they cross the room and change direction when they hit walls or other surfaces, the sound waves create delayed or muffled sounds that are hard to distinguish. These noises can be distracting when you're trying to talk to someone or listen to something. Luckily, you can reduce echo with some easy, strategic setups in your room.
How to Reduce Echo In a Room
You'll be surprised how effective some simple additions can be to reduce echo and improve your room's acoustics. Try the following adjustments!
1. Add Some New Furniture
Do you have a new chair, a dresser, a beanbag or another fun addition that could make your room a little more cozy? Moving in another furniture piece can provide more soft surfaces for sound waves to hit before getting to a harder surface. With a few more objects in the room, you'll find that there's a lot less echo.
2. Carpet Your Floor
Adding a carpet or rug to your floor adds a great touch to your room and functions as a sound-absorbing covering. With a soft surface on the ground, sound waves won't be able to bounce off the floor anymore — and your floor will be extra comfortable to walk on, too.
3. Decorate the Walls
Give yourself some space for creativity in your room and decorate your walls. Tapestries, canvases, prints and other fun pieces can help reduce echo and absorb sounds waves as they reach the walls, giving you a quieter space.
4. Get Anechoic Acoustic Foam
Originally designed for recording studios, acoustic foam has a ridged shape that helps it absorb high-, mid- and low-range frequencies. Foam panels are easy to put in place on ceilings or walls, and they can add a fun aesthetic to your room and reduce echo at the same time.
Find the Right Acoustic Solution With Soundproof Cow
With all kinds of easy and practical ways to reduce echo in your room, you'll enjoy better acoustics in no time.
At Soundproof Cow, we're all about creating great sound quality in any space. Feel free to reach out to us with any questions about reducing echo. We're here to help you find the right acoustics solution for your room.