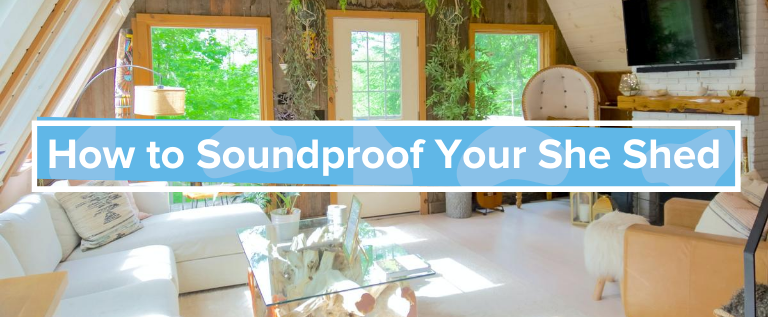 August 18, 2020
You are probably familiar with the idea of a man cave — a space where a man can escape with his buddies and watch a football game or enjoy some drinks while shooting pool. She sheds are quickly becoming a popular female alternative to the man cave.
Most often, she sheds, as their name suggests, are made out of prefabricated garden sheds. Since they are growing in popularity, it's becoming more and more common to find ready-to-build sheds designed specifically for this purpose.
What Are the Different Uses for a She Shed?
She sheds offer women the chance to escape to a peaceful, private space that reflects their personal style. It's the ideal spot to pursue your hobbies and interests.
Many women choose to use their shed as a:
Creative space for painting or writing.
Music studio.
Workshop for crafting and woodworking.
Potting shed.
Home office.
Why Should You Soundproof a She Shed?
Depending on how you plan to use your space, you may need to prevent noise from getting in or out. Maybe you plan on learning how to play an instrument inside or you have noisy neighbors who distract you every time you sit down to work on your novel. Most sheds are made out of thinner wood and materials, so these kinds of sounds can easily escape or enter.
That's where soundproofing comes into play. Soundproofing products can transform your she shed into a quiet retreat where you can learn, create and work without distractions.
Common Areas of a She Shed That Need to Be Soundproofed
When it comes to soundproofing, there are a few places that you may want to focus on. Sounds can enter or escape from cracks or crevices in the following areas:
Walls
Windows
Door
Floor
Ceiling or roof
Find the Soundproofing Products You Need to Create a Serene Escape
Here at Soundproof Cow, we have the high-quality, effective and easy to install soundproofing products you need for your she shed. Depending on the type and surface of your shed, you'll need to use different soundproofing materials to get the job done. We carry:
Acoustic panels: Our acoustic panels help to absorb sound waves and limit reverberation.
Soundproofing materials: Our soundproofing materials help prevent the transmission of sound and add privacy to your shed.
Sound absorption: Our sound absorption materials will help the sound quality in your she shed by reducing any distracting background noises.
Contact Soundproof Cow Today to Get Started
Regardless of what you plan to do in your she shed, we have the solutions that will help you soundproof it so you can make the most of your space. Our team of experts will work closely with you throughout the entire process. By using the highest quality materials and tailoring each of our soundproofing solutions to your specific needs, we'll help you achieve the peaceful, private retreat you deserve.
Ready to get started? Fill out our contact form today so we can help you figure out which products are right for you.