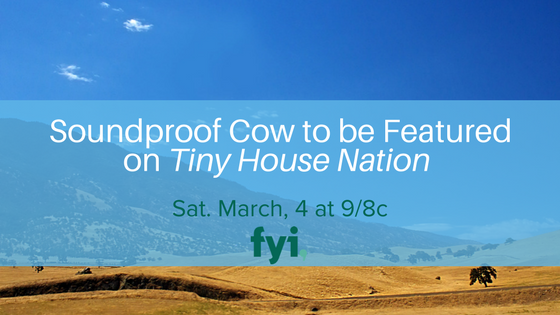 March 01, 2017
Soundproof Cow is coming to a TV near you! On Saturday, March 4, 2017 at 9/8c, we will be featured on "Tiny House Nation" on the FYI Network.
The tiny house phenomenon is an eco-friendly movement that's sweeping the nation. It's all about lessening your carbon footprint by living in a smaller house with just the amount of space you need, not an excess of space that leads to waste. It's also about conserving energy, recycling and generally being respectful of the environment we all share.
On "Tiny House Nation," John Weisbarth and Zack Giffin of FYI celebrate the creative ways people commit themselves to a tiny living, eco-friendly lifestyle. Some of these tiny houses are as small as 300 square feet, but the residents of these houses are steadfast in their commitment to a downsized, more environmentally friendly lifestyle, and they make the small space work.
In addition to showcasing some of the best tiny houses around the country, Weisbarth and Giffin also help families looking to downsize design and create the perfect miniature homes of their own.
Soundproof Cow Joins Forces With "Tiny House Nation"
Soundproof Cow is proud to announce that on March 4, part of that eco-friendly, tiny house lifestyle will be the use of our Quiet Batt™ soundproofing insulation. In addition to the fact that Quiet Batt™ reduces noise pollution by absorbing loud and sharp sounds, it also adds energy efficiency by insulating your home against weather, keeping hot air in during the winter and cool air in during the summer, reducing your heating and cooling bills.
Best of all, Quiet Batt™ is made from recycled materials, so it's the perfect accessory for anyone interested in living green, like those in the tiny house movement. We encourage everyone to tune in to learn how the tiny house movement can meet the needs of the homeowner and see our Quiet Batt™ soundproofing insulation in action.
Soundproof Cow's Commitment to the Community
Soundproof Cow is also delighted to be a part of "Tiny House Nation" as it further reinforces our commitment to giving back to the community. Soundproof Cow is a company that believes a business that doesn't incorporate social responsibility is one that isn't worth having, no matter what products they sell.
For this reason, we are delighted to have been a sponsor and participant in the Franklin County Career and Technology Center Alumni Scholarship Fund Golf Tournament, providing uniforms and other necessities to underprivileged students as well as scholarships for seniors looking to go on to college.
Soundproof Cow was also grateful for the opportunity to help raise awareness about violence against women with the Walk A Mile In Her Shoes® campaign, and we purchase livestock for impoverished families through Heifer International, an effort you can get involved in with us by liking us on Facebook! So, helping make homes more green fits right in with our philosophy.
Quiet Batt ™ Environmentally Friendly Insulation From Soundproof Cow
We think one of the reasons our Quiet Batt ™ insulation was so perfect for "Tiny House Nation" is that it's an environmentally friendly product made with 80 percent recycled natural cotton fibers, with no fiberglass or formaldehyde. You can install this insulation in your home with the confidence that you're working with an eco-friendly product. Some insulation products need gloves to handle. Ours is itch-free and generally safe to handle with your bare hands.
Soundproof, Sound-Absorbing Products for Everybody
Just because our product is a big TV star doesn't mean you have to be a VIP to own it. Our products are not only environmentally friendly, but they're budget friendly as well. We offer monthly promotions on our products, including our Quiet Batt ™ soundproofing insulation.
We believe a great product isn't so great if no one can afford to buy it, especially people who are striving hard to be environmentally aware. The more people who can benefit from our soundproofing solutions, the better. Our soundproofing products are ideal for homes, recording studios, restaurants, offices and anywhere noise pollution and loud, sharp sounds are a potential problem.
Get in Touch With Us at Soundproof Cow Today
If you're interested in learning more information about the benefits of Quiet Batt™ soundproofing insulation, our work with the community or how to purchase any of our great soundproofing products, such as acoustic panels, studio foam and more, we'd love to hear from you. Give us a call at 1-866-949-9269 or contact us online today.