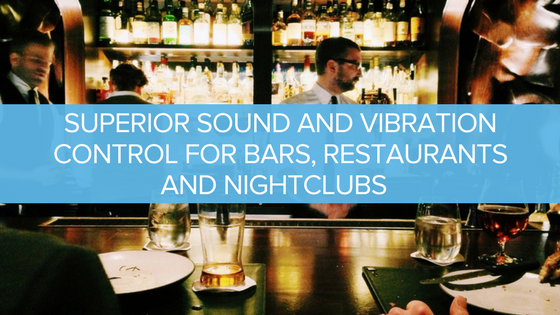 March 24, 2017
One of the most important issues when it comes to successful nightclubs and restaurants is effective sound control. Sadly, this is also an area often neglected by bar, restaurant and nightclub owners. When your nightclub is in full swing, you want the room to have clean, clear acoustics, not muddled sound and excessive vibration that could irritate your clientele. In your restaurant or bar, you want customers to be able to hear each other and the wait staff — not the conversation four tables over or what's going on outside.
Fortunately, Soundproof Cow has effective, affordable solutions for your entire bar, restaurant or nightclub sound control needs, including:
200 Series Fabric Wrapped Acoustic Panels
Our most popular seller, these panels come with virtually limitless design options, so you are sure to find panels that fit right in with your existing décor. Once installed, they are superior at all-purpose control of noise, echo and reverberation, with a 6-pound acoustical glass mineral wool core that eats up vibration and sound.
200 Series Udderly Quiet™ Acoustic Hanging Baffles
These sound absorbers are perfect for your club or restaurant with high, open ceilings. These lightweight, expertly designed baffles look great hanging down from the top of your restaurant or club while they effortlessly absorb echoes and unwanted excess noise without taking up any of your existing wall space.
Quiet Board™ Water Resistant Panels
For your kitchen or other areas where you need sound control but your panels are likely to need cleaning before too long, our Quiet Board™ Water Resistant Panels are the ideal solution. You'll find high-quality soundproofing power in a panel that's durable and easy to clean. What happens in the kitchen stays in the kitchen when these panels are installed, and if a few stray food items make it onto their surface, cleaning them off is a snap.
Isotrax™ Soundproofing System and Quiet Batt™ 30 Soundproofing Insulation
If you're considering renovating your nightclub or restaurant, take care of any sound issues from the start by letting us provide you with our Isotrax™ Soundproofing System and Quiet Batt™ 30 Soundproofing insulation. Our affordable, easy-to-install package will give you superior noise reduction performance, with five sound isolation rails and 18 visco elastic sound deadening pads to eliminate vibrational noise and keep transmitted sound at a bare minimum. Our Quiet Batt™ 30 Soundproof insulation is even easier to install and can be used to prevent sound and energy transmission for both interior and exterior walls.
Contact Soundproof Cow to Transform Your Bar, Restaurant or Nightclub Today
Quality soundproofing solutions will make a noticeable difference in your bar, restaurant or nightclub, and it may astound you. Poor acoustics can kill any business where people are coming to gather, talk or listen to music and have a good time. Let us give you the Soundproof Cow advantage. Contact us to set up your soundproofing solutions today.