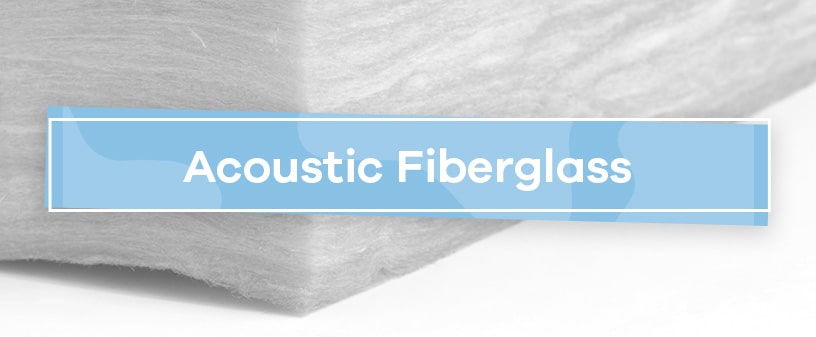 September 21, 2022
Benefits of Fiberglass Acoustic Panels
When you need a better auditory experience for a variety of needs, fiberglass acoustic panels will offer the benefits you're looking for. Here are a few of the advantages you'll experience when you use these soundproofing materials:

They're lightweight: Every fiberglass acoustic panel is lightweight, so you can feel confident working with them and customizing your space to fit your soundproofing needs.
They're customizable: Fiberglass acoustic paneling is highly customizable and can be installed inside appliances or as a ceiling panel, interior panel, office partition or chain-hung sound baffle. This material can be custom cut to fit your specific need.
They're consistent: Acoustic glass mineral wool is rigid and consistent.
They reduce unwanted sound effects: Audiophiles love acoustic glass mineral wool because it reduces reverb, ringing and unwanted reflections in recording studios and practice spaces.
They're made to order: A fiberglass panel is a highly versatile product. Have it cut small to stick inside of an air conditioning unit or dishwasher, or go large to dampen the sound frequencies emitted from machine rooms or noisey coworkers. Soundproof Cow acoustic glass mineral wool panels are 100% made to order, so they're the right shape and size every time.
They come in two convenient thicknesses: We offer acoustic glass mineral wool in two thicknesses to help meet your sound reduction needs, as well as your budget.
They help improve your space's efficiency: These fiberglass acoustic panels do more than offer noise reduction — the nature of the material often improves the energy efficiency in any space.
They're environmentally friendly:  Made with safer materials than many alternatives, fiberglass panels offer lower product emissions and contribute to greener spaces.
Uses for Fiberglass Acoustic Panels

Acoustic glass mineral wool is perfect for the following applications:
Equipment enclosures: If you have an enclosed piece of equipment with loud noises that affect your daily life, fiberglass sound panels can be the solution for you. Place them around the enclosure to absorb sounds and vibrations produced by your equipment and enjoy the relief of a quieter operation.
Machine rooms and industrial applications: Fiberglass acoustic panels are also great for various industrial uses, like minimizing the noise from loud machine rooms. Isolate the noisiest parts of your industrial space to give your employees and customers a more pleasant experience on your property.
Office partitions: In close quarters, office workers love acoustic glass mineral wool because it cuts down all the chatter coming from an adjacent office suite. Whatever your office's vibe, you can absorb sound and foster an environment of fewer distractions by using fiberglass acoustic panels on your office partitions. This application is especially helpful in offices where plenty of video chats and conference calls are happening simultaneously.
Ceilings and interior spaces: Any interior space in need of sound dampening can benefit from some fiberglass acoustic panels, but this is particularly helpful in areas with high ceilings. Sounds love to bounce around tall spaces, creating unwanted echo and noisy reverb. Hang some fiberglass sound panels to absorb these soundwaves and tighten up the acoustics of your interior space.
Recording studio sound baffles: Fiberglass sound panels are essential for recording studios. Use your fiberglass acoustic panels as sound baffles to enhance the quality of your recordings and create exceptional results.
Heating and cooling equipment: Both residential and industrial heating and cooling equipment can be quite noisy. Add fiberglass acoustic panels to these machines to reduce the noise they make, creating a more comfortable interior environment. As a bonus, fiberglass panels improve insulation and can help your heating and cooling equipment's functionality.
Shop Fiberglass Panels With Soundproof Cow
We're not shy about standing out from the competition. We carry some of the most effective materials for noise reduction and acoustic improvements in the industry. We focus on high-quality products with lasting value, such as custom-cut acoustic fiberglass panels that exceed expectations in performance and looks.
Take advantage of our experience by consulting with an Account Manager throughout the ordering process. We can help you select the perfect products to boost acoustics or control noise with solutions unique to your location's needs — and it costs nothing. All of our potential clients have access to our free acoustic analysis, as well as professional consultations. Have your designers and architects contact us directly to uncover the correct specs for any job. Rest assured, we'll steer you in the right direction.
You'll be wowed by each of our soundproofing products, and the installation accessories we sell alongside them create the perfect finishing touch. From specialty tapes to installation mounts, we'll identify the accessories needed to make the mooo-st of your entire purchase.
Installation questions? Be sure to give us a call. The Soundproof Cow 100% customer guarantee has you covered!
Get started on your project today. Contact us online for a free acoustic analysis or call 1-866-949-9269 to experience the Soundproof Cow advantage.