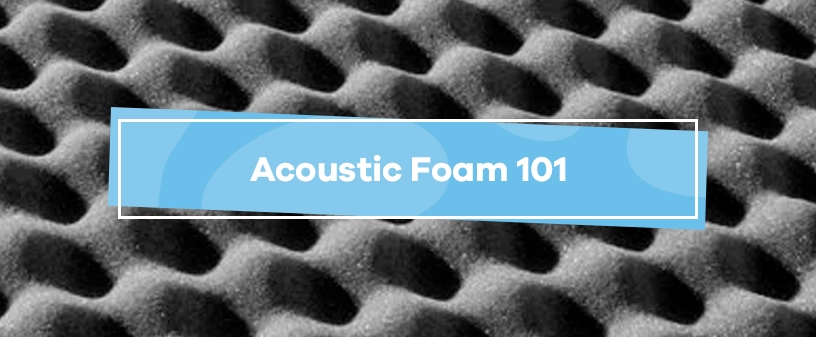 September 21, 2022
What Is Acoustic Foam?
Acoustic sound-absorbing foam absorbs sound waves that reflect off of hard surfaces. The result is a smooth, quiet environment. Noise reduction acoustic foam, although not 100% soundproof, allows you to enjoy activities in both residential and commercial spaces. Compared to other soundproofing methods, sound-absorbing foam is fast and easy to install. It's a budget-friendly option, as well, if you're looking for cost-effective noise reduction solutions.
You can also use acoustic soundproof foam residentially to prevent outside noises from seeping into your home. We will help design the best configuration to block and control those sound waves and help you regain a peaceful environment. Likewise, you can use our soundproofing products to prevent your teenager's new band from becoming a neighborhood nuisance.
Commercial installation possibilities for noise-canceling foam are endless. Acoustic foam purposes are adaptable to your needs. Use foam acoustic panels to contain noise from a workshop or garage or dampen interruptions that loud or rattling equipment causes.
Whether you're a contractor, architect or homeowner, you can count on Soundproof Cow. We have all of the supplies needed to minimize noises in and around your property.

How Do Sound Waves Travel?
For example, you're standing in the center of an empty room. If you talk, your voice will generate sound waves that bounce around the entirety of the room — the ceilings, walls, floors, doors and windows. Smooth surfaces amplified those waves, which carry energy. Sound absorption tools aim to stop sound waves from traveling by absorbing their energy. If you talk in a room with acoustic foam, you'll notice far less echo. That noise reduction creates a more comfortable living or working environment.
Soundproofing vs. Sound Absorption
The choice between soundproofing and sound absorption comes down to your goals — are you installing equipment into your walls to prevent sound pollution, or are you using products that absorb sound waves and reduce echoes? Soundproofing refers to blocking external sounds, while sound absorption prevents excess sound waves that cause echoes within the room.
Building professionals and homeowners alike turn to sound-dampening foam for noise solutions. Renters may want to hear less of their neighbors, and a home builder may install soundproofing equipment to prevent echo in a media room. Whatever the case, acoustic noise reduction foam can help absorb sound in both residential and commercial structures.
Types of Acoustic Foam
For over two decades, Soundproof Cow has strived to provide all of our customers with sound-absorbing acoustic foam fit for their needs. Above, you can shop many acoustic foam options, like our:
Acoustic foam panels: Soundproof Cow offers many acoustic foam panels, each uniquely designed to achieve any goal. These panels are large sheets of durable acoustic foam that you can hang anywhere. They're easy to install and don't require the professional help of a sound technician.
Fabric-wrapped foam: Typical acoustic foam panels may not match the aesthetic of your home or business. That's why we created fabric-wrapped acoustic foam. It's as easy to install as our traditional acoustic foam panels. We've made this solution to last, with high-quality fabric that is simple to wash, resists mildew and ensures optimal sanitization.
Fire-rated foam: Some building requirements require Class A rated materials, such as our Class A™ Acoustic Foam Panels. Since certain areas tend to build up heat, like around medical or computer equipment, your fire-rated acoustic foam panel can withstand the higher temperatures and help keep your home or business safe.
Uses for Acoustic Foam Sound Panels
Sound-blocking foam from Soundproof Cow provides versatile soundproofing options to use throughout various spaces. In the past, our customers have used our noise-canceling foam to dampen echoes in rooms and areas like:
Utility rooms
Equipment enclosures
Medical facilities
Clean rooms
Computer rooms
Offices
Gun ranges
Engine compartments
Compressor enclosures
Manufacturing facilities
Whether you install our sound-canceling foam on the walls or ceiling panels, you'll create a quiet, more comfortable environment in any space you choose.
Get Your Free Acoustic Analysis
Our sound experts at Soundproof Cow understand that soundproofing and sound absorbing can get confusing. That's why we've developed an online guide to help you from product selection through installation. Even then, if you're confused, feel free to contact us for help. Soundproof Cow offers a free acoustic analysis, and our experienced team will answer all of your questions in a way that you will understand.
The placement and selection of your acoustic sound panels vary greatly with each situation. We carry a variety of high-quality sound panel options so you can solve your sound issues and keep the aesthetics you desire. We have the knowledge you need to sufficiently outfit any space and the supplies you need to make those plans work.
At Soundproof Cow, we're confident in our products' and staff's capabilities and strive to ensure we solve your sound issues correctly the first time around. If there's ever a problem, we make it our top priority to work with you until we find a solution.
Contact Soundproof Cow Today for Acoustic Sound Panels
Whether you're designing a perfect space with a professional or handling your renovations by yourself, speak with the experts at Soundproof Cow about the best acoustic panels for your project. Our professionals aren't afraid of handling every small detail, and we can provide information that goes a long way toward maximizing your investment.
We have affordable costs, user-friendly acoustic applications and a commitment to your satisfaction. Contact us online today to request a free acoustic analysis or ask questions about our products. Get mooo-ving in the right direction with Soundproof Cow!

Learn More About Acoustic Foam