September 21, 2022
How Does Sound Work?
Sound waves are created by vibrations. For example, when someone sings, their vocal cords vibrate and send waves through the air to the listener. Higher-frequency sounds consist of short sound waves, whereas lower-frequency sounds contain long waves. Higher frequency sounds don't bend as much around barriers and are reflected by thin materials. Lower sound waves pass through thinner materials. In general, sound loses energy as it passes through walls.
Noise is unwanted sound and happens when sound is not absorbed by anything and reflects off of walls or other materials. This is why sound-absorbing materials can come in handy. You can check out and compare the noise reduction coefficient (NRC) for each of our products to get an idea of how well each material absorbs sound. The higher the NRC, the more sound a product absorbs.
How Do Sound Absorption Materials Work
Sound waves will do one of two things when they encounter an object – they can be absorbed, or they can be reflected. When sound is reflected, it is sent back into the room. When it's absorbed by a sound-absorbing material, it turns into a small amount of heat energy. Acoustics science involves finding the right balance between absorption and reflection.

Imagine you're watching a band play in an auditorium. If the entire space were covered with sound-absorbing materials, the walls would absorb too much sound and make the music sound flat. The musicians would also have to work hard not to make any mistakes. However, some reverberation would help the music ring beautifully, as long as there's not too much echo.
There's also the matter of sound transmission from one room to another. Just like sound absorption, certain materials are better at blocking sound than others. Controlling sound between rooms is sometimes referred to as sound insulation.
What Are the Best Sound Absorbing Materials?
Sound absorbing materials are meant to improve the quality of sound within a room by controlling sound reflections. The desired effect is to reduce unwanted noise like echoes or high-pitched laughing. Acoustic sound-absorbing materials can help musicians find greater satisfaction with their music, or help students stay focused when they're studying in the library. Sound absorption is useful in many different commercial and residential settings.
How do you know which material is best? Let us help you decide which type of sound absorbing materials to use. We put together a quick, convenient list of our best sound-absorbing materials, so you can learn more and choose the perfect material for your soundproofing needs.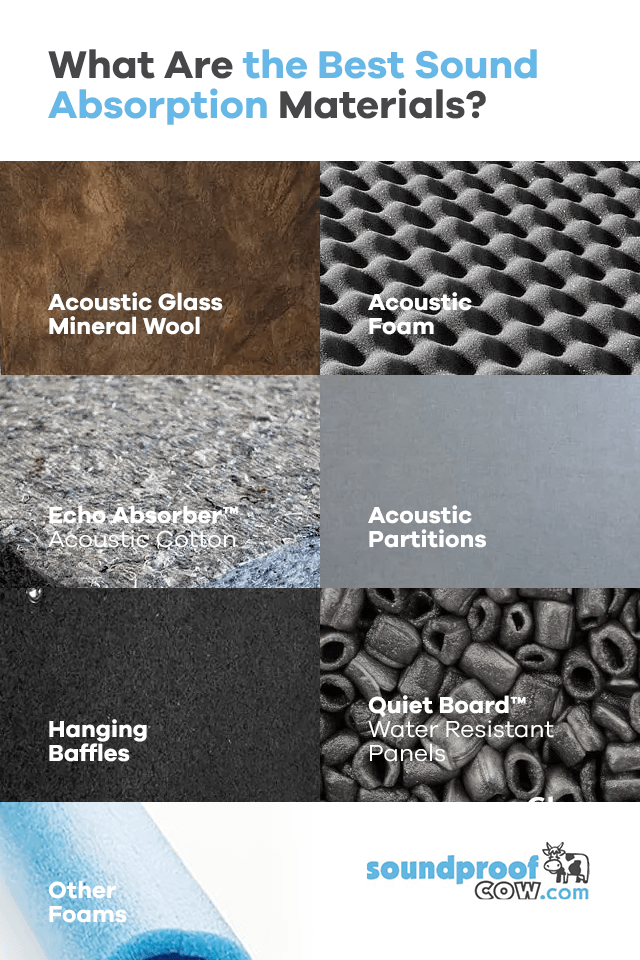 1. Acoustic Glass Mineral Wool
Our acoustic glass mineral wool panels offer a lightweight solution for highly customizable sound absorption. Mineral wool is made from natural rock materials that have been spun into a glassy fibrous structure. Each of our panels offers consistent sound absorption. They can be cut to fit any budget or room size. Our glass mineral wool panels feature the following:
Completely made-to-order for perfection every time
Available in 1-inch or 2-inch thickness
Made from safe materials
Benefits include:
Lightweight
Easy to install
Budget-friendly
Customizable and highly versatile
Reduces unwanted reverberations
Provides energy efficiency in any space
Naturally fire-resistant
Does not absorb or retain moisture
Musicians and audiophiles alike appreciate how acoustic glass mineral wool effectively reduces reverb, ringing and other unwanted noises in a musical space. However, these panels work great in a wide range of applications including:
Inside noisy appliances
As a ceiling panel
As an office partition
In machine rooms
Inside heating and cooling equipment
Anywhere sound absorption is needed
2. Acoustic Foam
If you're looking for an affordable, easy way to improve sound quality, acoustic foam is the answer. Acoustic foam is extremely easy to install in any space with a peel-and-stick backing. It's perfect for dampening sound within a commercial or residential area, and you can use it to help keep sound out. Some of our acoustic foam options include:
As you can see, there are tons of acoustic foam options. Although the possibilities are endless regarding where you can place acoustic foam, here are a few ideas:
Auditoriums
Engine compartments
Gun ranges
Gymnasiums
Manufacturing facilities
Medical facilities
Offices
Recording studios
Theatres
Utility rooms
Workshops
Acoustic foam benefits include:
Keeps sound out
Reduces reverb
Improves acoustics
Affordable
Can also double as wall art
Overall, these products are excellent at absorbing sounds in spaces where acoustics play a major role. They're also among the most affordable solutions we offer at Soundproof Cow. Be sure to look for our No Bull specials.
3. Echo Absorber™ Acoustic Cotton
Our Echo Absorber™ panels and baffles are among our best sound-absorbing materials. Made of 80-percent recycled materials, the natural fiber panels aren't just great at controlling sounds. They're also resistant to mold, mildew and flames, as well as suited to temporary or permanent installations. These light-weight materials are easy to install, just like the rest of our products, and they provide tremendous value for the cost.
You can choose the right thickness or pack size for your needs. Options include:
Echo Absorber acoustics panel natural blend: These panels are free of volatile organic compounds (VOCs), made from recycled cotton and are Class A rated. They can be mounted to any flat surface or wrapped around curved walls or columns to reduce reverberation. Thermal bonding makes these panels resistant to tears and impact. A 2-inch panel offers a 1.00 NRC.
Echo Absorber acoustics panel packs: For outstanding noise reduction at an affordable price, we offer convenient packs of three, six or fourteen panels. Our case of three covers up to 24 square feet and offers an NRC of 1.15
This sound-absorbing material is perfect for:
Auditoriums
Call centers
Conference rooms
Computer rooms
Gymnasiums
Offices
Studios
Theaters
Warehouses
Acoustic cotton benefits include:
Cost-effective
Meets most building codes
Fungi, mold, mildew and flame resistance
Environmentally-friendly
4. Acoustic Partitions
An acoustic partition offers the ideal sound-absorbing solution when you want to divide a room into smaller spaces and save yourself the time, cost and trouble of remodeling. Our free-standing acoustic partitions are lightweight and easy to move around whenever you want to change the layout of a room or turn any space into a quiet, private area. They're available in a range of colors to fit into the style of an office, restaurant or school. Our Udderly Quiet™ acoustic partitionsoffer the following features:
4 feet by 5 feet with custom sizes available
60 percent recycled acoustic mineral wool core
100 percent recycled acoustic fabric options available
NRC rating of 1.00
Acoustic partitions are perfect for use in:
Conference spaces
Hotels
Offices
Restaurants
Study rooms
Anywhere you want to divide a space and enjoy quality sound
Benefits include:
Flexibility
Absorbs background noise
Offers a temporary sound solution
Customization options
Improves privacy
Superior sound absorption
Exceptional quality
Easy to install and move around
Available in endless fabric options to match any decor
Class A rating
Highly durable
Extremely versatile
5. Hanging Baffles
Do you need sound absorption but have very little wall space? Hanging baffles solve the problem for you. You can hang baffles from the ceiling to create soundproofing insulation just about anywhere. They capture and redirect sound while blending into the surroundings. You can also add a touch of art to the ceiling with a custom covering, or you can choose fabric from over 1,000 options. Here's our selection of hanging baffles worth considering for discreet sound absorption options:
Udderly Quiet acoustic baffle 250 series: Our Udderly Quiet acoustic baffle features an internal aluminum frame to improve overall stability and offers exceptional acoustic performance. You can choose from a variety of environmentally-friendly covering options to add style anywhere. With a 1-inch thickness, you can expect an NRC of 0.80.
Udderly Quiet acoustic baffle 200 series: Better for smaller spaces, our 200 series offers size options up to 3 feet by 6 feet. You can choose rounded or square corners. These baffles are available 2-inches thick with a 1.10 NRC.
Echo Absorber hanging baffle natural series: As a cost-effective option, our Echo Absorber hanging baffles get the job done. They are available in 1-inch thick 4-foot by 4-foot squares to absorb unwanted reverberation. They offer a great economical option in noisy places like cafeterias and gymnasiums. Made mostly of recycled material, these baffles are safe and environmentally friendly.
Echo Absorber hanging baffle pack: You can also choose 1-inch baffles in packs of six or fourteen for an NRC of 0.85. Or you can go with an eight-pack of 2-inch thick baffles for a 1.15 NRC.
Udderly Quiet Class A anechoic hanging baffles: Featuring a unique, open-cell design, these baffles are ideal for high-heat areas or where sparks may fly. These baffles are 3 inches thick, made of high-quality melamine foam and offer superior sound absorbing capabilities.
Hanging baffles are the perfect sound-absorbing material for:
Auditoriums
Gymnasiums
Gun ranges
Call centers
Offices
Industrial facilities
Anywhere with limited wall space
The baffles are easily installed with medium or light-duty chains and hooks. Udderly Quiet installations work well in all types of residential, retail, commercial and government applications. Because they're suspended in air, you don't have to worry about acoustic backing or modifying the walls of your space. Hanging baffles offer the following benefits:
Excellent soundproofing using out-of-the-way ceiling space
Easy to install
Made of quality, durable materials
Designed to improve sound quality in spaces of all sizes
6. Quiet Board™ Water Resistant Panels
If you're looking for water- or stain-resistant acoustic materials that absorb sound, check out Quiet Board™. At Soundproof Cow, we're proud to offer this option to a wide range of clientele. The temporary acoustic panels absorb and block sound in any area where a washable material is necessary. Our Quiet board panels feature the following:
Available in 2-inch or 1-inch thickness
Come in cases of three or seven for 2-inch panels, or cases of six or thirteen for 1-inch panels
Offer an irregular surface texture which absorbs 50 percent of airborne sound and a polypropylene core which deflects 50 percent of sound
Class A product
These panels are perfect for sound absorption in messy or moist areas such as:
Arenas
Car washes
Dog kennels
Food preparation areas
Gymnasiums
Indoor swimming pools
Laboratories
Medical facilities
Rooftop enclosures
Skating rinks
Under the floor or as a ceiling tile
With Quiet Board panels, you'll enjoy the following benefits:
Highly durable, water-resistant material
Strong resistance against chemicals, bacteria and fungi
Impact resistance
Washable
Excellent value for soundproofing and sound absorption
Lightweight and easy to install
Can be easily cut or trimmed
Can be custom-shaped for a fun look
7. Other Foams
We offer a variety of other foams for any application whether you need to package fragile items securely or make something float. Through Soundproof Cow you can get:
Expandable foams: Our pourable liquid urethane foam allows you to fill small spaces where sound can escape or enter, helping you enjoy the sound of silence even more.
Extruded safety foams: Add safety and close sound-escaping gaps by adding foam padding to sharp edges, corners and open spaces with our selection of extruded safety foams.
Packaging and shipping foams: Our packaging and shipping foams are more about keeping precious cargo safe than soundproofing. Our shipping foams are static-free and great for reducing movement and preventing crushing.
There are other odds and ends you'll find among our selection as well. Almost any acoustic foam application you can dream of, we stock in our online store.
Benefits of Sound Absorption Materials
Not sure you're ready to experience the magic of sound-absorbing materials? Considering the following benefits, they're probably worth trying if you want to control your noise.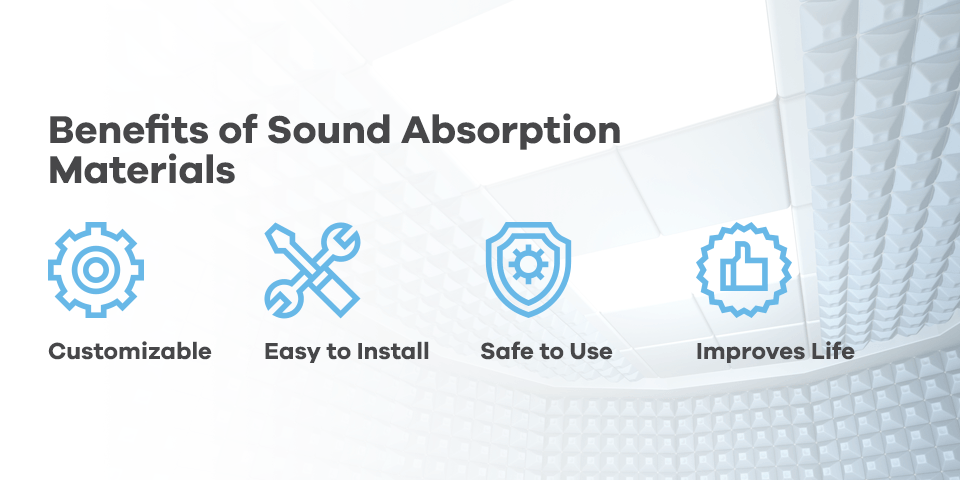 1. Customizable
Many of our soundproofing materials are highly customizable to fit the look and needs of any space. For instance, acoustic glass mineral wool can be used in any number of locations — from covering walls to cutting back on noise emitted from air conditioners. They also look professional in a range of settings, so you never have to sacrifice aesthetics for noise control.
2. Easy to Install
Our soundproof materials are incredibly easy to install, and most can be customized to fit in just about any space. For example, if you need to create a soundproof room within a room quickly, consider our lightweight partitions. Or, if you need to stick a small piece of sound-absorbing material into a noisy appliance, you might try acoustic glass mineral wool. Our products offer flexibility to solve any noisy problems without having to tear down walls or remodel a space.
3. Safe to Use
Fire-rated products are safe to use in almost any location where fire codes or high heat are a concern. While a bit more expensive, they allow you to safely control noise in areas like kitchens, workshops and even in appliances. Whether you need thick sheets of fire-safe sound absorption material or acoustic blocks, you can count on Soundproof Cow to have them in stock.
4. Improves Life
Imagine being able to play the music you want when you want in your home studio without fear of waking the neighbors. Or picture enjoying a night of restful sleep despite the neverending commotion outside. Commercial buildings can keep workers happy and focused when they aren't distracted by noise or small talk. Noise control makes life better everywhere.
What to Consider When Choosing Sound Absorption Materials
We offer many different noise-absorbing materials, and they are all beneficial and versatile. So, how do you know which one to choose? Consider the following factors to help you narrow your sound absorption options:
Where you are soundproofing: The first thing you need to consider is where you plan to soundproof. For example, do you want to soundproof in the bedroom? If so, you might choose acoustic panels in a soothing color. Do you want to soundproof a workout area where sweat and moisture can fly? You might be better off with a water-resistant panel.
What are you trying to soundproof: Next – what exactly are you trying to soundproof? If you wish to soundproof an air conditioner, then you want to buy a material you can customize to fit into the unit. If you want to soundproof an entire room, then choose a material you can install on the walls that meet your sound-absorbing needs and your budget.
What are your needs: Do you want to absorb sound or reflect it? Different products are designed to provide different solutions, so it's important to talk to an expert and figure out your exact soundproofing needs.
What look do you want: Are you going for a natural, environmentally-friendly look in your garage or workroom? You can choose a recycled material. Want custom art in addition to sound absorption? You definitely have options with Soundproof Cow.
Shop Sound Absorbing Materials With Soundproof Cow
Herd of our impressive product selection? If not, we'd be surprised. We've made a name in the business for offering the top acoustic products available to builders, architects and homeowners alike. We pride ourselves on using the best materials available and only carrying sound absorbing materials we know are worth the investment.
One of our best features is the FREE acoustic analysis. We offer customers insight into their specific situation and recommend materials to fit that space. We will inform you of all the options for soundproofing and improving the area's acoustic characteristics.

To help our customers get the very mooo-st bang for their buck, we place special items on deep discount. These products are marked by our No Bull labels and present the biggest bargains in the store.
Still not sure which sound-absorbing materials are best? Let our Account Managers guide you. We've helped hundreds of customers find soundproofing solutions for tricky noise-control issues. Our team's advice will help you create a plan to resolve your acoustic needs.
Enjoy Our Customer Satisfaction Guarantee
Soundproof Cow takes customer service to the next level. We've always gone above and beyond to meet people's needs. Now, it's part of our official store policy. If you run into issues with your sound absorbers, all it takes is a quick call to set things right. We're dedicated to customer satisfaction, and we won't stop until we've got it.
Whether you're in need of temporary acoustic absorbing materials or fire-safe products available in an endless number of shapes and sizes, Soundproof Cow has got you covered. Call 1-866-949-9269 to schedule your FREE acoustic analysis today.
Learn More About Understanding Sound
What is Reverberation of Sound
Impact Noise vs Airborne Noise
How to Determine the STC Rating of a Wall
What are the Characteristics of a Sound Wave