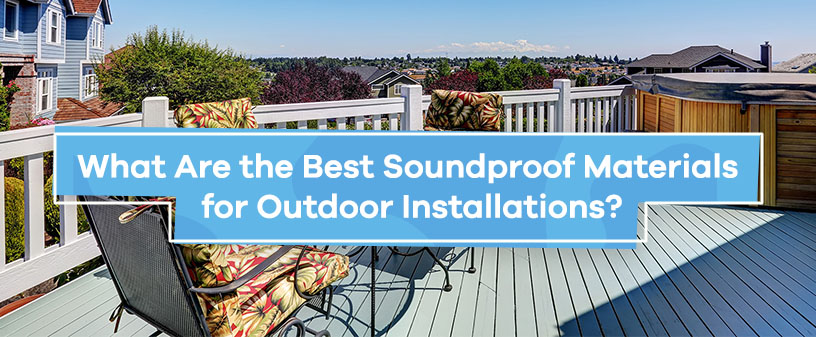 October 16, 2023
Have you ever heard of psychoacoustics? It's essentially what enables our brains to understand and respond to all the noises around us. When sound waves enter our ears, they cause our eardrums to vibrate, which sends signals through the tiny hair cells deep within our ears all the way to our brains.
Aside from increasing privacy, soundproofing helps us create perfect spaces for psychoacoustics. And since the great outdoors is full of noises — busy streets, playing children and mooing cows, to name a few — we could all use a quiet space to unwind.
That's why using the right outdoor soundproofing materials is so important. Let's explore how to use these materials in different situations to get the best psychoacoustic setup.
Common Outdoor Areas for Soundproofing
Soundproofing materials can help you create a peaceful outdoor environment. Here are some examples:
Outdoor dining areas: In nice weather, everyone wants to sit outside to enjoy their meal. Restaurants and cafes can use soundproofing materials to create a cozy, intimate atmosphere that allows customers to focus on their dining partners.
Pools: With all the splashing and shouting, outdoor pools can get pretty loud. Adding outdoor sound-dampening materials around your pool can help create a more relaxing space for those looking to unwind.
Sports fields: Communication is vital in team sports like pickleball, basketball or volleyball. Soundproofing your sports area can help team members focus on their game and prevent court noise from disrupting activities in nearby spaces.
Porches and patios: Imagine you're enjoying a tall, refreshing glass of iced tea on your front porch with your family when the sound of your neighbor's lawnmower interrupts your conversation. Installing soundproofing materials on or around your porch can eliminate those distractions and help you make your porch a more inviting space for your friends and family.
Fences and garden walls: Your backyard should be a peaceful place, but too much noise can easily interrupt your zen. Fortunately, you can block out the sounds of the road — and your noisy neighbors — by adding soundproofing materials to your fencing.
Loud appliances: Outdoor sound-dampening materials can help reduce noise from machinery like air conditioning units and heaters, eliminating distractions.
Concert venues: When the band is playing, you want their sweet sound to stay where the audience can hear it. Installing soundproofing panels around the stage can help keep the sound in the concert venue so everyone can hear clearly.
Just about any outdoor space where people are trying to enjoy their surroundings can be soundproofed. And since different soundproofing materials work better in some outdoor spaces than others, it's important to understand your needs and the space you're working in to create the best solution.
The 4 Best Materials for Outdoor Soundproofing
So, what is an example of a good outdoor sound-absorbing material? And how do you know which material is best for your space? Here are the four most effective materials you can use for soundproofing outside.
1. Mass Loaded Vinyl (MLV)
Mass Loaded Vinyl (MLV) is essentially a heavy yet flexible vinyl sheet containing tiny metal particles that enable it to effectively reflect sound rather than absorb it. It's cost-effective and easy to install in both residential and commercial applications.
Because it's so flexible, MLV can reduce more vibrations than rigid building materials like steel or concrete. By dampening the vibrations, MLV sheets dissipate sound energy, deadening noise and increasing your comfort.
MLV is especially effective when combined with plywood and drywall, but you can use a wide variety of building materials to get the same effect. You can also install thicker MLV sheets or additional soundproofing materials to dampen louder sounds.
2. Temporary Barriers
Maybe you're just renting your space, or maybe you just need a soundproof cover you can easily move. Either way, flexible temporary barriers are an excellent solution for outdoor areas.
With their quilted vinyl exteriors, temporary soundproofing barriers look like blankets. In fact, they contain several layers of sound-absorbing fiberglass blankets that effectively trap sound waves as they move through the air. Some also come with an additional layer for even more effective soundproofing.
You can hang them around the area you want to soundproof like curtains, or you can lay them flat to control sound moving through the ground. For example, you could spread temporary barriers on top of loud appliances, like outdoor HVAC units, to reduce some of the noise they emit.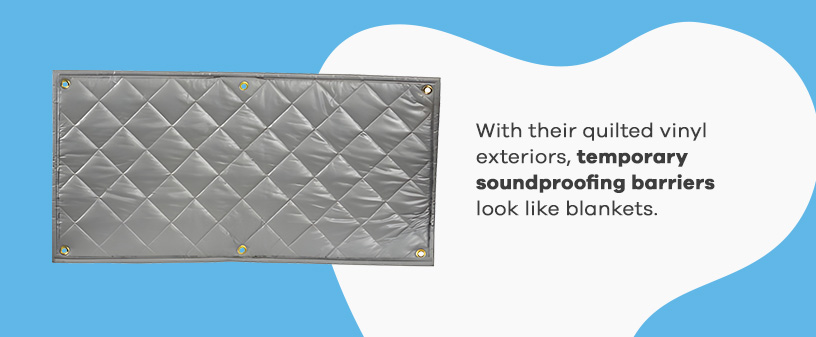 3. Acoustical Caulk
If you want a cost-effective material for outdoor sound dampening, acoustical caulk is a solid option. Unlike standard silicon-based caulk, latex-based acoustical caulk doesn't harden. It stays flexible after it dries, blocking airflow between panels on walls, floors and ceilings. This helps trap sound within the space where it is being produced.
It's good to note, though, that while acoustic caulk can noticeably reduce unwanted sound, some will still get through. To completely soundproof your space, you'll want to combine your acoustical caulk with other materials, like water-resistant panels.
4. Water-Resistant Panels
For busy spaces like pools and restaurant patios, outdoor sound barrier panels are the best option. And we have just the product! Made from high-quality Styrofoam, the Quiet Board™ Water-Resistant Panels absorb and block sound.
Here are some of the many ways you can use the Quiet Board™ sound absorbing panels for outdoor spaces:
Hang them in strategic locations around your pool.
Place panels on and around the stage at concert venues.
Hide panels between artwork on the walls of an enclosed outdoor patio.
Place soundproofing panels along your fence or garden wall.
The Quiet Board™ panels both absorb and deflect sound, enabling them to soundproof and reduce sound at the same time. They also have a bacteria- and heat-resistant covering, making them perfect for outdoor environments like swimming pools, stages and more. And with washable covers, you can ensure that they're always clean.
Soundproof Your Outdoor Spaces With Soundproof Cow
Do you need high-performance outdoor sound-dampening solutions? Whether you're looking for commercial or residential soundproofing products, we at Soundproof Cow are here to help.
We're dedicated to providing our customers with the best soundproofing equipment at the most affordable costs — and that's no bull on our end. When you choose sound control equipment from Soundproof Cow, you'll get excellent products that fit your budget and top-tier customer service. After all, it's what you deserve.
Explore our selection of soundproofing materials, or contact us to request a free acoustic analysis of your space. We'll help you design a tailor-made soundproofing solution just for you.