November 04, 2022
Is your brick home leaking sound from around the neighborhood? Does the echoes and reverberation through your brick wall make you a little irritated? A few soundproofing improvements can help you restore serenity in your space.
At Soundproof Cow, we connect homeowners with the guidance and tools they need to make their homes quieter. We will explain how noise gets through your brick walls and how you can stop it from happening.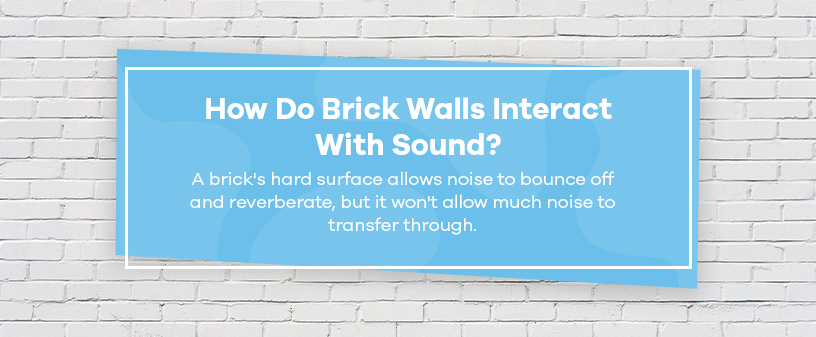 How Do Brick Walls Interact With Sound?
Brick is one of the best building materials for noise control. Soundwaves transfer through substances, but those with greater density reduce the amount that can pass through. While sound transfers through the air easily, dense bricks contain noise to one area.
A brick's hard surface allows noise to bounce off and reverberate, but it won't allow much noise to transfer through. If your brick home leaks noise, there's likely a gap or crack where sound can squeak through.
Brick Wall Noise Reduction Tips
If controlling noise that enters, against and bounces around in a brick house is your aim, there are a few steps you can take to get the results you want. Below are our noise reduction tips for brick homes.
Plug Cracks and Openings
Fill cracks in the walls or around openings with an acoustic sealant. For doors, try installing a door sweep underneath.
Add Mass
You can take your brick wall's density even further by lining walls with mass loaded vinyl, so there's even more substance to stop soundwaves.
Isolate Outside Noise
Help limit noise transfer by decoupling the walls, essentially building a room inside a room. Installing drywall inside your home with space between it and the brick wall should help.
Insulate New Walls
Increase the effects of your decoupling project by inserting acoustic insulation in the space between walls. The insulation will both add mass and absorb sound energy.
Cushion hard Surfaces
You can handle echoes and reverberations inside by installing permeable materials on hard surfaces. Products like acoustic panels work wonders — there are even decorative acoustic panels if you'd like a unique look.
Soundproof Your Brick Home With the Soundproof Cow
Soundproof Cow has all the materials you need to stop noise from getting into your brick home and prevent echoes. For more on the soundproofing products we recommend for brick homes, contact us online today!
Learn More About Wall Soundproofing