October 06, 2023
Acoustic foam is a useful tool for mitigating unwanted sounds in residential homes. Professionals in multiple industries also rely on acoustic foam for tasks like recording high-quality audio, mitigating echo in large rooms or improving the way sound moves from a source to an audience.
While there are similarities between these products on the market, it's vital to know that not all acoustic foams are manufactured the same way. Most foam cutouts are engineered to treat specific frequencies. Here's what you need to know about acoustic panel shapes and when you should use them.
1. Wedge Foam Panels
Wedge panels are easy to identify based on their triangular shapes. You'll likely find these products helpful in small spaces like bedrooms, studio apartments and sound booths. Placing wedge foam panels along floors, ceilings and corners can help you hear sound from speakers, televisions and similar sources without low-end interference.
It's wise to shy away from placing wedge foam panels in large open spaces, as these solutions could result in sounds moving in unpredictable patterns.
2. Egg Crate Foam Panels
Egg crate foam products get their name from their resemblance to the containers you'd see at a grocery store. Most of the time, these acoustic foam patterns feature multiple divots — making them superior compared to their wedge foam counterparts.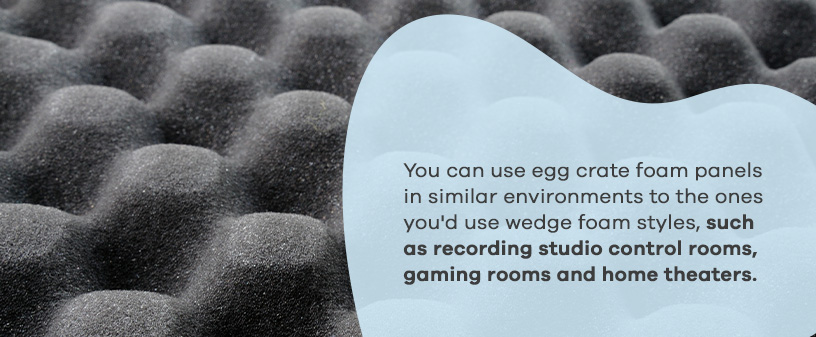 You can use egg crate foam panels in similar environments to the ones you'd use wedge foam styles, such as recording studio control rooms, gaming rooms and home theaters. These panels have raised surfaces that are rounded, making it possible to combine these treatments with soundproofing quilts for focused results.
There's a good chance you'll find egg crate foam panels hidden within professional restaurants and boardrooms to create a pleasant environment without echoes.
3. Pyramid Foam Panels
As the name implies, pyramid foam panels feature sharp and pointed surfaces. It's common for these foam solutions to showcase multiple pyramid shapes for controlling sound in compact spaces. These products are well-known for their ability to absorb high-end frequencies as opposed to lower tones. If you deal with microphone issues for a podcast or radio show, pyramid foam panels are a fantastic option for acoustic improvements.
It's a good idea to rely on pyramid foam panels when you'll be dealing with high-pitch tones from stringed instruments or amplifiers, too.
4. Grid Foam Panels
You might choose grid foam panels in situations where you want to diffuse feedback from electronic instruments and microphones. These panels are aesthetically pleasing and are often placed directly across from a sound source. This acoustic foam pattern is appropriate in tracking rooms where instruments and singers will project in a single direction. If you'll be working with a live band, there are likely better options for your recording session.
5. Bass Trap Foam Solutions
Bass trap foam pieces are designed to stop low-end overtones in their tracks. If you've ever stepped foot inside a professional recording studio, you've likely seen these products fixed where two walls and the ceiling meet. Bass traps dampen the low tones traveling through a room and capture undesirable reverb. Use this type of foam if you want to record crisp tracks or reduce the likelihood of items in a room shaking due to omnidirectional noise.
Choose From Numerous Foam Shapes With Soundproof Cow
The team at Soundproof Cow offers various acoustic products to make your recreational or professional space sound the way you want. We specialize in tailored solutions for the DIY enthusiast and professional contractor — find everything from acoustic foam baffles to multipiece sound treatment kits to make your vision a reality.
Look through our collection of products online and reach out to us with further questions.