Interested in Buying in Bulk? Complete Our Trade Discount Form to See If You Qualify!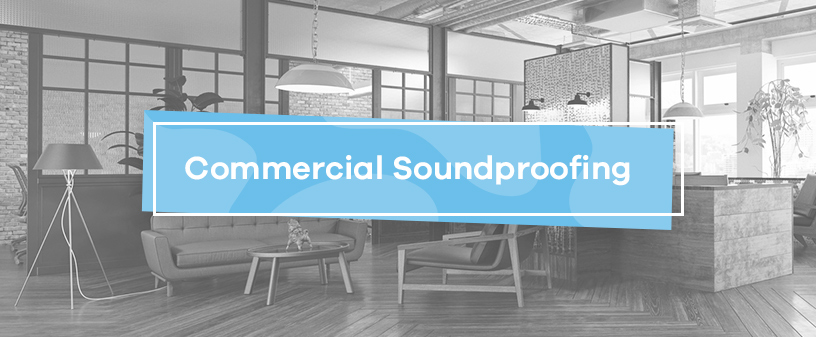 Commercial buildings require extensive planning and design. From floor plans to building materials to colors and more, you think through each detail to craft a space that will impress your clients. An important consideration among this mix is the type of soundproofing and acoustic needs your commercial project may have.
Unlike colors or materials, acoustics can't be rendered in a digital schematic. Each commercial space has its own soundproofing needs, and there's no one-size-fits-all solution. Fortunately, there are a variety of commercial soundproofing products available to make any space feel fine-tuned and balanced — even when filled with people. No matter where you are in the planning or building process, it's never too late to consider what commercial soundproofing products may enhance your work.
Types of Commercial Buildings That Can Benefit From Soundproofing
Commercial buildings come in all shapes and sizes. Where there are large communal spaces with an abundance of people, you may have commercial acoustics concerns. Small spaces may present challenges, too. Especially if the building requires privacy or little noise.
Soundproofing materials can help calibrate the way sound is absorbed, reflected or diffused in your project space. In general, buildings with noise concerns may benefit from soundproofing. One of the most common noise concerns is the need to control high levels of noise.
Commercial buildings that may experience high noise levels include:
Excessive noise may disrupt a living or working environment, cause hearing concerns and create an overall unpleasant atmosphere. In commercial buildings where customer satisfaction is essential, loud noise can also drive poor reviews and increased complaints. Soundproofing helps to diminish loud noise, create privacy and foster more enjoyable environments. Whatever the noise source, location and severity, acoustical measures can help.
Another commercial noise concern is the careful distribution and balance of sound. Commercial buildings that may need acoustical balance include:
In these environments, sound can bounce off hard surfaces and create unpleasant echoes that impede sound quality. Echoes can also create safety concerns in indoor pools when lifeguards can't communicate effectively with swimmers. Soundproofing can help create acoustic balance by reducing echoes, refining sound clarity and blocking unwanted noise.
A final commercial noise concern includes the need for a quiet space. Commercial buildings that may require as little noise as possible include:
For these spaces, focus and precision are paramount. Excess noise can disrupt employees and patrons, decrease productivity and hinder workflow. When noise reduction is a concern, soundproofing provides the absorption and distribution necessary to keep a building quiet. Regardless of the type of noise concern you're dealing with, there are a host of benefits to incorporating soundproofing into your commercial projects.
Benefits & Importance of Soundproofing in Commercial Projects
Though we touched on some of the ways soundproofing can impact noise in commercial buildings, its helpful to take a deeper look at these benefits. The impact of sound can often be overlooked and underestimated. When you give careful attention to acoustics through soundproofing, you can maximize the following benefits:
1. Code Compliance & Client Satisfaction

Depending on your project, soundproofing may help you comply with building codes. Section 1206 of the International Building Code (IBC) describes noise standards for common interior walls, partitions, floors and ceilings in multi-family buildings. According to IBC's standards, these items must meet a sound transmission class (STC) of at least 50.
Sound transmission classes represent the amount of sound reduction an assembly provides. In setting this standard, the IBC considers the comfort and privacy of residents. Unfortunately, sound insulation requirements for commercial buildings don't always hit their mark. According to a report published by the International Code Council, minimal code requirements do not always satisfy building occupants. In fact, residents in code-compliant buildings report annoyance at noise from neighbors and reduced quality of life.
While it's crucial to ensure your projects are up to code, you may have the opportunity to do more than what is required. Using high-quality soundproofing in commercial buildings can greatly impact residents' lives. Whether it's interior insulation, commercial acoustic panels or other solutions, you can provide soundproofing that exceeds codes and your client's expectations.
2. Improved Indoor Environment
Excess noise can interfere with the normal activities in a commercial building — whether that's intense focus, conversation or group activity. Both listeners and speakers may experience discomfort in these situations.
Listeners may dismiss moderate levels of noise because they don't cause permanent hearing loss. According to the Occupational Safety and Health Administration (OSHA), this noise still has health effects. Individuals exposed to loud noise may experience physical and psychological stress, reduced productivity, difficulty concentrating and an increased risk of workplace accidents.
Those speaking in loud areas may also experience strain as they need to talk at least 15 decibels louder than the noise around them to be heard. Not only can this noise become distracting and irritating, but it can also pose an occupational hazard. If teachers, call center employees or factory workers are forced to strain their voices every day, they may experience chronic vocal fatigue. Over time, chronic vocal fatigue could lead to more serious vocal cord damage.
For all parties, soundproofing can immensely improve an indoor environment. Without the assault of loud noise and the need to speak loudly, people can perform their best and enjoy a calmer environment.
3. Masked Background Noise
Some buildings have unavoidable noise. Background noise, such as noise from HVAC systems and other machinery, sets a baseline for ambient sound. The activities performed in the space and the number of people who use it only add to the amount of noise. For this reason, it's vital to recognize the inherent noise your commercial space will produce from the outset.
Considering background noise is especially important in office buildings and schools where quiet productivity is necessary. Studies have shown that background noise affects an individual's ability to be productive. When you complete your commercial projects with background noise in mind, you can select the best soundproofing solutions instead of making compromises once the building is complete. Take a systematic approach to make your commercial space as soundproof as possible.
Types of Commercial Soundproofing Materials
Unwanted sounds come from all kinds of sources, which is why soundproofing materials need to adapt to a variety of shapes and spaces. Some materials have to be installed during the building process, while others can be put in place after construction is complete. Understanding the different commercial soundproofing options can help you make the right decision at the right time for your project. The following are some of Soundproof Cow's commercial soundproofing offerings.
Quiet Batt™ Soundproofing Insulation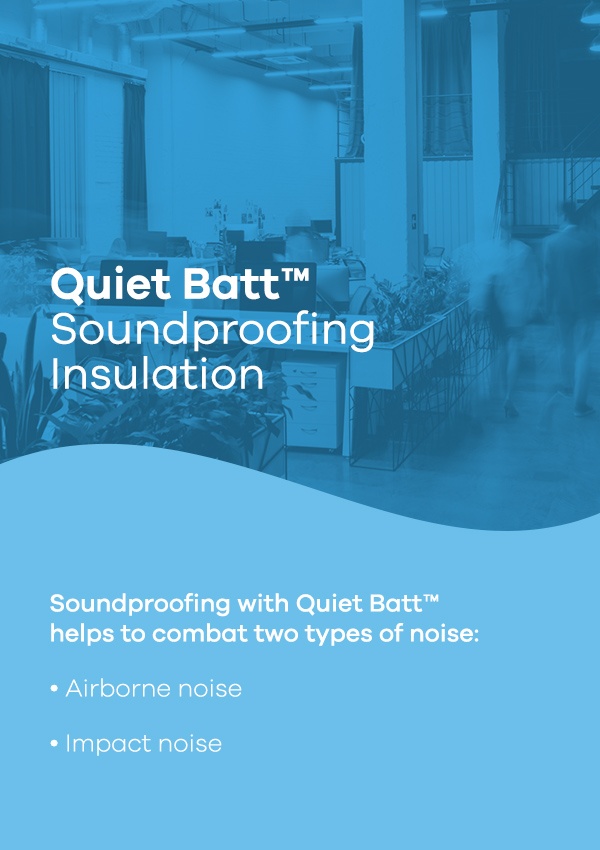 Quiet Batt™ soundproofing insulation helps to deaden and reduce sound within an interior or exterior wall, ceiling or attic. Its densely-packed cotton fibers are perfect for a simple installation between wood and metal studs. The only tools you need to install Quiet Batt™ insulation are a utility knife, tape measure and a vapor barrier for exterior walls.
Soundproofing with Quiet Batt™ helps to combat two types of noise, including:
Airborne noise: Noise that originates from outside a building, like traffic and voices, and inside a building, like music and conversation.
Impact noise: Noise from objects colliding together, such as footsteps or vibrations from bigger appliances.
In addition to soundproofing, Quiet Batt™ assists with internal temperature control. In the winter, insulated rooms stay warmer, while in the summer, they stay cooler. This can help commercial buildings save money on energy costs.
On top of all of this, Quiet Batt™ is made from 80% recycled cotton. When you choose this soundproofing insulation for your commercial project, you can trust that it's environmentally safe and won't cause irritation during installation.
If you're installing Quiet Batt™ between stud wall assemblies and floor joists, Soundproof Cow offers convenient insulation supports. With 16-inch and 24-inch options, you can choose a steel support that secures your installation without the need for extra tools.
Soundproofing Barriers
Soundproofing barriers are flexible, layered materials that help block and deflect sound and vibration. This material has a variety of applications, but it works especially well for non-traditional soundproofing needs. For example, soundproofing barriers might be wrapped around a pipe, placed on top of drywall, lining machines, and vehicles.
Soundproof Cow offers commercial soundproofing barriers in three different materials:
Fiberglass composites: These barriers combine a fiberglass blanket with Soundproof Cow's Quiet Barrier™ soundproofing material and polyester film facing. Fiberglass composites work well for HVAC, pipe and ceiling soundproofing.
Foam composites: These barriers utilize acoustic-grade polyurethane foam and Quiet Barrier™ for effective soundproofing power. Foam composites are available in a range of thicknesses to help block noise in a variety of commercial building applications.
Mass loaded vinyl: A mass loaded vinyl barrier combines salts, sands and small metal particles to create a tough and effective soundproofing material. This type of barrier helps prevent sound waves from passing through walls and ceilings for increased vibration control and sound dissipation.
Sound Isolation Systems
Sound isolation systems can help you soundproof walls or ceilings for your commercial projects. At Soundproof Cow, we have a variety of modular sound isolation products that you can combine and scale as needed.
Our isoTRAX™ system provides a simple soundproofing solution. The wall system provides a set of rails and deadening pads for up to 64 square feet of coverage. Ceiling systems use sound isolation rails to separate drywall from assembly studs and stop impact noise.
In addition, our Resilmount™ products offer isolation hangers and brackets for a wide range of insulation products. These products can help improve the STC of your soundproofing measures for a comprehensive boost.
Because sound isolation systems help to eliminate external noise, they may work well for soundproofing classrooms, offices, theaters, recording studios, music rooms, factory equipment rooms, restaurants, bars and more.
Dampening & Deadening
For some commercial projects, you may need to consider dampening and deadening products for excess vibrations. Structural vibrations travel through materials as energy and then become airborne. This tends to create a whirring or rattling sound that can be distracting or bothersome. Oftentimes, commercial soundproofing projects require unique solutions to prevent this unwanted sound clutter. Soundproof Cow has flexible solutions for all of those tight, awkward and unusual spaces.
Our Vibra Block® sound-deadening materials provide high-performance soundproofing with a simple peel and stick installation. With options for strips, sheets or material pads, you can find the perfect options for your commercial needs.
Whether you're addressing pesky HVAC and air duct systems or providing vibration control for a factory equipment room, Vibra Block® has a versatile, industrial-grade solution.

Door Seals & Sweeps
Though doors can help block sound transmission in a commercial building, they still may not provide a satisfactory level of privacy and soundproofing. Our commercial door seals and sweeps can help reduce the air and sound transfer around a door to bolster its sound-blocking capabilities.
Commercial door seals: Seals provide soundproofing solutions for the perimeter of a door. Our Quiet Door™ Seal is designed to fit tightly around a door and comes in standard and adjustable sizes. Whether your doors are metal or wooden, Quiet Door™ provides long-lasting noise control with quality aluminum and silicone. When installed on exterior doors, our Quiet Door™ seals can also help block outdoor air and lower energy bills.
Commercial door sweeps: Sweeps help reduce sound and air transmission at a door's threshold. Quiet Door™ sweeps come in both standard and automatic door varieties. Made from aluminum with a silicone seal, these products create a snug fit at the bottom of a door for optimal soundproofing.
For maximum door soundproofing performance, it is best to use door sweeps and seals together. Soundproof Cow offers a convenient Quiet Door™ Commercial Door Soundproofing Kit for the most comprehensive solution.
Flooring Underlayments
In commercial projects with multiple stories, soundproofing floors can help eliminate noise transmission through the ceiling. Our flooring underlayments achieve this with recycled rubber that blocks airborne and structural sound.
Soundproof Cow's QT Underlayment works to reduce sound under most floors, including floating, glued and grouted floors. Its superior impact insulation class rating and vibration reduction provide top-of-the-industry floor soundproofing. In addition, the QT Underlayment can help regulate floor temperatures and protect against moisture issues.
Commercial Acoustic Panels
Where aesthetics and soundproofing are both concerns, commercial sound-absorbing panels can provide a harmonious solution. Soundproof Cow's panels use compressed mineral wool, foam or wood to absorb sound, reduce noise and limit sound reverberation.
The type of acoustic panels you use may depend on the commercial space you're soundproofing:
Art panels: These products utilize compressed mineral wool or foam that is wrapped in printed fabric. Art panels absorb sound within a room while preserving its aesthetic. These panels are perfect for restaurants, bars, classrooms and more.
Fabric-wrapped panels: Fabric panels provide professional-grade soundproofing with a wide variety of fabric options. Their simplicity lends them to a variety of applications, such as auditoriums, offices, gymnasiums, recording studios and more.
Perforated acoustic wood panels: These panels utilize small dents to absorb and centralize sound waves. With an attractive wood exterior and patterning, you can choose an option that complements your space while providing soundproofing benefits.
Request a Commercial Acoustic Panel Quote
Spot the Perfect Commercial Soundproofing Materials for Your Needs at Soundproof Cow
At Soundproof Cow, we're committed to providing the highest quality sound control products. Whatever your commercial soundproofing needs, we're here to serve you. When you complete your project with us, we'll provide a free acoustic analysis. Simply provide the details about your commercial space, and we'll give you an estimate for your project, as well as soundproofing recommendations.
For superior soundproofing materials you can count on, shop our selection today!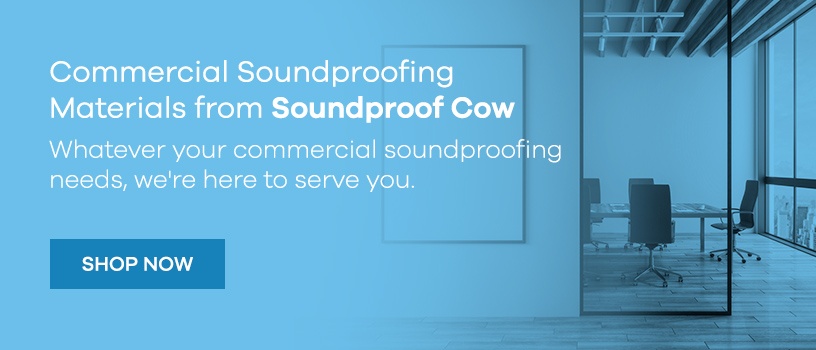 NEWSLETTER SIGNUP
Join the Herd
Get soundproofing tid bits and be the first to know about our special sales.
Subscribe Form - (Full Version)