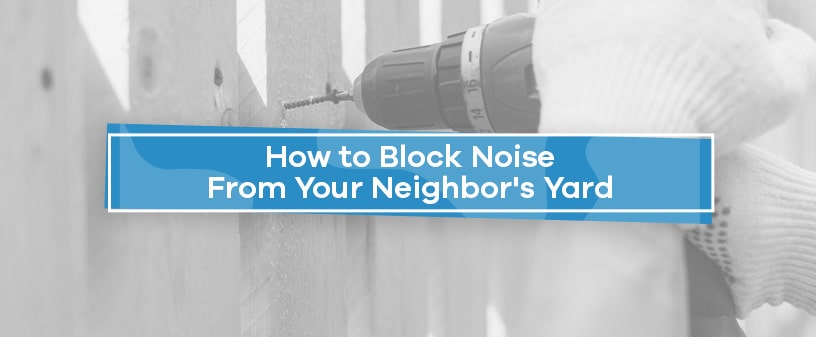 March 31, 2023
---
Table of Contents:
Soundproofcow For All Your Soundproofing Needs
---
If your neighbors love making noise at inconvenient times or just lack volume control skills, you should consider soundproofing your yard. This article will cover some noise reduction landscape and design choices that will help you enjoy more indoor and outdoor peace in a loud neighborhood.
Install a Fence
A fence makes an excellent barrier between you and your neighbors. Soundproofing is all about making it more difficult for noise to enter your space. A solid wooden fence will block a fair amount of sound before it reaches your yard. You can enhance the fence's noise-reducing effects with dense materials, like mass-loaded vinyl or foam composites.
Add a Fountain
Adding a fountain will help limit the amount of noise you notice. The trickling water from a fountain distracts your ears from noise coming from other sources. Combine the soothing noise with a beautiful design to make your yard a more comfortable place to spend time.
Add Trees
Trees naturally help to reduce the transmission of noise due to there size and density. Similar to fences, trees will help to block noise before it reaches your yard. Your fence will help reduce the noise from sources lower to the ground while trees muffle overhead noise sources.

Soundproof the Walls
Walls, especially thin ones, allow noise to seep through. You can limit the amount of noise that gets into your home from your neighbor's yard by increasing wall density. There are a few ways to strengthen your walls' soundproofing qualities:
Soundproof Doors
Doors allow noise in and out however, we have products that can help. Various types of soundproofing products can fill cracks and strengthen barriers so noise has a more difficult time permeating your building's entryways:
Doors: Noise can get through, under and around a door. You can use door sweeps and seals along the perimeter and increase the door's density with mass-loaded vinyl if it's a solid door. It is also a good idea to seal any cracks in the door jam itself.
Soundproofcow For All Your Soundproofing Needs
Feel free to get in touch with Soundproof Cow for more ideas or products!