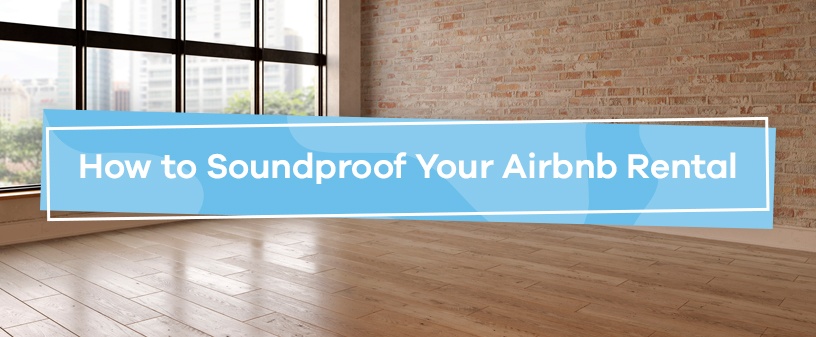 October 05, 2020
Making a good first impression with your Airbnb is important. A clean living space, freshly washed bedding and a small welcome present can make a world of difference. When you put this effort into your presentation, you don't want noisy traffic or the sound of your neighbor's dog barking through the night to diminish your guest's first impression. Here we'll share our top Airbnb soundproofing hacks that can keep your guests happy and invite a herd of positive reviews to your short-term rental.
Why Should You Soundproof Your Airbnb Rental?
Make your Airbnb rental stand out from the competition by soundproofing to keep any outside noise from entering the house and prevent inside noise from traveling to other rooms. Some homes are noisier than others. Take a moment to think about the noises that distract you daily, like:
Outside traffic and voices during the day and night.
The clanking of dishes from the kitchen.
Your neighbor's nightly drum practice.
The thunderous sound of the downstairs TV or music.
If you recognize these noises, your guests will, too. And since your guests likely booked your rental for a vacation or trip, they're probably looking for a break from their own daily noises and distractions. Your goal as an Airbnb host is to block entry or exit points for sound, so your guests can enjoy a peaceful, relaxing stay.
What Should You Soundproof?

The largest channels of household noises are floors, ceilings, walls and doors. We'll focus largely on these areas to cover why and how you should soundproof them.
1. Floors
Guests may be able to hear footsteps, something dropping on the ground, jumping, stomping and furniture moving. Some floors also provide the ideal surface for sound waves to bounce, only increasing the noise levels. Luckily, there are simple soundproofing materials for your flooring, including options for:
Carpet
Hardwood
Ceramic tiles
Laminate
Hardwood, ceramic tiles and laminate flooring are major culprits of noise pollution. If you're looking to revamp your Airbnb for the ultimate soundproofing measures, we recommend outfitting your floors with carpet and additional soundproofing materials.
2. Ceilings
When partnered with floors, ceilings generate two types of noises:
Impact noise: Impact noise is any physical interaction with the floor that causes vibrations. These vibrations travel through the flooring and ceiling, resulting in preventable distractions.
Airborne noise: If you hear people talking or music from upstairs, that's referred to as airborne noise. The sound waves follow a similar process of traveling through the upstairs floor and ceiling, resulting in equally disruptive sounds.
In addition to these types of noises, there are two types of ceilings: drywall and suspended. We recommend drywall ceilings to Airbnb hosts looking to maximize soundproofing results.
3. Walls
Empty rooms allow sound waves to bounce around, creating noisy echoes and louder disruptions. Even with furniture and other decorations, sound waves still have some room to bounce off walls and create a similar effect. People typically see soundproofed walls in areas like:
Recording studios
Classrooms
Gyms
Movie theaters
Now with the rising trend of vacation rental websites like Airbnb, short-term rentals are equal contenders for wall soundproofing. Using wall soundproofing materials can eliminate echoes, improve overall sound quality and increase privacy for your guests' benefit.
4. Doors
If you take time to examine your door, you may see why doors are the number one culprit of noise issues. The open spaces along the perimeter of the doorway act as sound waves' personal entryway into your room. Most doors have a hollow core, leading to even more noisy disturbances. Fortunately, there's a handful of door soundproofing materials to help you soundproof your rooms for rent.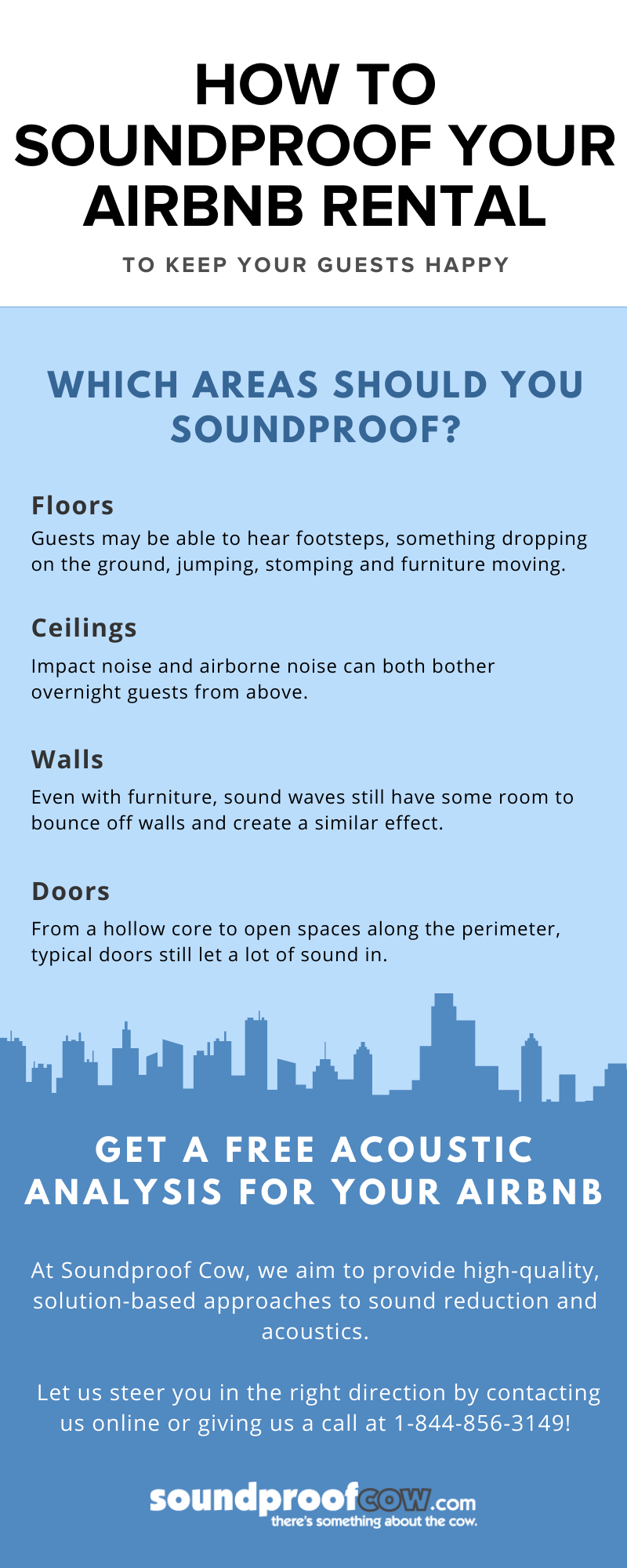 The Best Materials to Soundproof an Airbnb Room
Grab the bull by the horns and eliminate unwanted noise using Soundproof Cow's highest-quality soundproofing materials. For every channel of noise, consider using these soundproofing methods:
1. Impact Barrier QT Flooring Underlayment
Our top choice for soundproofing floors, Impact Barrier QT flooring underlayment is an affordably priced soundproofing material suited for carpet, tile, hardwood, laminate and stone. We recommend this soundproofing material over plastic, felt, roofing membranes and cork alternatives because Impact Barrier QT is:
Easy to install.
Compatible with any grouted, glued or floating floors.
Waterproof.
Environmentally friendly.
We also offer a lifetime warranty because this soundproof flooring underlayment continually outperforms the competitors. To install, all you need is a utility knife, straight edge, tape measure and duct tape for the seams.
2. PROFLEX™ 90
PROFLEX™ 90 is an easy-to-install soundproofing material you can use under tile, stone and hardwood-finished floors. Its specialized design — composed of a core rubberized layer laminated to a strong fabric on one side and an opposite silicone-based adhesive side — offers benefits like:
An impressive Sound Transmission Class (STC) rating of 72.
An equally impressive Impact Insulation Class (IIC) rating of 68.
Easy peel-and-place application.
Non-sensitive to temperature or other conditions.
Dual-protection from sounds and cracks.
Visit our product information page for other details and directions on how to install PROFLEX™ 90 in your home.
3. Quiet Batt™ Soundproofing Insulation

Quiet Batt™ Soundproofing Insulation is a multipurpose soundproofing material you can use above drop-down or framed ceilings. This thermal insulation product creates a tight friction fit to control any impact and airborne noises. Quiet Batt™ Soundproofing Insulation can benefit you and your home in other ways, with unique properties like:
You can use Quiet Batt™ Soundproofing Insulation as a standalone soundproofing solution, or strengthen your home's soundproofing ability by pairing it with other materials. Quiet Batt™ Soundproofing Insulation remains one of the top choices for drywall applications as well, because it's easy to handle. Using your bare hands, you can tuck each soundproofing strip into place with ease. The cotton insulation fits between wood and metal studs, sealing a tight friction fit and minimizing sound waves.
4. Quiet Barrier™ HD Soundproofing Material
One of our most popular products, Quiet Barrier™ HD Soundproofing Material is a high-density, non-porous sheet that dampens and blocks sound vibrations with its multiple layers. Across the country, over 1.5 million square feet of Quiet Barrier™ HD Soundproofing Material protects homes, restaurants, theaters, short-term rentals and more facilities from unwanted noise. Visit our product page to learn more about how to install this soundproofing material in your Airbnb rental.
5. isoTRAX™ Soundproofing System
Unlike other methods, you can apply the isoTRAX™ system to newly constructed walls, as well as existing walls. Your isoTRAX™ Soundproofing System kit comes with sound isolation rails and deadening pads, which are vibrating isolating spacers used to stop sound vibrations in their tracks. Our unique soundproofing system can be custom outfitted to every room, making it a highly effective choice for your Airbnb rental. You can install the isoTRAX™ Soundproofing System yourself by following our online step-by-step guidelines.
6. Quiet Door™ Door Sweep
Block the areas around your doors where sound creeps in using Quiet Door™ Door Sweeps. You can add these door sweeps to wood or metal doors, both old and new. Their silicone seal ensures a long-lasting, tight closure to protect against sound and increase any door's thermal performance.
Get a Free Acoustic Analysis for Your Airbnb
At Soundproof Cow, we put our customers first. We aim to provide high-quality, solution-based approaches to sound reduction and acoustics. Start soundproofing your Airbnb rental at step one — getting a free acoustic analysis.
Have any questions? Let us steer you in the right direction by contacting us online or giving us a call at 1-866-949-9269.
Learn More About Soundproofing A Hospitality Business
Tips for Reducing Sound Transfer Between Hotel Rooms