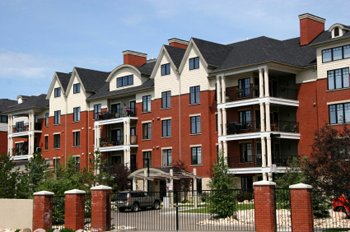 Do You Lack Privacy in your Apartment?
While apartments are popular for their low-cost living solutions, many tenants experience a lack of privacy living so closely to neighbors.
Walls are the only separation between you and your neighbors. Often, there is no apartment soundproofing materials used during construction, so noise leaks from your neighbor's home into yours. You don't have to settle for living with the noise of neighbors.
By applying apartment soundproofing materials to your home, you'll feel more at ease in your own private space knowing neighbors aren't able to hear you through the walls. And you won't be disturbed anymore by the sounds of the adjoining apartment.
The noise from the streets will also be reduced. You'll no longer have to turn your TV up to tune out traffic, barking dogs or sirens.
Many builders come to Soundproof Cow for apartment soundproofing. They want to build homes with an advantage over the competition. Other apartment soundproofing customers are tenants that want to improve their quality of life. We have apartment soundproofing materials for homes in all stages of construction, from apartment buildings in the planning stage of construction to older rental units.
What Apartment Soundproofing Can Do for You
Apartment soundproofing products:
Increase your privacy by stopping the transmission of noise from one apartment to another...you no longer have to worry about neighbors hearing you
Improve your quality of living by blocking unwanted noise from entering your home...noisy neighbors will no longer wake you or disturb your dinner
Increase property values of your apartment by offering a more private home
How Do I Know which Type of Apartment Soundproofing I Need?
Here's an easy 2-step process to determine which you need:
Step 1: Identify WHAT noise you hear.
Is it your neighbor's voice? It is the TV? Is it highway traffic?
Step 2: Identify WHERE the noise is coming from.
Is the noise coming from inside the same space as you, or is it coming from a separate room or apartment? For instance, do you hear the dog in the apartment next door? Is it the sound from the TV in the apartment upstairs? Are the car horns and sirens outside bothering you? Is it poor sound quality of the TV in your living room?
Sound absorption products help control the noise that's in the same space as you and increase the sound quality of that space.
Apartment soundproofing products stop sound from entering or exiting your space. If the noise comes from above, then you need ceiling acoustical treatments. If the sound is coming from next door, you need wall acoustical treatments. If the sound is coming from below, you need floor acoustical treatments. Many apartments can benefit from all types of apartment soundproofing materials.
Choosing the Right Product for Your Apartment Soundproofing Needs
If you're renting or leasing, it's recommended you consult your property manager before buying or installing apartment soundproofing materials. Some fixes that don't involve construction are heavier area rugs, wall décor, thicker curtains, and sealants.
Apartment Soundproofing Products
Apartment Sound Absorption Products