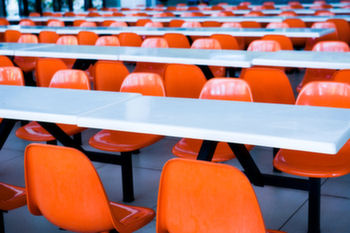 Loud voices, clanking trays, echo...we have a solution
The cafeteria is a gathering place for students and employees. Unfortunately, most cafeterias lack the proper cafeteria soundproofing products needed to keep their space enjoyable.
With the large, open layout, tiled floor and hard, reflective surfaces, sound bounces around the room. This causes unwanted background noise. Your patrons will raise their voice to be heard over the noise. As crowds increase, so does the volume level.
How Loud is It, Really?
Noise levels in cafeterias without proper cafeteria soundproofing materials averaged between that of city traffic (85 decibels) and power saws (109 decibels). Definitely not appetizing.
During the rush times, it can be even worse. Some cafeterias registered sound levels as high as 10 decibels over the human tolerance level.
Noise levels become a problem when patrons begin competing over each other to be heard. Your cafeteria can become a dangerous place for frequent customers and cafeteria employees.
What Cafeteria Soundproofing Can Do for You
Cafeteria products:
Absorb sound so it doesn't bounce off the walls and back into the space, reducing noise levels; patrons no longer have to shout to be heard
Keep the noise of the cafeteria within the space so you don't have to worry about complaints from other buildings or rooms. And keep the noise in the kitchen from leaking into the cafeteria.
Provide a healthy environment for patrons and cafeteria employees...you'll feel good knowing the noise level isn't dangerous
Cafeteria Soundproofing Products
Cafeteria Sound Absorption Products