September 21, 2022
Types of Soundproofing Materials
Different materials have different effects on sound. Your soundproofing needs will depend on your goals. For example, if you're a guitar player who likes to rock out in the middle of the night, you'll want to focus on keeping sound in, and you'll also want to improve the acoustics in the room. If you are the neighbor of a guitar player, you'll want to keep sound from entering your bedroom while you try to sleep. Let's look at the features, benefits and uses of the soundproofing materials we offer at Soundproof Cow to help you find the best solution for your noise-reduction needs.
Different Types of Sound Dampening Materials
1. Dampening and Deadening Materials
Dampening and deadening materials are often used in situations where extreme temperatures or limited space is an issue. Sound deadening materials work by reducing vibrations to make a space quieter. They are commonly used to stop rattling in cars for a quiet ride with improved stereo sound.

Sound deadening materials also help reduce distracting noise exposure in construction. You might install a sound dampening material inside an engine compartment to decrease the noise for heavy equipment operators. One study from 2016 confirmed that the use of sound dampening mats substantially reduced the engine noise reaching the operator. It proved to be an easy-to-install and affordable solution to a common problem.
At Soundproof Cow, we offer a variety of sound deadening materials to fit in awkwardly-shaped spaces like appliance interiors or to create a smooth finished look inside a trunk. Whether you want to paint a surface or install a customizable peel-and-stick material, our sound dampening materials are udderly amazing. Our products include:
Silent Running SR-500: Silent Running SR-500 is a high-performance coating designed to eliminate unwanted noise and vibrations. You can apply this coating easily to wood, fiberglass, metal and most plastic surfaces. It is not affected by extreme temperatures, so you can expect durability no matter what the weather is. This coating is also nonflammable, waterproof and will not chip or crack.
RoadBlockR™: Want to enjoy your music while you drive and not feel like you're cruising in an empty aluminum can? Install RoadBlockR which is perfect for reducing automotive noises and creating a quality ride. RoadBlockR comes in attractive foil-facing sheets that are easy to peel and stick in tight spaces.
Vibra Block®: Available in a sheet, pad or strip, Vibra Block is a premium industrial-grade material to used to dampen vibration on steel panels. Engineered for maximum performance with an easy peel-and-place application, Vibra Block is a lightweight solution to stop rattling.
Sound deadening materials are commonly used to reduce noise and vibrations in:
Cars
Construction equipment
Marine equipment
Why install sound deadening materials? These benefits will surely mooove you:
They are easy to use.
They are highly versatile.
They are composed of durable materials.
They offer a cost-effective soundproofing method.
They create a finished look.
They improve audio quality within a space for a luxury ride.
2. Door Seals and Sweeps
Put the finishing touches on any total-room soundproofing transformation with a door seal or sweep to block the noise completely. Our Quiet Door™ line shrinks the amount of sound escaping from around and under a door to the absolute minimum.

The following products create an impenetrable seal against sound so that you can block out noisy neighbors or traffic on the other side of the door:
Quiet Door perimeter seal: A perimeter seal forms a tight fit around the perimeter of a new or existing door. Made of heavy-duty aluminum framing and silicone, these seals can be adjusted or trimmed to fit your needs. Our adjustable perimeter seal allows you to make it like new with a couple turns of a screwdriver once it starts to wear.
Quiet Door sweep: Our door sweeps push down firmly against the threshold of a door. Our sweep is built to treat standard doors that are between 28 inches and 36 inches wide. However, you can trim the material to fit any sized door. Or, if your door is much wider, give us a shout, and we'll construct a custom door sweep for you. Our automatic door sweep pushes tightly against the threshold as the door closes.
We also offer Quiet Door soundproofing kits which include soundproofing composite, perimeter seals, door sweeps and sound sealant for protection against noise.
Door seals and sweeps can be used just about anywhere there's a door and a person who wants peace or privacy. However, here are some places that can make good use of soundproof doors:
Apartments
Band practice rooms
Broadcast studios
Computer and equipment rooms
Home theaters
Hotels and resorts
Kennels
Offices and conference rooms
Recording studios
Warehouses or manufacturing facilities
Our door seals and sweeps offer a range of benefits beyond shutting out noise, such as:
Save energy by reducing airflow transfer
Made of durable, long-lasting materials
Tested for quality acoustic performance
Can be installed on new or existing doors
Last longer than vinyl or foam seals
Are flexible in a variety of temperatures
3. Flooring Underlayment
You can soundproof living and office spaces with floor underlayment designed for a range of flooring options. These sound-reducing flooring materials provide airborne sound protection and vibration control caused by impact. Not sure which underlayment is needed for a location? Talk to a member of our sales team and let us put our experience to work! We have options available for carpeting, tile flooring and locations that see more than their fair share of foot traffic. Products include:

PROFLEX™ 90: PROFLEX 90 is a self-bonding sound-reduction membrane specially engineered for use under tile, stone and hardwood floors. You can easily peel-and-stick this material to help quiet your dancing feet for neighbors down below.
Impact Barrier QT soundproof underlayment: Made of environmentally-friendly materials, this underlayment works with just about any type of flooring. It's designed to provide the highest impact insulation class (IIC) rating improvement, with results proven by over 200 independent laboratory and field tests. It easily surpasses cork, felt, plastics and roofing membranes when it comes to soundproofing, and it's available in a variety of sizes.

You do not have to keep flooring underlayment just for indoor use, because you can apply these materials outdoors too. Flooring underlayment can be used to reduce impact noise in:
Apartments
Boats
Cars
Homes
Hotels
Any multi-level building
Benefits of a soundproofing floor underlayment include:
It's a great way to soundproof the floor.
It improves sound quality.
It makes cold floors warmer.
It protects against mold and mildew.
It's easy to install.
It helps reduce both impact and airborne noise.
4. Soundproofing Installation Products
We sell a full range of installation accessories — soundproofing primer, acoustical sealants, soundproofing tape and more — that help make the mooo-st of all your other investments in noise control. You'll receive the maximum benefits from all of your efforts and help create spaces that are as quiet and relaxing as possible. You can use the following products to make soundproofing materials stick to many different surfaces or to close up gaps and create a truly soundproof space:

Soundproofing installation products can be used with a variety of soundproofing materials in home studios, garages, bedrooms and anywhere you want to hang insulation, seal cracks or make a room a quiet sanctuary. Benefits include:
Provides maximum noise blockage
Made of heavy-duty materials
An affordable and easy way to seal cracks and bind materials
Creates a finished look
Has sound dampening qualities

5. Quiet Batt 30 Soundproofing Insulation
Use our Quiet Batt 30 Soundproofing Insulation in the ceiling and walls to create a peaceful, climate-controlled retreat in any space. Quiet Batt is easy-to-use and an effective sound deadening material for walls. Quiet Batt features include:
Made of specially formulated high-density cotton insulation
Has a 3-inch thickness for high-quality soundproofing
Has an NRC rating of 0.95
Fits snugly between wood and metal studs
Does not require special tools for installation
You can use Quiet Batt as a standalone product or with other soundproofing materials for the ultimate noise-blocking experience. It's ideal for use in:
Interior or exterior walls
Ceilings
Attics
Benefits include:
Does not contain harmful chemicals
Has a Class A flammability rating
Reduces impact and airborne noises
Has a higher NRC rating than other types of insulation
Keeps a room warmer in winter and cooler in summer
Improves acoustical quality in restaurants, homes, offices, studios, theaters, workshops and more
Is easy to install
Offers an itch-free sound insulation solution
6. Sound Isolation Systems
Significantly reduce the noise level in any location with a sound isolation system. The best soundproofing material for chapels, funeral homes, bedrooms, classrooms and more, these kits provide you with many tools for isolating noise and vibration before it's noticeable. We'll cow-culate the best kit for your needs using our free acoustic analysis and will work directly with your contractor or architect to get the best option for your property.


Our soundproofing systems for walls or ceilings include:
IsoTrax™ Sound Isolation System: Our isoTrax soundproofing system is one of the simplest methods for installing sound deadening materials inside a wall or ceiling. This is the best soundproofing system we have, and it's ideal for rooms that need maximum peace like bedrooms, nurseries or study rooms. Each kit covers 64 square feet and includes sound isolation rails, sound deadening pads, hex head screws and viscoelastic washers.
IsoTrax Soundproofing System Ceiling Package: For superior ceiling soundproofing, the isoTrax ceiling package does not disappoint. This package includes more pads and hex screws than the standard package to make sure you have what you need to silence ceiling noise. Otherwise, the ceiling package is identical to the standard sound isolation system and delivers the same versatility and outstanding noise reduction.
Sound isolation systems are perfect for:
Classrooms
Conference rooms
Equipment rooms
Libraries
Offices
Recording studios
Restaurants
Theaters
Benefits include:
An affordable highly-quality soundproofing solution
Excellent performance
Ideal for DIY soundproofing projects or anyone with basic construction knowledge
Requires minimal tools
Noise reduction in the 52 to 61 STC range
7. Soundproofing Barriers
You may find a soundproofing barrier is essential to keeping the peace around your property. From blocking out airport noise to minimizing hum from your air conditioner, we have large and small noise-reducing materials capable of handling all types and sizes of annoyance.


Soundproof barriers use vinyl, foam or fiberglass layers to block and deflect sound. They are usually flexible and feature a peel-and-stick backing so they can easily fit just about anywhere. We offer the following products to block sound in various situations:
Soundproofing barriers are excellent options when you need to keep sound in or keep sound out. You might use a soundproofing barrier in:
Cars
Firing ranges
Home theaters
Machinery
Music studios
Marine cabins
Offices
Restaurants
Barrier benefits include:
High versatility
Flexibility
Easy to install
Outstanding sound-blocking performance
8. Vibration Mounts and Feet
We have individual vibration-reducing mounts and appliance feet for purchase to manage particular problems in any location. The perfect professional or DIY soundproofing material, the mounts are easy to install and offer immediate relief. Silence a noisy washing machine or prevent rattling from the TV with a quick and simple installation any installer can manage.
Our VibeAway™ pads easily slide under a vibrating machine and are specifically designed to quiet noisy washers and dryers. However, they are available in a range of shapes and sizes so you can use them anytime you to need to silence furniture feet or loud appliances. It's an affordable way to reduce noise and may eliminate the need for other soundproofing materials. Our VibeAway pads also help extend machinery lifespan by minimizing movement and banging.
Made from recycled tires, these pads help hush a range of equipment and appliances and may be used with:
Freezers
Dryers
Table saws
Washers
Any vibrating appliance or piece of furniture or equipment
Benefits include:
Protects floors
Reduces the transfer of vibration
Helps prolong the life of appliances
Reduces the need to reinforce upper-level floors
Prevents machine "walking"
Sound Dampening Material Applications
Sound Dampening/Deadening products are perfect for:
Automotive doors

Floors

Walls

Hoods

Trunks

Heavy equipment

Compressors

Generators

Cabinets

HVAC

Pumps

Hatches

Metal applications
At Soundproof Cow, we're happy to talk about what solution would work best for your project or particular need.
Our Premium Sound Dampening & Deadening Materials:
At Soundproof Cow, we know typical sound deadening materials don't work well in every space. Sometimes there are special situations that require different sizing or adhesion. Silent Running SR-500 is one of our premier products for tight and awkward locations, particularly for appliances and machinery. This paint-based material is a permanent installation, applied directly to any surface with a traditional paint roller or spray gun. Once dry, the coating controls noise by converting sounds and vibration to heat.
Silent Running SR-500 is incredibly versatile. You can apply it to any number of surfaces, including metals, plastics, glass and even wood! Plus, it can resist both extreme cold and heat, making it a superb resource in industrial noise pollution control. As is true for most of our products, there's little mess involved in application or cleanup. The water-based solution cleans up easily with soap and water. When dry, it leaves a coating that will shrink and expand with the surface it's adhered to. Even in extreme environments this material will not ship or crack.
RoadBlockR™ is designed specifically for automotive applications. Thin, capable of withstanding extreme conditions and easy to apply, RoadBlockR™ is adept at controlling sounds from both inside and outside of a moving vehicle. It's also proven to be successful in other applications. From industrial to residential applications, RoadBlockR™ provides protection from noise pollution in a myriad of situations. Use it as intended to create a crystal clear stereo sound as you block out the hum of the road or dampen noise from a commercial air conditioning unit.
Finally, we carry an extremely effective vibration and acoustic dampening material called Vibra Block®. The industrial-grade material comes in all shapes and sizes. It's applied directly to the surface of machinery using our convenient, mess-free peel-and-stick adhesive. This is the most powerful anti-vibration application on the market and one of our favorite products here at Soundproof Cow. Order today to see its performance first-hand.
Benefits of Soundproofing Materials
Soundproofing materials keep noise from escaping, and they block noise from entering. Noise reduction has many benefits for everyone it affects. For example, soundproofing materials provide a quiet space for learning. Whether you're in an office, library or classroom, noise affects how you focus and learn. One study found that students in a standard or noisy environment did not learn as well as students in a quiet school.
Noise reduction also reduces stress. When you are less stressed, your memory and your overall health improve. Those are just a few of the benefits. Soundproofing materials:
Provide privacy
Provide simple solutions
Are easy to install
Are highly versatile and affordable
Reduce energy costs
Improve sound quality
Make everyone happier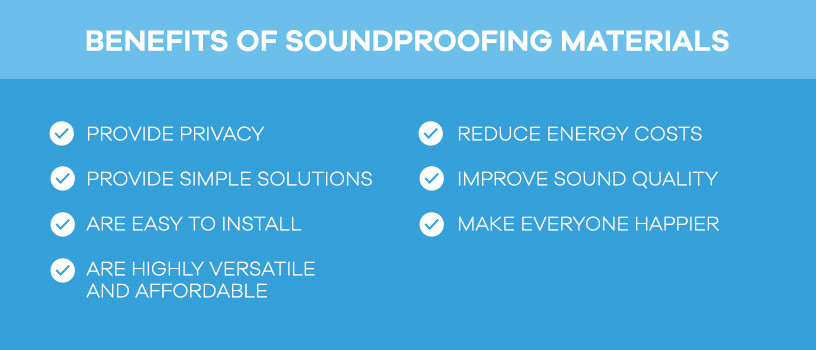 What to Consider When Choosing Soundproofing Materials
If you are ready to enjoy sweet silence or turn up the bass, you're probably wondering where to begin. After all, there are so many soundproofing materials to choose from. Before you shop, you'll need to ask yourself the following two questions:
What type of product do I need: If you wish to keep noise from entering, you want a soundproofing material that blocks noise and keeps it from traveling through the walls, doors, and ceilings. Any items mentioned in this post are designed to block sound. If you are interested in reducing echo and improving the sound quality of a space, a sound absorbing material is the way to go.
Where or what am I trying to soundproof: Consider what you are trying to soundproof as this will affect your decision. For example, if you need to quiet noisy pipes, you'll want a flexible material that you can trim and wrap around pipes. If you're trying to block sound from slipping under the door, you'll need to seal up gaps where sound can escape.
Shop DIY Soundproofing Materials With Soundproof Cow
While our name is unique, that's not the reason our products are often recommended by building pros. We carry some of the top-performing acoustical and noise-reducing materials in the industry. Despite this, we keep our products reasonably priced. Keep an eye out for our ultra-low No Bull pricing as you browse our selection.
Customers also trust our business, as we offer a 100% customer satisfaction guarantee, and we stand behind it whenever there's a problem. Contact us immediately, and we will work diligently to ensure all issues are corrected.
To avoid problematic situations with your noise reduction materials, we offer a free acoustic analysis to everyone. This will help identify the best products for your soundproofing project. Our selection is constantly changing, so get in touch to discover the latest solutions available.
Ready to get started on your new ultra-quiet home or office? Get in touch today online or call 1-866-949-9269.